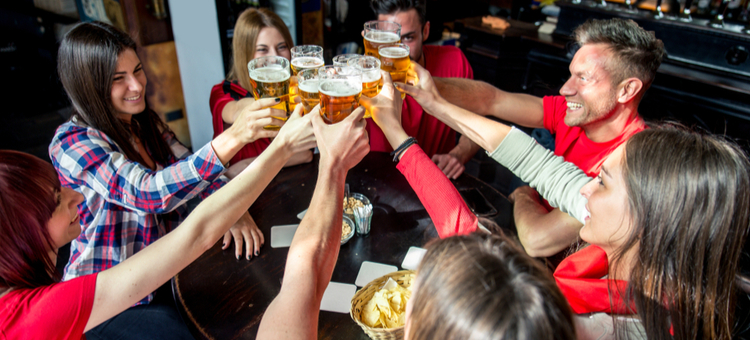 Ever feel like you're stuck in a rut when it comes to entertainment and events at your bar? You're not alone. Many bar owners get so caught up in day-to-day operations, events become an afterthought. That's why we put together these 7 next-level bar entertainment ideas. Because you deserve to be the "it" spot on your block…
Basic: Hire a Live Band
Next-Level: Try One of These 3 Open Mic Night Bar Entertainment Ideas
Let's start with the most basic of bar events: live music. Your bar has it…so does every other bar in town. We're not suggesting you ditch live music altogether, but why not mix it up? Turn your customers into performers with these 3 bar entertainment ideas that put a twist on open mic night. (Bonus: You don't need to pay that over-priced cover band.)
Funny business: Who can tell the best "Dad" joke? That's what bars in the Austin, Texas area wanted to find out. For Father's Day, tons of Austin bars hosted Dad joke competitions. No need to wait for a special occasion, add an open mic comedy night to your list of bar entertainment ideas right now.
Just say the word: The laughs will continue with this variation on open mic night…Each time your host open mic night, require singers to swap in a different term like "beer" for common words like "love." (What the world needs now, is beer…sweet beer.)
Competitive open mic: For best results, come up with bar entertainment ideas that run on a recurring basis. That way, you'll enjoy steady food traffic. One of the best ways to bring in big groups on repeat? Host a competitive open mic night. Here's how it works: At the first event, ask a local musician to be the judge. He or she will select the best performer of the night, who will then be the judge at the next event…and so on. Sweeten the deal on these open mic bar entertainment ideas by throwing in a $20 bar tab to the winning performer.
Basic: Throwing Darts
Next-Level: Throwing Axes
Listen, there's nothing wrong with classic bar sports like darts and billiards. They have a retro-cool appeal with the younger crowd. Even shuffleboard is now 100% hipster-approved as evidenced by the high volume of Brooklyn bars and shuffleboard "clubs."
However, if you really want to go all in with your bar entertainment ideas, consider setting up an axe-throwing area in your bar. Worried that sounds a bit too…dangerous? Thousands of axe-throwing bars nationwide would beg to differ. And yes, axe-throwing bars do serve booze so you can throw axes while you throw back a beer.
If all this talk of throwing lethal weapons has you feeling nervous, you can still tap into new sports-focused bar entertainment ideas.
Take a cue from Beer Fit Club. as you plan bar entertainment ideas. This organization runs fitness classes at breweries nationwide, including yoga and the aptly named "barre at the bar" event. Or, set up a small putting green on your patio in bring in a local golf pro to lead a putting workshop. (Putt n' Pints has a nice ring to it…right?)
Basic: Summer Nights on the Patio
Next-Level: Adult Summer Camp
Got a patio or outdoor seating area? Great. Now turn the average summer night into something more with these bar entertainment ideas inspired by…summer camp? No worries, we're not suggesting you run a day camp for grownups. It's just a clever way to keep customers coming in on a repeat basis during the warmer months.
Pick one night a week to host a rotating "summer camp" event. One night could be arts n' crafts night, where patrons come in and participate in a Paint n' Sip night (complete with specials on craft beers, of course). The next week, host a buzzed spelling bee. You'll definitely want to tap into competitive bar entertainment ideas for summer camp, like flip cup and cornhole tournaments.
Don't forget a custom summer camp t-shirt with your bar's logo.
Basic: Pen-and-Paper Trivia
Next-Level: Go Digital with Your Bar Entertainment Ideas
Don't stop at summer camp for grownups, keep elevating your bar entertainment ideas. Next up? It's time to rethink the standard bar trivia night.
In case you haven't noticed, everyone is always on their phone. Make the most of this fact of life by taking your trivia night…digital.
Yes, trivia teams can submit their trivia answers via smartphone to the host – which can be one of your staff members. Mobile trivia is so affordable, and so easy to run, that many bars aren't bothering to hire an outside host. The best digital trivia packages include access to high-quality trivia questions that are updated weekly.
Basic: Putting the Game on Your TVs
Next-Level: Watch Parties
If you run a sports bar, it's not enough to simply say "we've got the game on." Today's sports fans want more. They crave an immersive experience that's the next best thing to actually attending the game. That's why the latest trend in bar entertainment ideas is the bar watch party. To host a watch party, come up with extras that can enhance the game watching experience.
Open early: Sometimes the game falls outside of normal business hours…so embrace it! During the Women's World Cup, the Guava Beach Bar & Grill in San Diego opened early on Sunday at 9am for a special brunch and watch party event.
Interactive specials: Elevate your gameday bar entertainment ideas with promotions that change based on the action. For example, during a football game, offer half-price pitchers or pints for 10 minutes after every touchdown. Another great option is implementing a #hashtag for your social media accounts during gameday. In return, you can offer patrons a $5 house cocktail! Either way, an interactive special will be sure to bring in the crowd!
Contests: Challenge customers to fan up and show their team spirit with a biggest fan contest.
Games…during the game: Don't lose momentum during half time! Keep customers occupied with bar entertainment ideas like a quick trick shot contest. Just set up a mini basketball hoop over a door. Who can show off the sweetest moves?
Themed menus: A little creativity goes a long way. You could simply rename some of your popular menu items using lingo from the featured sporting event. Or keep 'em guessing with a different signature cocktail for each game. During MLB season, try serving up the iconic Cooperstown Cocktail.
Basic: Throw an Event for a Major Holiday
Next-Level: Get Weird
Those other bars can have their basic holiday celebrations. You've got bar entertainment ideas for some of the weirdest, wildest holidays out there. In fact, there are literally thousands of unsung holidays just waiting for you to create an event around them. We're talking about $3.14 appetizers all day long on Pi Day (March 14th) or hosting a "Galentine's Day" event on February 13th. For more bar entertainment ideas that tap into unexpected days of the year, check out these 31 weird holiday promos for bars.
Basic: Pub Crawl

Next-Level: Putt Crawl, Onesie Walk, Wing Walk…Oh My
Feeling collaborative? Your first thought might be to organize a standard pub crawl with other nearby bars.
Bo-ring. Even the small town of Dalton, Nebraska can do better than that when it comes to bar entertainment ideas. Every year, local bars come together for a "putt" crawl. Each bar sets up a putt-putt hole either inside or outside. The crawlers make their way to each bar – and take their best shot (and an actual shot).
When the weather outside is frightful, you can still draw a crowd with your bar entertainment ideas. For proof, look to the "onesie" bar crawl phenomenon that went down this past winter. No, really, look at these photos of grown adults in ridiculous onesies. A onesie bar crawl in the dead of winter makes perfect sense: bargoers can stay cozy and comfortable while traveling from bar to bar.
No matter the season, a wing walk should top the list of your bar entertainment ideas. Each bar should serve a uniquely flavored chicken wing paired with a select beer. Along the way, participants can vote on their favorite wings.
Now that you have 7 upgraded bar entertainment ideas, the next step is to get the word out. Make it a habit to set up a Facebook event, which you can "boost" just like a regular post. For larger events, send a 1-page press release to local media outlets: radio, TV, print and online newspapers, and even local social media influencers. The only rule when it comes to bar entertainment ideas is this…make it fun, and they will come. Cheers to rocking your next event!