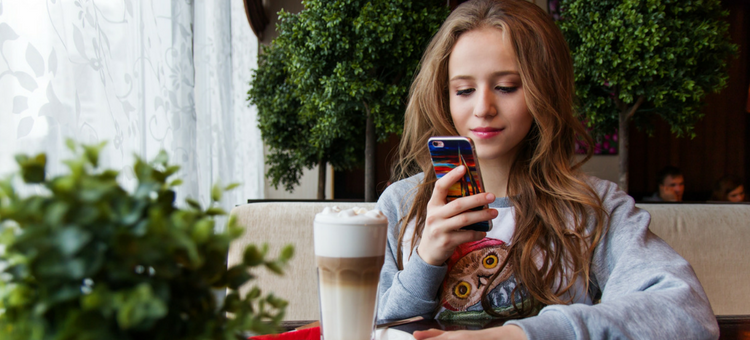 Looking to liven up business at your bar? Grab your smartphone, open Facebook, and record a live video. Wait. Don't do that just yet. Read this 6-step guide to live streaming. Then, see 12 ideas of what to broadcast.
But first, a little live stream 101.
Live streaming refers to video content that is simultaneously recorded, uploaded to the internet, and broadcast to the end viewer. Social media platforms offer free, easy-to-use streaming tools – like Facebook Live.
And who exactly watches live videos? Pretty much everyone on social media. Live streaming topped the Forbes Magazine list of social media trends, with 80% of consumers stating they'd rather watch a brand's live video than read their written post.
Live Streaming Success for Bars in 6 Easy Steps
Step 1) Pick a Platform (Start with Facebook Live)
The first step is to select a live streaming platform. Start with a social media platform your bar already uses. On several social sites? Pick the one with the biggest audience.
Facebook Live
You can't go wrong with Facebook Live. It's a great way to increase the likelihood that your bar's content shows up in the Facebook newsfeed. When Facebook changed their newsfeed algorithm in early 2018, Mark Zuckerberg himself said users will see fewer posts from businesses.
The bright spot? Zuckerberg claimed Facebook Live videos gets 6x more engagement than regular videos (which are already seen more than photo and text posts). Many social media gurus think this was a hint: Facebook ranks live video ahead of all other content.
Instagram Live
Want to go live on the 'Gram? You can record up to an hour of live video on Instagram. The video can be added to your Instagram Story, but after 24 hours it disappears.
YouTube Live
Want proof that live streaming is growing fast? Look to YouTube, which launched live video in 2017. At any given moment, there are thousands of live streamed videos (even 24/7 kitten cams).
Twitter
Since Twitter acquired Periscope in 2015, you can now live stream on Twitter.
Step #2) Select the Subject Matter
Next, select what you'll live stream. This is the easiest step! Just use one of the 12 live streaming ideas for bars (after the 6 steps).
Step #3) Gear Up
For this step, you don't need to play Spielberg. No fancy equipment is required to start live streaming, just these basics:
Use a Smartphone or Laptop
For short, casual live streaming – like a quick tour of a packed house on Saturday night – use the video camera on your smartphone. When you open the social media app, like Facebook Live, it automatically activates the camera.
To prevent viewers from getting seasick during longer live streaming sessions, order a smartphone tripod with a remote control for under $20 on Amazon.
A laptop with an integrated webcam is best for up close and personal live streaming – when you are talking directly to the camera.
Be Heard with a Lavalier Mic
Gotta love Amazon. You can also order a lavalier mic that clips to your shirt to drown out background noise (under $20).
Light the Way
Most smartphones have built-in lighting, but you might want to purchase a few bright lights for live streaming a Q and A session or bartender demo.
Fast Internet Connection
You can use a 4G mobile signal. But a speedy Internet connection is best. Test it out now using this (awesome) site: http://www.speedtest.net/.
Step #4) Plan it Out
Time it Out
Facebook created its own list of tips for using Facebook Live – and recommends live videos last between 10-90 minutes. The longer you're live streaming, the better your chances of pulling in viewers.
Set the Tone
Will you narrate? Or let the on-screen action speak for itself? What tone will you take? Informative and friendly? Want to ham it up? Tap one of the funny face filters while you are live streaming on Instagram or Facebook.
Do a Test Run
This just might be the best Facebook Live "hack." Open Facebook, hit "Live," then select "Only Me" as the audience for your live streaming. You can play back your practice session. When you're ready to really, truly, actually go live? Make sure your audience is set to "public."
Write Up a Cheat Sheet
Just narrating but not showing your face on screen? Go ahead, jot down notes (we won't tell).
Respond to Comments
All platforms from Facebook Live to YouTube Live let viewers post comments in real-time as you're live streaming. You've got 3 options for responding:
Alert your audience you'll respond to comments after live streaming.
Have someone else on your team respond.
Type back in real-time or answer their question directly to the camera. Option #3 works best if you're hosting a discussion or Q&A session. Otherwise, responding to comments is distracting for other viewers.
Step #5) Promote Your Live Streaming
If you are planning to live stream the launch of a new menu, or reveal a contest winner – definitely promote the date and time you'll go live. Using Facebook Live? Set up a Facebook Event to promote it.
On the other hand, don't promote that you'll be live streaming a concert or bar games competition. The goal of streaming these events is to show everyone else what they're missing! You want people coming into your bar – not watching the action from their sofa.
Step #6) After the Stream
Nine out of ten times you'll want to save your live video so others can view it afterwards. If it's cringeworthy? Delete it. If it rocked? Promote it! After a great Facebook Live video, save it, then "boost" it using paid Facebook advertising. This is one of the best 8 Facebook Live tips shared by Think Media.
Don't forget! If you didn't respond to comments while live streaming on Facebook Live, go back and reply to each individual comment (which is saved along with the live video). They'll get a notification that you've responded, which can build loyalty.
Live Streaming Bar Events and Content: 12 Ideas
It's amazing, really. Platforms like Facebook Live could turn your bar into must-see TV. You could create a weekly, 10-minute "mixology" course (see #4) where your best bartender whips up a different cocktail. The possibilities are endless, which can be overwhelming. That's why we put this list together. Ready? Let's get live.
Wait. Hold up one more time. Live streaming does require some legal considerations. Review this quick guide to legal live streaming – and chat with your attorney.
Pan the Crowd: Let's start with the easiest live streaming idea. Capture the atmosphere of your bar in real-time. Announce to the crowd you're going live. Most patrons will love it. But this gives camera-shy patrons a chance to stay out of your way.
Make a Big Announcement: Run a contest and announce the winner during a Facebook Live session. Everyone who entered will tune in. Or, do a "menu reveal" with your bartender explaining the inspiration behind the newest cocktails. Bonus points if a few are prepared in all their mouthwatering glory. TGI Friday's used Facebook Live to reveal their Beyond Meat burgers for Meatless Mondays. Check out the recorded live stream.
Exclusive Behind the Scenes: The back of the house may seem boring to you. But to someone outside of the bar biz? It's interesting. Show viewers what goes down behind the scenes. In fact, studies show that 87% of customers want to watch live streaming video that shows "behind the scenes" footage.
Mini Mixology Class: Inquiring minds want to know: how does your bartender make that magical Manhattan? A mashup of "behind the scenes" and "how to," live streaming a mixology video gets patrons excited to come in for the real thing.
Band Together: Invite a popular local band to debut a new single or album at your bar. It's live streaming where everyone wins: your bar, the band, and your patrons.
Invite an Influencer: Influencer marketing is the latest, greatest way to promote your bar. A social media influencer is an individual with thousands of followers. Use BuzzSumo to find the influencers in your area. Then invite them to host a live streaming event at your. Yes, you'll have to pay them. But it's less than traditional advertising. Plus, their devoted followers will tune in – exposing your bar to new customers.
Bar Game Competitions: Capture the friendly competition during a round of bar games. From darts to pool – or even a live trivia night – the players will love showing off their skills as you're live streaming. (When in doubt, always ask before recording.)
Go Off Site: Have you tapped into the Buy Local trend? If not, now's a great time to start. Use this guide for sourcing local ingredients. Then take viewers along with you on your local hunts. Buying honey or herbs for your culinary cocktails from a nearby farm? Ask the farmer if they'd join in you live streaming. Or, head to the farmers market. A visit to a trending local brewery is another live streaming win (and a way to promote your awesome craft brew list). Hey, if iHop can create a viral live video of pancakes on the beach (complete with a random bird grabbing a bite), you can go live anywhere.
Fireside Chats: Ok, no actual fireplace required. But the vibe of this live streaming idea is intimate and personal. Interview your bartenders on camera: ask why they love bartending. What's their favorite drink? What are some funny (PG-13) bar stories? Of course, let them prep in advance…
Crowd Source an Idea: Need some bar menu inspiration? Get your customers involved. Host a Facebook Live session and invite patrons to suggest cocktail ideas or what craft beers they want you to source. Another option: Ask them to help you name a cocktail or menu item as your live streaming.
4 Minutes of Fame: Run a Facebook Live or Instagram Live night. Invite patrons to be part of the live streaming action. Put a few ground rules on a poster (no swearing, no nudity, you get the picture). Then, let them have their 4 minutes of fame.
Get Creative: Or in the case of McDonald's, get weird. In one of the wildest examples of live streaming, McDonald's hosted a "Starving Artist" who painted Big Macs (and sold them on eBay). Yes, you'll want to watch the recorded live stream.
Show patrons you know what's current: dive into the stream. Whether you use Instagram, Twitter, YouTube, or Facebook Live, live streaming can carry your bar to success.
[fl_builder_insert_layout slug="whitepaper-signup-module-26-bar-promotions-that-work"]