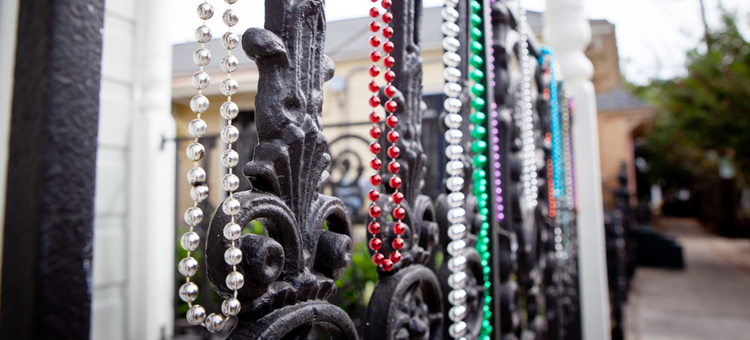 Put on your mask. Break out the beads. Laissez les bons temps rouler! That's French for "let the good times roll" and how you should approach Mardi Gras themed promotions. Also known as Fat Tuesday, Mardi Gras can beef up your bottom line as patrons seek out ways to indulge before the Lenten season. To bring in a parade of guests on March 5th, start planning these 13 Mardi Gras themed promotions now.
But First! Set the Atmosphere
In New Orleans, there's meaning behind every Mardi Gras tradition: from tossing beads (known as "throws") to wearing masks (which allowed members from high and low society to intermingle discreetly in the late 1800s). Tap into tradition when setting the atmosphere for your Mardi Gras themed promotions and events.
The Colors: The Rex Organization, the oldest and most exclusive New Orleans parade society, set these colors and their meanings back in 1872. Use them in your décor and Mardi Gras themed promotions.
Purple = Justice Green = Faith Gold = Power
The Sounds: New Orleans is the birthplace of Jazz, so highlight your Mardi Gras themed promotions with some classy jazz tunes. Bring in a live band if possible. Live band not in the budget? Use this Music of Mardi Gras Guide to craft the perfect playlist for your Mardi Gras themed promotions.
1) Create an (Instagram Worthy) Trio of Cocktails
One of the easiest Mardi Gras themed promotions? A purple, green, and gold cocktail menu.
Blueberry Purple Rain Martini (Purple/Justice): Made with blueberry vodka, blue curacao, and fruit juices, this sweet cocktail will do your Mardi Gras themed promotions justice.
Spicy BLT Green Bloody Marys (Green/Faith): Give guests a reason to partake in your Mardi Gras themed promotions early with a "notice me" green Bloody Mary. Filled with refreshing green tomatoes, parsley, cucumber, and jalapenos, this concoction reminds us why everyone has faith in the Bloody Mary to alleviate – or lead to – a hangover.
Kings Cup (Gold/Royalty): This golden cocktail made with vanilla vodka, pineapple, and champagne is fit for a king or queen. Serve in a gold goblet or even a commemorative glass as one of your Mardi Gras themed promotions.
2) Mardi Gras Around the World
Go global with your Mardi Gras themed promotions to stand apart from the competition.
Belgium Beer Fest
Put together your best Belgian beer list, then task your chef with incorporating oranges into a special menu as one of your Mardi Gras themed promotions. Why? Because that's how they do Mardi Gras in Binche, Belgium. A parade of masked revelers tosses oranges to the crowd to celebrate spring's arrival.
A Dance Marathon Inspired by Bolivia
Residents of Oruro, Bolivia hit the streets for a 20-hour dance fest known as La Diablada. Bring in a local DJ, stay open as late as possible, and invite guests to dance the night away! Or, be charitable with your Mardi Gras themed promotions. Partner with your nearest Children's Miracle Network hospital to host one of their official Dance Marathon events.
3) Masquerade Ball at the Bar
Add excitement to your Mardi Gras themed promotions with a masquerade. Give discounts to anyone wearing a mask. Let the crowd vote and award a prize to the best mask of the evening. Costumes and masks can make the most mundane Tuesday feel fun. In fact, why not use these Mardi Gras themed promotions as a start to ongoing midweek events? For inspiration, check out these 50 bar and restaurant events that improve slow nights.
4) All You Can Eat Buffet
Mardi Gras literally means Fat Tuesday. Build your Mardi Gras themed promotions around an all-you-can eat buffet inspired by traditional New Orleans eats.
Jambalaya: This Creole dish incorporates chicken, andouille, and shrimp in a rich broth perfect for warming up revelers on a cool night.
Crawfish Etouffee: Etouffee, meaning "to smother" in French, is a thick stew with pieces of crawfish and Creole seasonings served over rice.
Cajun Shrimp and Grits: Add this Southern staple to your Mardi Gras themed promotions.
Or, get crazy and ask your foodservice distributor to source alligator meat for you. It's affordable and fans say it, well, tastes like chicken.
5) Bourbon Street Bar Crawl
Bring Bourbon Street to your town. A favorite Mardi Gras activity is bar crawling through historic downtown New Orleans. If you have a cluster of bars nearby, partner up and schedule a bar crawl as one of your Mardi Gras themed promotions. Have a guide take the crawl to the different bars, and offer some signature Mardi Gras cocktails, like hurricanes. Give out beads at each bar for patrons to mark their progress.
6) King Cake Contest
Use the traditional Mardi Gras king cake to inspire your Mardi Gras themed promotions. Most New Orleans families bake a plastic baby or trinket into the king cake. Whoever receives the slice with the trinket is predicted to have a lucky year and is crowned "King of Mardi Gras." To avoid a choking hazard, but still gamify king cake eating, serve up mini king cakes. Bake cherries into some of the cakes. If a guest bites into a cherry-filled cake? They've won a $25 gift card.
7) Lundi Gras
Cure a case of the Mondays with a Lundi Gras celebration. It's a great way to stretch out your restaurant's Mardi Gras themed promotions. If you're going for a more boisterous vibe on Tuesday, Monday can be a foodie-friendly event. Offer a prix fixe menu of classic New Orleans dishes. Or, try a tasting of high-end bourbons. [fl_builder_insert_layout slug="whitepaper-signup-module-run-a-promotion-max-roi"]
8) Pig Out Contest
Major League Eating. Yes, the MLE is the organization to consult if you want to host a competitive eating contest as one of your Mardi Gras themed promotions. With the focus on overindulgence, Fat Tuesday is the best time to give this popular "sport" a try. As an added bonus, an eating contest is a PR magnet. Send out press releases to local news media to earn valuable (free) coverage.
9) Live Trivia: Battle of the Krewes
There are about 100 krewes – or clubs – responsible for running New Orleans parades. Krewes have crazy names and themes like Krewe of Chewbacchus (sci-fi theme) and Krewe of Cleopatra (all female). As one of your Mardi Gras themed promotions, invite patrons to form their own krewe, complete with a name and theme. Then, the krewes can face off in an epic round of live trivia hosted by your own staff. Offer a prize to the winning team, like a gift card and paper crown that deems them "Kings of Mardi Gras Trivia".
10) King and Queen of the Bar
Royalty is a major theme of Mardi Gras. So, launch a contest the week leading up to Fat Tuesday as one of your Mardi Gras themed promotions. Let guests enter their name if they'd like to be in the running to rule the bar. That means they get to wear a tiara and crown that night, and enjoy a $50 bar tab (you know they'll bring all their friends). The first 10 women and men who enter are listed in a simple poll hosted on Facebook or Twitter. Then, the games begin. Each contestant asks their own social network to "vote" for them. Expect any social media Mardi Gras themed promotions to drive traffic to your Facebook or Twitter page – and your bar.
11) Carnival Night
Bring a carnival atmosphere to your bar or restaurant's Mardi Gras themed promotions. Hire a magician to do cool card tricks at the bar. Bring in a tarot card or palm reader for a little fortune-telling fun. You could even rent a popcorn machine and set out gourmet seasonings like parmesan and Creole spice mix, or use these 11 popcorn recipes for inspiration.
12) Court Jesters
In line with the royalty theme, guests could compete for the title of Court Jester. Host an open mic comedy night as another one of your restaurant events or Mardi Gras themed promotions.
13) Parade "Bar Float" Competition
Mardi Gras parade floats in New Orleans can cost thousands to create. These Mardi Gras themed promotions won't cost a thing. Think of it like a wild version of a paint n' sip night.
Task guests with building a "mini float" on a simple cardboard box at home.
On Mardi Gras night, the float makers parade their box down the bar top.
Bring in local celebrities or artists to "judge" the parade floats. Give gift cards to the winners.
Award the most creative theme, funniest float, etc.
With the right Mardi Gras themed promotions, you can bring the excitement of New Orleans to your front door. So, pour yourself a good bourbon, and let the good times roll…