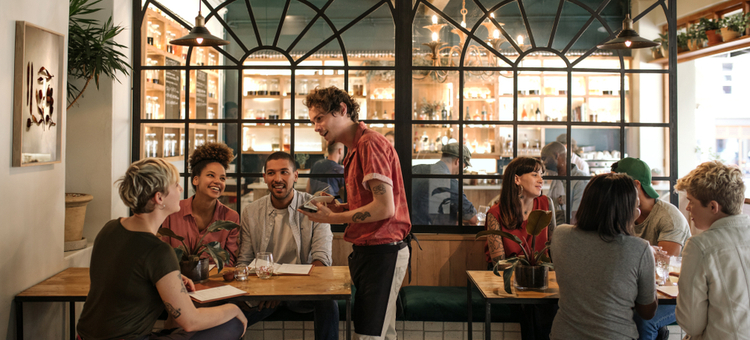 Staying current with restaurant and bar news can feel like a full-time job. With constantly changing trends, ever-evolving technology, and breaking industry news, you never know what's going to happen next. But we've just made things easier by rounding up some of the biggest stories in restaurant and bar news.
From stunners at the National Restaurant Show to changes in restaurant training programs, here's a look at all the need-to-know restaurant and bar news from May 2019.
2019 National Restaurant Show Highlights
The National Restaurant Association held its annual National Restaurant Show in mid-May 2019, affording us a closer look at some of the latest trends shaping restaurant and bar news.
According to PYMNTS.com, there was plenty to see and lots to expect in future restaurant and bar news throughout 2019. Some of the highlights of the article included:
Veggie Burgers That Actually Taste Like Meat: Impossible Foods is changing the game in restaurant and bar news with their "newly reformulated vegan burger" which apparently tastes almost exactly like real beef.
Mobile-Ordering Products Gaining Speed: Companies are jumping on the mobile ordering bandwagon in restaurant and bar news, with products like Say2eat. The ordering solution that operates through Facebook Messenger, then uses Google mapping to find the best route for restaurant delivery drivers.
Food-Carrying Robots: It's long been speculated in restaurant and bar news that robot servers could be a trend of the future. But it looks like the future is now, with programmable bots that can deliver food and even whip up a few dishes for your customers.
Restaurants Rev Up Recruitment: From Parties to Big Incentives (4-Day Work Week?)
It's no secret that employee retention is a major challenge for restaurants and bars. But as CNBC reports, some of the big names in restaurant and bar news are shaking things up and seeing positive results.
Hiring parties: Taco Bell hosted over 600 hiring parties nationwide to attract potential employees and teach them about the brand and future opportunities with the company.
Shorter Work Week: Shake Shack is testing a four-day work week for their management team, as opposed to the traditional five to six-day work weeks we often see in restaurant and bar news.
Extra Incentives: Starbucks and Chipotle are showing their employees some love by offering extra incentives, such as tuition coverage and health benefits.
Improved Training: The Wolak Group recently opened a new facility dedicated to employee training, ensuring that each new hire gets a personalized orientation experience when they start with the company.
[fl_builder_insert_layout slug="whitepaper-signup-module-5-step-marketing-budget-planner"]
Study Explores Which Customers Are Most Likely to Use NFC Mobile-Pay
NFC Mobile-Pay is one of the latest payment trends, picking up steam in restaurant and bar news with services like Apple Pay, Samsung Pay, and Android Pay easily available on mobile devices.
But will your customers us it? According to a study by the University of Central Florida, it could depend on your target demographic. The researchers surveyed participants on their willingness to use the payment technology and gathered demographic details to compare differences in gender, age, experience, income, and education.
The study showed that while education and income didn't seem to have an impact on whether customers would use NFC Mobile-pay, they did see major differences in responses based on gender, age, experience, income, and education.
So what does this mean for restaurant and bar news? Well, it's an indication that knowing your audience will help if you decide to invest in the new payment technology. Based on the factors listed above, they may love the new addition of NFC Mobile-Pay or shy away from it.
Research Finds that Nostalgia May Play a Major Role in Customer Loyalty
Every 90's kid knows that nostalgia is a big deal. That's why they jump at the chance to partake in anything that reminds them of their childhood, whether is a sophisticated version of a Saturday morning cartoon staple or arcade-style games on restaurant and bar tablets or a sitcom-themed pop-up diner. But could a trip down memory lane be enough to keep your customers coming back?
According to a recent research paper from China, it's quite possible. While studying the effect of Nostalgic Emotion on brand trust and attachment, researchers found that nostalgia could have a significantly positive impact on both. The research abstract states that nostalgic emotion plays a role in increasing brand trust, which in turn grows into brand attachment.
So, this restaurant and bar news means that appealing to the kid in all of us could build a deeper emotional attachment between your business and its customers. Sure, the study mainly focused on nostalgic restaurants specifically, but you could always bring a little bit of nostalgia to your venue by hosting a bar promotion with a Throwback Thursday theme or a 90s Trivia tournament. As the restaurant and bar news shows, a little reminiscing could go a long way in building loyalty with your customers.
Restaurants and Reservation Apps Tackle New Ways to Prevent No-Shows
A recent news article from the UK spotlights how the restaurant industry is trying to prevent no-shows for dinner reservations. Skipping out on a reservation is an age-old practice by customers and a source of frustration for many industry professionals. But, according to this restaurant and bar news report, there are some effective ways to reduce the chances of a reservation no-show:
Constant Reminders: As opposed to simply booking a reservation via phone with the restaurant, reservation systems will provide reminders via email and text to keep it at the forefront of the user's mind.
Pre-Paying for Tables: Several restaurants are charging a booking fee for guest to reserve tables. But restaurant and bar news reports that while some diners don't seem to mind pre-paying to reserve a fine dining meal, they may be more wary of doing so with more casual restaurants.
Making Cancellations Easier: Cancellations are better than no shows. And if customers could easily cancel reservations with a click of a button, you'll have proper notification and a better chance of filling the newly opened table.
Have a Drink Waiting: Our favorite suggestion came from Matt Simpkin, the vice president for Western Europe at Quandoo. He recommended allowing guests to pre-order their first round of drinks while booking their table. Just the idea that their drink will be waiting for them shortly after they arrive may be incentive enough for an almost no-show to make it to the bar. Cheers to that!
An Inside Look at Changing Restaurant Culture
This month, the New Yorker shared the stories of David McMillian and Frederic Morin, the chefs and owners of Joe Beef. The article is an in-depth look at the history of how the two started the restaurant, became sober, and started implementing changes to improve the work environment for their staff.
Their decision to analyze and adjust their behavior is a growing theme in restaurant and bar news. In the wake of several culinary icons losing their lives to substance abuse and suicide, the restaurant industry as a whole is openly communicating about ways to prevent future tragedies.
Things are changing and McMillan and Morin want to start with a more positive environment in their very own kitchen, in hopes that their younger staff will follow a healthier path than they did.
New Restaurant Tech Solutions are Brewing in a Coffee Shop Near You
Starbucks has a well-earned reputation in restaurant and bar news for being your friendly, neighborhood coffee shop that also implements some of the latest state-of-the-art technology to enhance its guest experience. And as Restaurant Technology News reports, now the cafe giant is partnering with Microsoft to piggyback on some of the fastest-growing industry trends in restaurant and bar news:
Personalization: Using reinforcement learning technology, Starbucks plans to be able to make drink recommendations for customers based on a multitude of factors, including best selling products, the weather, and even personal ordering history.
Integration: Starbucks is integrating all of its machines to the cloud using Microsoft's Azure Sphere. This allows the company to easily track and access all types of useful data about their equipment, from machine performance to drinks poured, and even the type of beans used during a shift.
Transparency: Using a new feature powered by Microsoft Azure Blockchain Service, Starbucks customers can learn everything about where their cup of coffee came from, including where the beans were harvested and roasted, along with what Starbucks is doing to help the farmers that grew your coffee.
That's a wrap for restaurant and bar news in May 2019, but stay tuned for more stories next month!