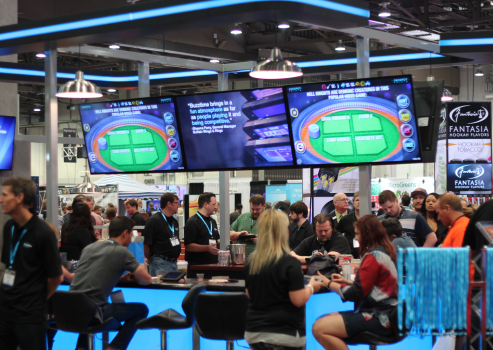 The taxing preparation and long hours invested by thousands of exhibitors from the bar and restaurant industry came to fruition last week at Nightclub and Bar 2015, where new products were demonstrated, connections were made, and entrepreneurs and bar managers alike came to capitalize on the annual experience. The humble Buzztime squad, composed of Executive, Marketing, Sales, and Product experts wasted no time conquering the three-day expo like opportunistic Vegas visitors, prepared with pockets full of business solutions and surefire bets.
Curious excitement surrounded the neon blue-lit bar at Buzztime's booth, where TVs glowed with Jackpot Trivia and a preview of a new, predictive sports game captivated onlookers from above. Jessica Albert, Events Manager and designer behind the Getty Images-featured bar setting, was even approached by operators inspired to model their actual bars after what they saw. The reward of its 24-hour setup and 16-hour breakdown was made apparent to Albert after witnessing the attention-grabbing display amount to equally impressive inquiries. "Our team worked together like a well-oiled machine," Albert recalls. "The fact that we blew our lead and sales goals out of the water was really exciting."
Booth visitors who took in the bar-side attraction didn't solely comprise newcomers to the Buzztime legacy. Older hands in the hospitality trade were quick to recall another company who provided similar services called "NTN'," unaware of its renaming to "Buzztime" in 2006. Subsequent reactions to the revelation were of astonishment and admiration, which Senior Director of Marketing, Andre Lawless, likened to a high school reunion encounter. "[It was as if they] were seeing someone from the past who turned out to have done quite well for themselves."
The connection between our current presence and our past only reinforces the ever-evolving abilities of our technology to drive sales and engage patron loyalty. Flagship football game QB1 (1984) provided the foundation for Buzztime to pioneer predictive sports and trivia games as patrons pressed the buttons of blue Playmakers. Today, the game's successor pulls sports fans in with sleek Samsung Galaxy Tabs for the ultimate real-time strategy and fantasy-based multi-sport experience. Also available at the touch of a screen is our social gaming standout Jackpot Trivia, a modern and revolutionary answer to traditional bar trivia that presents guests of all ages to choose their favorite categories and win. By integrating the latest technology with revenue-generating games, Buzztime continues to bring valuable fun and social experiences to bar owners with a progressive fervor that any entertainment provider would be hard-pressed to deny.
PJ Eichten, resident "booth babe" and Digital Marketing Manager, echoed the sentiment following his time on the floor, where he observed everything from boxed smoked salmon to Sammy Hagar as various booths' main attractions. "Everyone was in great spirits," said Eichten, with a cloying admiration of his fellow bar and restaurant industry professionals. "Owning a club, bar, or restaurant isn't easy. It takes a special type of individual to keep fighting that battle, all in the name of creating a space for people to let loose and enjoy life."
Next year's Nightclub and Bar convention & trade show will commence on March 7 through March 9, 2016. What did you hit up or miss out on during your time at #NCB2015? Let us know what you're hoping to see or planning to do in the Comments section below.