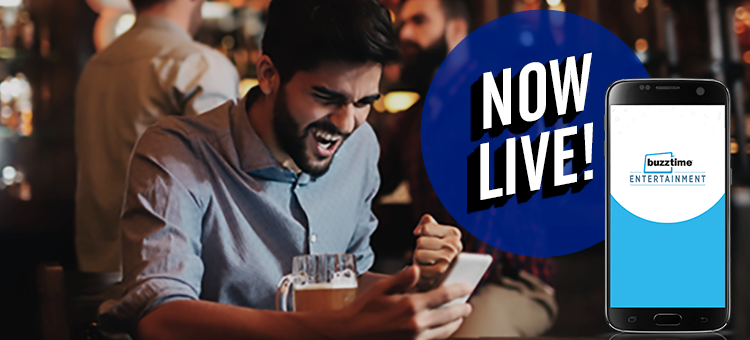 All of us at Buzztime are excited to announce that the new Buzztime Entertainment app has launched! After downloading the free app onto their phones, players can now join in select Buzztime games at your venue.
We've already started alerting the 10 million registered Buzztime players that the app is live – join us in spreading the word!
Buzztime Entertainment App 101: The Basics
Now, Two Ways to Play: Tablet or App!
We launched the Buzztime Entertainment app to provide players with an additional way to play along with their favorite trivia games at your location. Of course, players can still use tablets to get their game on. However, now that the app is live, players have another option in case all tablets are in use, or they simply prefer using their phone to play.
The App is in a Beta Phase
The app is being released in "beta" form. That means it's fully functional and ready for players, but we're continuing to develop and improve it based on their feedback – and yours, too! Currently, players can use the app to play some Buzztime trivia favorites including Countdown, Movie Night trivia, Pop Culture trivia, and many more. Additional trivia games will be added throughout the year!
How to Promote the App to Your Customers
Help Your Customers Download the App
Train your team to help customers download the app – and then register as a Buzztime player. The app will be available for download onto both Apple and Android devices. You can download it by going here:
Ask Players for Their Feedback
If you notice someone using the app to play Buzztime, encourage them to share their ideas for making it even better.
Clear Up Any Confusion!
The new Buzztime Entertainment App will replace the previous Buzztime Playmaker App. That app will no longer be functional, so let players know they simply need to download the new app to start gaming!
We're excited to offer your customers another way to enjoy Buzztime through our new app. We'll keep you posted as we continue to develop and expand what the app can do. If you have questions, just reach out to your Buzztime account representative at any time.
We put together an FAQ for our initial release, if you have any more questions:
https://www.buzztime.com/business/blog/buzztime-entertainment-app-faq-2019/