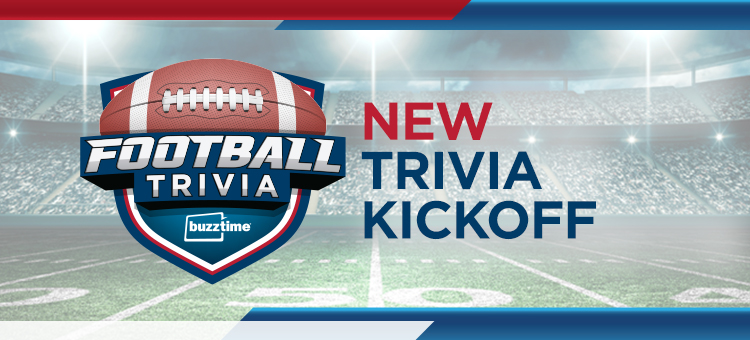 Get your game face on! Football Trivia kicks off Sunday, September 10th at the nearly 3,000 Buzztime locations across North America – including yours. This brand new trivia game is designed to draw football fans to your place on prime gamedays: Saturdays, Sundays, and Mondays. Here's what you – and your patrons – can expect when Football Trivia touches down…
New Questions Weekly
While football fans love tackling trivia topics about past Football Trivia is focused on what's new and now in football. Questions are pulled from the week's college and pro gridiron headlines: big plays, impressive stats, star athletes, epic rivalries and other timely topics. With new trivia questions each week, Football Trivia inspires repeat business as fans return to catch the latest football news and enjoy a social, interactive, and entertaining experience.
Enhances the Game Watching Experience
Competition is fierce on gameday as every bar promotes that they've got the game on TV. Football Trivia can give your venue the edge. Now, fans can enjoy an enhanced experience that packs even more football action into their visit to your venue. Be sure to include Football Trivia in all of your promotions – emails, social media, print ads – to stand out from the competition and prove that your place is the best place for all the gameday action.
Friendly Competition
Football games are all about rivalries. Tap into that competitive spirit with Football Trivia. Groups of friends will challenge each other to see who can rack up the most points and move up the Buzztime leaderboard.
Attracts ALL Fans
From die-hard football fans to casual spectators, Football Trivia will appeal to anyone who watches football. Since questions are based on recent gameplay, guests won't need to be a football "expert" to join in the game. Another benefit of Football Trivia? You'll attract fantasy football players and leagues looking for a bar or restaurant to become their fantasy headquarters.
With Football Trivia on your roster this fall, we hope you see even more fans rushing into your location for their fix of gameday action!