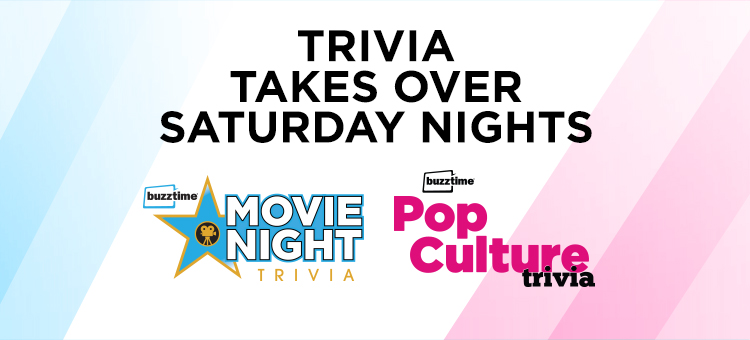 In July, Movie Night Trivia and Pop Culture Trivia arrived to over 2,700 Buzztime locations – including yours! We're already hearing from bars and restaurants that these trending trivia games brought in new faces and added excitement for existing patrons on Saturday nights. Movie Night Trivia and Pop Culture Trivia are sticking around, so here's what you can expect every Saturday…
A Lively, Social Scene
Movie Night Trivia and Pop Culture Trivia both feature trivia pulled from the previous week's entertainment headlines. The trivia questions have been carefully selected based on trending topics in movies and pop culture, so the current content will get guests talking. In addition to upbeat, entertainment-focused questions, the format of the games is fast-paced, adding energy to your atmosphere. A new game kicks off every 15 minutes with just 7 questions, making it easy for guests to jump in and play.
Drawing Crowds and Millennials
On Saturday nights, crowds – especially millennials – are looking for bars and restaurants that offer more than a meal or drinks. Pop Culture Trivia and Movie Night Trivia are that "something extra" that can enhance their night out with added-value entertainment. A millennial couple heading out to the movies can stop into your place for a few rounds of trivia. Big groups of bargoers will be tempted to stay at your venue instead of hopping to the next one, as Buzztime runs promotional messages between trivia games inviting them to play another game.
Bringing Guests Back for More
To encourage repeat visits, Movie Night Trivia and Pop Culture Trivia are refreshed each week with questions from the latest movie and entertainment news. Guests can expect that the trivia will always be timely, current, and focused on fun topics – bringing them back for more the following week. Our ultimate goals is to help you build a bond between you and your patrons, giving them a socially rewarding experience that they can't get anywhere else.
Movie Night Trivia
Before you pass the popcorn, play Move Night Trivia! Critics agree, Movie Night takes you inside Hollywood with trivia taken from this week's big screen scene. From A-list actors to upcoming releases, if it's movie news – it's in Movie Night!
Pop Culture Trivia
Did you hear about Pop Culture Trivia? It's the juiciest entertainment trivia, fresh squeezed from this week's headlines. If you saw it in your newsfeed, you'll find it in Pop Culture Trivia.