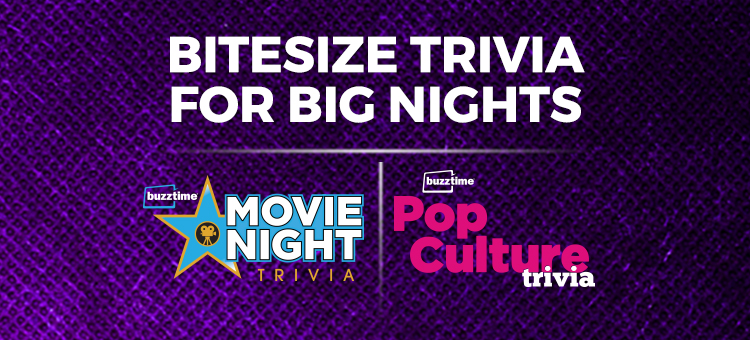 If you're like most bars and restaurants, your Saturday nights are big. Buzztime thinks they can be even bigger. That's why we're launching Pop Culture Trivia and Movie Night Trivia. Just 15 minutes and 7 questions each, these bitesize games run back to back to amplify your Saturday nights: bringing in more millennials and big groups, enriching your social scene, and sparking repeat business. Here's how…
Made for Millennials and Big Groups
What brings patrons to your place on Saturday night? Groups of friends stopping in for dinner and drinks before a flick. Millennial couples on date night. Both Pop Culture Trivia and Movie Night Trivia will enhance their night out with topics focused on what they're already talking about: new movies, viral videos, hot celeb rumors. The on-trend Saturday night trivia can also become the reason guests pick your place on movie or date night.
Made for Socializing
The bitesize format also creates a ripple effect of fun throughout your venue. Since games are just 15 minutes, guests take a "why not?" approach and jump in for a high-energy round of trivia. Some may stay and play multiple rounds, while fresh faces may join in and compete for a spot on the leaderboard. The entertaining content of the trivia itself easily brings people together as they chat about the latest movies and celebrity gossip. The result is a vibrant social scene centered on conversations about trending topics.
Made for Repeat Business
While all Buzztime trivia is updated regularly, both Movie Night Trivia and Pop Culture Trivia are focused on entertainment news from the previous week. It's a real-time trivia experience that's always new, now, and on trend. Guests are inspired to return the next Saturday for another round of fresh, fun trivia – sending repeat business to you. For other guests, Movie Night Trivia or Pop Culture Trivia may be their first taste of Buzztime trivia and games. Once they experience our socially rewarding entertainment, they may also come back mid-week for a longer round of trivia.
100% Fresh Trivia
Movie Night Trivia
Before you pass the popcorn, play Move Night Trivia! Critics agree, Movie Night takes you inside Hollywood with trivia taken from this week's big screen scene. From A-list actors to upcoming releases, if it's movie news – it's in Movie Night!
Pop Culture Trivia
Did you hear about Pop Culture Trivia? It's the juiciest entertainment trivia, fresh squeezed from this week's headlines. If you saw it in your newsfeed, you'll find it in Pop Culture Trivia.