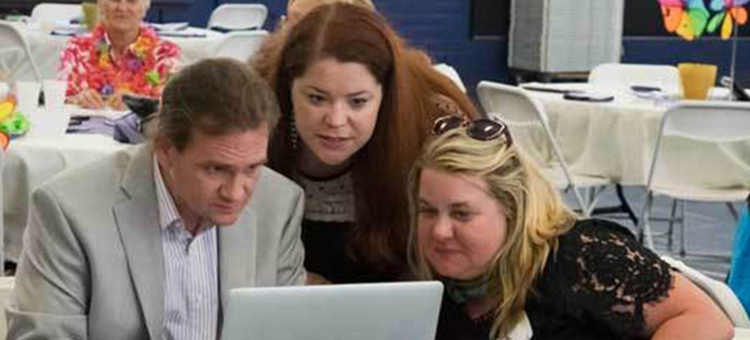 Source: OsideNews.com
Article: http://www.osidenews.com/2016/07/18/trivia-bee-raises-funds-oside-library/
Oceanside CA— More than a dozen teams competed, on Sunday, in the Friends of the Oceanside Public Library's annual fundraiser, the Trivia Bee held at the Junior Seau Beach Community Center.
Teams, made up of 3-8 people, with names like; Dewey and the Decimals,the Bee-Bliophiles and the Crazy Cat Ladies answered a wide variety of trivia questions from geography to entertainment and history.
There were two qualifying games followed by a championship final round where the Blue Wave Kiwanis took the top prize, the coveted Seagull trophy. There was a tie for second place between the Martian Liberation Front (a team made up of Library staff and sponsored by the DeBell family), and Any Other Rose.
David Nydegger of the Oceanside Chamber of Commerce was as the Master of Ceremonies and Erik Evans served as Quiz Master.
Unlike previous years, the entire competition was scored electronically thanks to the sponsorship and donation of equipment and services from Buzztime Entertainment.
Another fundraiser will take place on August 20, 2016 when the Friends of the Oceanside Public Library hosts their annual Book Sale. The sale runs from 10:00am-4:00pm with hardcover books selling for $1.00 and soft-cover books go for fifty cents. The Book Sale will be held at 602 Civic Center Dr. where members of Friends of the Oceanside Public Library can shop the Early Bird Sale from 9:00am-10:00am.
For more information, visit the Friends of the Oceanside Public Library Facebook page.