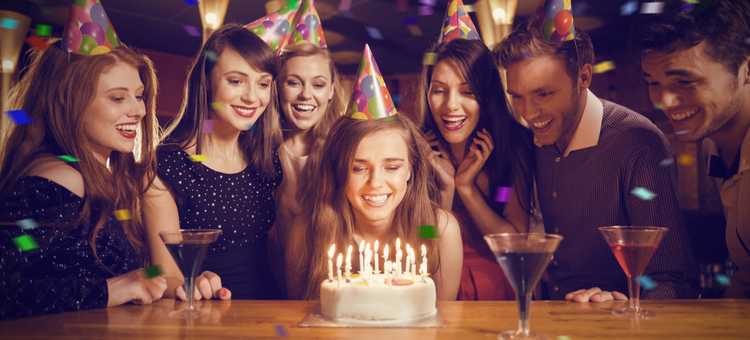 Kayla is turning 21. Jeff is about to go over the hill. And Jalen is celebrating his 30th. They all want one thing, aside from tons of Facebook birthday shout-outs: a memorable, best-night-ever kind of bar birthday. Make it happen, and you'll be rewarded with a rush of business on any given night. Use these 6 strategies for making your place the "it" place for birthday bashes…
1. Make the Ask for a Bar Birthday
You collect customer email addresses, right? Take a cue from the big chains. When collecting email addresses, always gather the guest's birthday as well. (Don't ask for the year, that's just nosey). Then, use an email management service – like MailChimp or Constant Contact – to automatically send a personalized invitation to host their bar birthday a few weeks before their big day.
Where the bar and restaurant chains get it wrong is only sending a coupon for a "free piece of cake" or "free appetizer." Um, boring. Instead, email out an offer that encourages people to bring in a big group with them, like these creative bar birthday offers and ideas:
The More the Merrier! Let us host your bar birthday, get a free appetizer for every 5 people you bring!
Cake, Cake, Cake Bring 5 or more people in to celebrate your birthday with you, we'll provide the cake, candles – and sing happy birthday to you.
Your Birthday Crown Awaits Hold court on your birthday at our bar, and we'll treat you and 5 or more friends to mini cupcakes. We've even got a crown waiting that you can wear for the night. (P.S. you need to buy a birthday crown for the fellas and a tiara for the ladies to keep at the bar.) Or, go DIY and make this "royally awesome" crown bar jacket the birthday reveler can sport. We're only kidding, sort of.
A quick note: It's often illegal in many states, counties, and municipalities to offer promotions that include free alcohol. That's why you're not seeing "free bar birthday shots" on this list.
2. Rent it Out, Already
If you don't allow folks to rent out your bar (for a handsome fee, of course), you're doing it wrong. Even these popular spots in NYC will close for private events, including bar birthdays. Some venues only accept private parties on days they'd otherwise be closed, like Mondays. Others will shut down for a bar birthday party on any weeknight when business is otherwise on the slower side.
Another option is to set up a VIP room that can be rented out for birthdays and other special occasions. If you go this route, invest in some basic AV equipment like a projector with a USB port and a white screen, or just a large flat screen TV. That way groups can run slideshows featuring the guest of honor.
No private room? No problem. Purchase a privacy screen or partition to create a cozy space that's separated from the rest of the bar.
3. Make Your Drink List Bar Birthday Friendly
Challenge your bartenders to come up with their take on a birthday cake shot. Make it a contest, with the best concoction earning a permanent place on your drinks list. Need a little inspiration? We've got you. Check out this birthday shot recipe complete with rainbow sprinkles. Serve with a birthday candle for extra flair and Instagram-ability.
If your bar serves food, it's easy to "birthday-ify" any dessert. Just train your team to write the bar birthday guest's name in chocolate drizzle around the plate. Again, expect plenty of Instagram action as the guest humble brags about their personalized dessert.
[fl_builder_insert_layout slug="whitepaper-signup-module-50-best"]
4. Offer Bottle Service
Here's a secret. You don't need to operate a Vegas club to get in on the bottle service trend. Whether you run a sports bar, a craft beer pub, or anything in between – bottle service will draw the bar birthday crowds. Why? Because this service is all about putting the attention on the birthday girl or boy.
As the bottle is delivered, you need to put on a spectacle. We're talking flashing LED lights, actual sparklers if your fire code allows, cheering bartenders and servers, anything to create a commotion (and an "Instagram worthy" moment). Here are a few quick steps to follow if you're going to offer bottle service…
The first step is to create the bottle service package, and put it on your menu. Typically, you'll select a bottle of tequila or vodka – and mark it wayyy up. We're talking $150-$250. Include mixers, lemons, limes, and ice. Check out this example from the Dive Bar in D.C. If you cater to a craft beer crowd? Bring in a crazy-expensive bottle of a rare brew and include souvenir pint glasses the group can take home so they'll always remember that epic bar birthday.
Next, decide if you'll offer VIP seating. You don't have to include VIP seating with your bar birthday bottle service, but that can attract large groups who like to plan ahead. They can book out a section of your bar in advance, and ensure a spot to stash their coats, purses, and presents.
A VIP seating area can be a sofa, set of banquettes or cushioned benches, or even your regular tables and chairs with a roped off area (bonus points if it's a red velvet rope).
5. Package it Up (Party Games, Décor, Transportation…the Works)
Listen, unless someone is an event planner, they need help planning their bar birthday. So be their bar hero with complete party packages including these offerings:
Let's Ride: No one needs to worry about being the designated driver when you provide $5 LYFT or Uber credits to a large group of bar birthday goers. You could even team up with a local limo company to offer an ultra-posh package.
Décor and Done: For a small fee, offer to put out helium balloons for the bar birthday guest and their crew. Class up those balloons…opt for silver and gold star-shaped balloons.
Game On: The kids know what's up. Seven-year-olds always have games going on at their birthday bashes. Grownups love a little friendly competition, too. Nah, we're not talking pin the tail on the donkey. (Pins and pints? Not a good mix.) Instead, offer to host a private live trivia event. Guests can play along on their phones or hook 'em up with tablets. You decide
6. Run an Ongoing Bar Birthday Party
Designate a day once a month to throw a bar birthday party for patrons celebrating a birthday in that month. Create a festive atmosphere with a "Happy Birthday" banner behind the bar. Come up with a different signature drink for each month.
The bar birthday stars will align when your host a monthly zodiac party. Create a signature cocktail for the featured zodiac sign like a Virgo Vesper or Gemini Gimlet. Bring in a local astrology reader for fun.
Let's be honest. It's not just 21-year-olds looking for a place to celebrate their special day. From seniors to Gen Xers, everyone wants to feel like a king or queen for a day. Use these tips and come up with your own creative twists on the birthday theme and it'll be a piece of cake to start seeing more customers – and profits. Cheers to that.