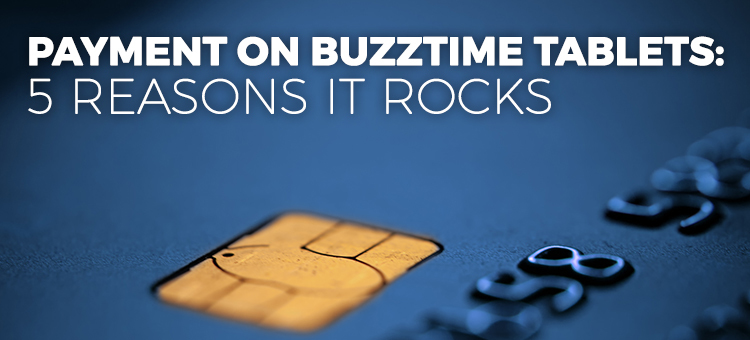 Bars and restaurants nationwide are bringing something new to the table…Buzztime Customer-Facing Dining Technology. Guests can now order from a digital menu, then securely pay – all on Buzztime tablets. From Maine to California, dozens of venues are already seeing the benefits of "digital dining," especially when it comes to on-tablet payment. See why it rocks and what's new!
The Ultimate Convenience
Let's face it. Guests don't like waiting for the bill. With integrated payment, patrons can check out on their watch – without waiting for a server. In a few taps, guests can review their bill, pay, tip, and opt to receive an emailed receipt. Your servers are freed up to cover more tables, which turn faster as guests pace out their meal.
"Chip Card" Friendly
Essentially, the Buzztime Tablet is like a guest-facing POS system. Guests can run their credit or debit card right on the tablet. An integrated EMV (aka "chip") card reader ensures PCI compliant transactions. Our tablets have been EMV-certified with WorldPay and we just added Elavon as well. We're continuing to add more merchant processors.
Pay Your Way! Mobile Pay is Coming
This summer, Buzztime tablets will even be equipped to accept mobile payment (also known as contactless or NFC payment). That's right, customers can soon use their smartphone to pay through apps like ApplePay and SamsungPay. According to National Restaurant Association research, up to 39% of today's guests with smartphones, would like to pay for meals using mobile payment.
Easy POS Integration
Buzztime's dining tech seamlessly integrates with most POS companies. Currently, our system integrates with NCR, Digital Dining, and Micros 3700. We'll soon be announcing new integrations…so stay tuned!
Security Made Simple
Show guests you're taking steps to keep their financial data secure and 85% will be more loyal to you, according to a 2017 Accenture study. With on-tablet payment, the guest's card stays with them at the table. Plus, EMV and contactless payments are more secure than the "swipe" payment method.
Buzztime's Customer-Facing Dining Technology is taking off fast. It's quick and simple to set up, and guests are excited to try the latest tech. From independent bars to regional restaurant chains, everyone is giving this tech-forward payment solution a try. Let us know if you'd like to learn more!