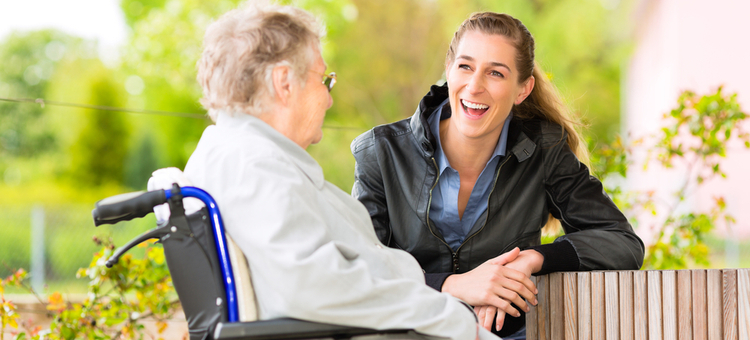 When you visit your parents or grandparents at a nursing home, knowing exactly what to do can prove tricky. When you have a full afternoon or evening to spend with your loved one, you may want to do something other than catch up or look at recent photos.
However, all you need to do is think a little out of the box and you and grandma can have fun for hours. There are plenty of thrilling and inexpensive games and activities that are perfect for visiting nursing homes. The following are our top choices that are sure to keep everyone entertained and on top of everyone's perfect nursing home visitor activities list.
Dice Games – Playing cards can provide tons of entertainment, but for many seniors holding onto skinny cards for lengthy periods of time can be difficult, especially for those with arthritis or osteoporosis. For a fun activity that's easy to handle, you can't go wrong with high-energy dice games.Games like Yahtzee offer plenty of thrills, and don't require much skill to play, so they're great for pick-up-and-go gaming. Dice are fun to throw, inexpensive, and last for years. Invest in a solid set of dice and look up a few classic dice games the whole family can enjoy next time you visit the nursing home.
Party Games – Everyone loves a party! For larger groups, social-oriented party games are guaranteed to amuse. Traditionally, party games include such favorites like Charades, but the movement and vigor needed for a quick game of Charades simply isn't possible for some seniors.The best party games to play at nursing homes are ones that are mostly verbal, so you and your family can play while comfortably seated at a couch or at a table. Try "Name That Tune," where you list lyrics from a song (starting with an obscure line, eventually moving on to the chorus) until someone guesses it.Another hit is "Celebrity," in which everyone writes down celebrity's names in a hat and teams compete to describe as many as possible in under a minute to get their teammates to correctly guess and score points.
Trivia Games – Trivia that's geared toward seniors can keep them mentally sharp as well as inspire fun stories and memories. For best results, try to find a trivia game with questions and answers pertaining to a few decades ago. Tons of categories are great for seniors, including music, movies, sports, art, and history. For trivia games with countless questions and not a lot of bulk, you can't go wrong with Buzztime trivia. Digital trivia is a fantastic way to get the most for your money and keep seniors entertained for hours on end. With a trivia game, the entire family can join in and learn a thing or two in the process!