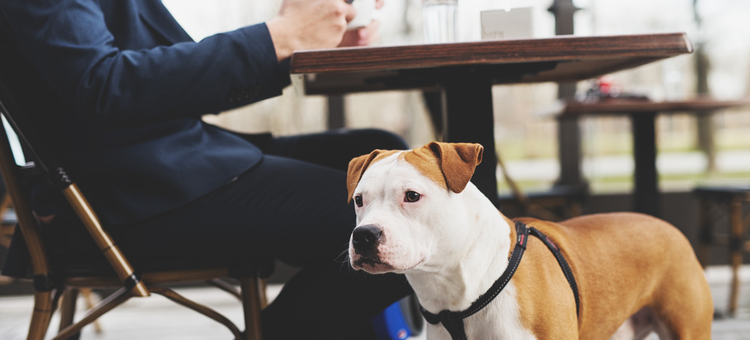 If you walk into a restaurant and the first thing you notice is a furry, four-legged creature greeting you with a wagging tail, you may wonder, "who let the dogs out?" As a restaurant owner, welcoming dogs can be a daunting concept. However, according to The Humane Society, there are more than 78.2 million dogs owned in the United States. This is a gigantic segment of the market that offers a true business opportunity. Here are a few ways your restaurant's operations can accommodate man's best friend.
On the Road Again
You can capitalize on traveling patrons by allowing pets to dine with their owners. If you allow pets and get the word out, they may just skip that fast food chain and give your establishment a chance. Positive word-of-mouth is one of the easiest and most effective ways to promote your business.
You don't have to redesign your whole place to handle pets. It can be as simple as leaving water dishes out for a cool drink of water or a few small biscuits to toss to the pup if he or she is behaving well.
Various cities have entire trip advisory websites for pets that include restaurants, lodging, events and parks to visit. Travelers will research cities based on their fluffy companion by visiting sites as Bring Fido or Dog Friendly. If you support pets, get listed and make sure to mention it on your website as well.
'Woof' for the Camera
Create a keepsake for customers and their pets. Have a photographer take a photo, even a simple Polaroid would suffice, and share it with the owner.
To tap into social media, ask customers to take photos and upload them to the restaurant's Facebook or Twitter page.
Consider running a "cutest dog" contest. Post pictures in-house and on social media websites, then ask customers to vote for their favorite pooch. Winners could receive a specialized treat box.
Special of the Day: Dog Bone Sundae
If your restaurant is in close proximity to a doggy day-care, shelter, salon or park, consider advertising on a chalkboard outside of your establishment that states, "stop by – you and your pooch would love our dog-friendly menu."
Speaking of, why not create a small dog-friendly menu? Cassis in Florida has a separate menu for the dogs.
An entire separate menu may not feasible, but having one simple brand of dog food or treats on hand would be an easy way to satisfy customers.
Pooches on the Patio
You may encounter opposition from customers who are not as fond of sharing their dining experience with a cuddly creature. Make sure that your staff is prepared to handle objections and knows all related policies.
One option would be to seat those guests inside or set aside a designated date or time for pets to join their owners on the patio.
Select one night a week for "Pooches on the Patio" where dogs are welcomed, and you host a simple , social event for local pet lovers that includes treats, specials on meals, and perhaps even a post-meal walk around the block or park, depending on your location.
Restaurant owners who happily welcome pets are likely to develop a strong, loyal customer base. If you treat a customer's pet with love, they will take notice and develop a favorable opinion toward you, your employees and your establishment as a whole.
If you are seriously considering opening your customer base to include these tail waggin' furry friends, be sure to research local health ordinances first, which vary by city.
[fl_builder_insert_layout slug="whitepaper-signup-module-golden-book-of-upselling"]