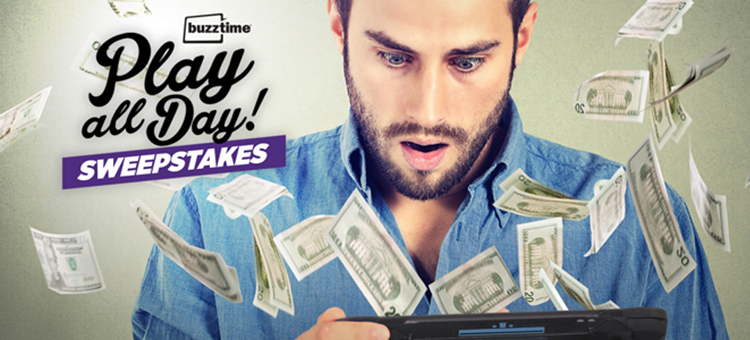 This April, want more guests marching into your venue? Use these graphics and 6 tips to build a buzz around our Play All Day Sweepstakes. Here's how it works:
Every day in April – from lunch till late night – your guests can play 3 Buzztime games for a chance to win the $2,000 prize.
There no limit to gameplay! Every registered play of Lunchtime, Countdown, and Late Shift Trivia in April earns one entry.
Qualifying games run all day, every day – so if it's after 11am, your guests can register and join in the Sweepstakes.
The Buzztime team is already alerting the 10 million registered Buzztime players about the sweepstakes. Join us in getting the word out – to get even more guests through your doors.
1) Get Social With Us
When posting about Play All Day Sweepstakes on social media, use #Buzztime and #Sweepstakes so guests know that Buzztime is running the promotion.
"Tag" Buzztime on social media to align your business with this exciting national promotion:
Facebook: @Buzztime
Twitter: @Buzztime
Instagram: @PlayBuzztime
Invite guests to tag Buzztime in their own photos and videos using #Buzztime #Sweepstakes #YourBusinessName.

2) Focus on Registrations
The Play All Day Sweepstakes is the ideal time to build your Buzztime player base. Existing, registered players are all set. But new guests must register on Buzztime Tablets before their gameplay can count as an entry into the sweepstakes.
Train your team! Show your servers and bartenders how to help guests register. It's fast and free. Then, instruct employees to mention the sweepstakes and offer Buzztime Tablets to every guest.
3) Boost Lunchtime Business
Lunchtime Trivia – one of the 3 qualifying games – runs 11am-2pm. Games are just 15 minutes, perfect for time-crunched guests.
Promote your lunchtime menu specials and let guests know their meal could come with a side of $2,000 if they register and play!
Need ideas for lunchtime specials that draw crowds? Check out these 15 trending lunchtime specials.
4) Give Your Slowest Daypart a Lift and Make Happy Hour, Happier
For many bars and restaurants, midafternoons can be on the slow side. Schedule these graphics to run on Facebook during those slower dayparts. A chance to win $2,000 gives guests a reason to come in!
Countdown Trivia, one of Buzztime's most popular trivia games runs every day from 2pm until 10pm – so registered players can earn an entry for every round they play. Yes, they could play all day at your place to earn more entries!
Add excitement to your happy hour by encouraging guests to register and play Countdown. If you're hungry for more hour ideas, get inspired with these 37 creative happy hour ideas.
5) Pose a Question
Questions on social media increase guest engagement and interaction – while reminding them of the Play All Day Sweepstakes.
How would you spend $2,000 if you're the winner of @Buzztime Play All Day Sweepstakes?
Start dreaming, then come play today.