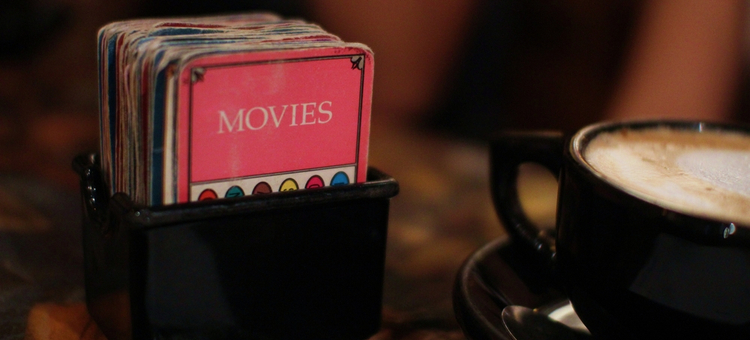 Question: What's the best way to liven up weeknight business?
Answer: Host live trivia!
Trending everywhere from neighborhood bars to family restaurants, live trivia events are a win-win. Guests get an escape from the midweek blues. You get a boost of foot traffic and sales. Now is the time to host live trivia. Choose from 3 formats, then see 8 trivia night themes to get inspired!
How to Host Live Trivia: 3 Options
1) Hire a Trivia Host
Pros
There's minimal or no work on your part. Just call in the host!
Most people who host live trivia are outgoing and social – creating a fun atmosphere.
Cons
You might get sticker shock: hosts can charge up to $300 per event. They may charge extra if you ask for specific trivia night themes.
Many trivia hosts work at multiple venues. If your customers love the host, they may follow them to a competitor…
Oops! Your trivia host wrote shoddy questions and now your guests are angry. Unfortunately, not all who host live trivia do proper question research.
2) Host it Yourself (and Write Questions)
Pros
You won't spend a dime to host live trivia yourself.
Calling all control freaks! You decide the trivia night themes.
If you, or a staff member, host live trivia – you build bonds with guests.
Cons
Time is money, and researching and writing questions takes hours.
Writing trivia is an actual profession. Questions must be 100% accurate but also fun and interesting. That takes a lot of work!
3) Host it Yourself (and Use a Digital Trivia Service)
Pros
To host live trivia, you subscribe to a digital service which provides everything: questions, event planning tips, and ideas for trivia night themes. You'll get handheld tablets for automated scoring. It's also easy to host trivia tournaments that recur weekly.
Questions are accurate and updated daily.
Beef O'Brady's in Apollo Beach, Florida saw "pitcher perfect" results by using tablets for live trivia. The weekly event boosted guest traffic by 40%…and pitcher sales by 200%.
Typically, you can run as many trivia events as you want – for no extra fee.
When you're not running live trivia, guests can still compete in trivia across a nationwide trivia network. Dozens of trivia games run 7 days a week, 15 hours a day.
Cons
If you want to host live trivia around very specific trivia night themes (think Harry Potter), digital trivia won't let you get that granular.

Host Live Trivia Using These 8 Trivia Night Themes
5 Trivia Night Themes for Any Category
The first 4 trivia night themes – and one brunch idea – can be used for any topic. In fact, while some trivia hosts like to do quirky categories ("the best of Nicholas Cage movies"), you risk shrinking your audience. Even Harry Potter trivia night themes won't appeal to everyone. For the best ROI when you host live trivia, stick with general trivia!
One more thing. At the heart of a great trivia night are awesome prizes for the winners. Use these 5 pro secrets for hosting live trivia – including prize ideas.
1) Team Spirit Showdown
Don't be surprised. If you host live trivia, prepare for some crazy competition! Trivia players really get into it. Double down on the competition by offering prizes that reward team spirit.
It starts with the team's name. Teams like to show off their wit with "punny" names. Be sure to set a policy if you will or won't accept NSFW (not safe for work) trivia team names like these. Reward the most clever team name with a prize.
2) Family Faceoff
Trivia isn't just for the college crowd! Families can get in on the fun when you host live trivia in the evening. In fact, the event could be an incentive for families to come in for a weeknight dinner – and a round of trivia.
Be clear about the age requirements and check the questions carefully if you host live trivia for families. Some trivia night themes may be too mature for younger folks.
3) Brainiac's Brunch
It seems like every bar and restaurant is getting in on the weekend brunch craze. How can you stand out? Host live trivia during a "braniac's brunch" event.
BONUS: Afternoon Delight Trivia
Weekend afternoons can be slower for many bars and restaurants. So, host live trivia. Create a menu of small plates and read off the questions at a relaxed pace. You could even host live trivia outdoors on a beautiful day.
4) Battle of the Charities
Show you've got heart with your live trivia night themes. An Edelman Good Purpose study revealed that 72% of people recommend businesses that support for causes they care about.
To host live trivia with a charitable twist, invite teams to select a non-profit to represent. Reward the winning charity with a donation. Of course, spotlight the champion charity on social media, too.
You can even get more specific with your philanthropic trivia night themes. For example, invite volunteers from all local animal rescues and shelters to compete.
5) Corporate Challenge
It's team building made simple for local business owners. Consider trivia night themes that welcome them into your bar or restaurant for friendly competition. You could host live trivia for one entire company. Or, set it up so that local businesses play against each other.
VARIATION: Industry Trivia Night Themes
Nurses versus teachers. Customer service reps versus construction crews. Give a shot out to various professions by inviting them to create teams based on their livelihood.
3 Creative DIY Trivia Night Themes
If you want to host live trivia – and create the questions – these trivia night themes are for you…
6) Host Live Trivia…with a Tasting!
Get interactive with your trivia night themes. Serve small pours of beers and then ask questions based on the brews you serve. You could do the same with wine. Or, bring your chef out to host live trivia. He or she can show off their insider culinary knowledge.
7) TV Shows with Cult Followings
Remember, hyper-focused trivia night themes won't appeal to all customers. But if you're confident you can draw in a crowd, go for it. Host live trivia that's built around a popular TV show like Game of Thrones (GOT Trivia anyone?). One pop-up bar in Chicago ran recurring trivia night themes around the hit show, The Office.
Just a quick note for TV-based trivia night themes: You can turn on any cable TV show assuming you have a commercial cable package. But it's a no-no to show premium channel content (Netflix, HBO, Showtime, etc.) outside the home.
8) Sports, Sports, Sports!
It's a no-brainer. If you run a sports bar, host live trivia focused on…football, baseball, basketball. You get the picture. Pair your live trivia night themes with sports that are in season. Quiz attendees on recent stats and scores pulled from the headlines.
By now your head is spinning with your own ideas for trivia night themes, right? Whether you're up for the challenge of writing your own questions, or would rather leave that to the experts – you can't go wrong when you host live trivia!