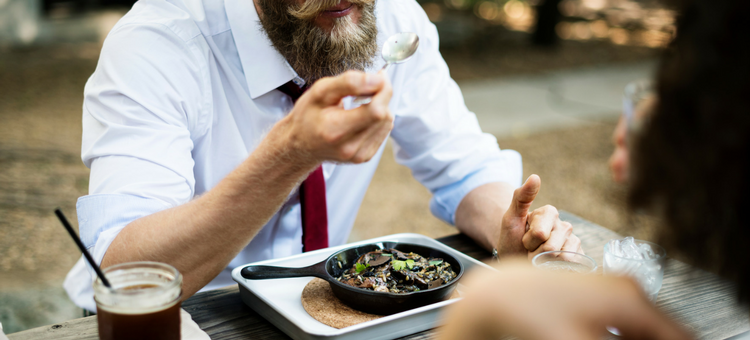 Humble bragging won't get you anywhere in the bar and restaurant world. When a customer says something really nice about your business, you need to straight up BRAG.
After all, statistics show that people trust reviews and testimonials from actual customers 12 times more than claims made by a business. Now is the time to let the world know that people think your place rocks! How? By using these 9 strategies to promote customer testimonials.
But first…do everything possible to score those sweet words of praise. Review these 8 tactics for gathering feedback from your more satisfied customers.
1. Regularly Retweet, Regram, and Share
If customers keep raving about your burgers on Twitter, that's a definite sign you need to promote customer testimonials. All you need to do is "retweet" their glowing review and boom, you're telling all of Twitter what they're missing.
This strategy for promoting customer testimonials is first for a reason: it's so easy! There's no excuse not to hit "share" on Facebook if someone has gone out of their way to compliment your biz and leave a positive Facebook review.
Regramming is a little different because typically people will post a photo, not an actual written review. Or, maybe their review will accompany a gorgeous photo of your outdoor patio or foodie-approved shot of a cocktail. Either way, to "regram" on Instagram, you'll need to download an additional app like "Regram" or "Repost." These apps ensure that when you promote customer testimonials or photos, you'll be giving the person proper credit.
To share and promote customer testimonials on social media, you need to know when your bar or restaurant's name pops up in conversation. That's where a social media listening tool comes in handy. You can subscribe to social listening software that monitors who's talking about you online – and on which platforms.
2. Turn Customer Testimonials Into Works of Art
Let's be honest. Sometimes customers get a little wordy when reviewing your bar or restaurant on Yelp, Zomato, or TripAdvisor. You can still promote customer testimonials of the long-winded variety. Just pull out the best sentence from the multi-paragraph review, and turn it into a work of art using any of these 23 graphic design apps.
In a few short clicks, you can take phrases like "Just had the best chicken wings ever…what is in that delish sauce!?! OMG" into a shareable graphic you can post on social media, use in an email campaign…whatever you want.
3. Create a Contest
Speaking of lengthy reviews, many of them are funny, poetic, and some heart-warming ones can even go viral. Why not launch a contest asking for the most creative customer testimonials and reviews? Each month, choose the most clever review and reward the writer with a "critic's choice" gift card. All that does is encourage them to keep on leaving those well-written reviews, right?
4. Put Their Name (and Words) in Lights with Digital Signage
One of the most effective ways to promote customer testimonials is within your own four walls. Do you have TVs at your bar or restaurant? Digital signage software can turn those TVs into customizable billboards. You can preprogram your TVs to run customer testimonials throughout the day, or on set days and dayparts. The best digital signage software will include pre-designed templates, so you can drop in the customer testimonials…and go live on your TVs in minutes.
[fl_builder_insert_layout slug="whitepaper-signup-module-get-more-customers"]
5. Impress While They're On Hold
Sure, it seems like everybody is placing orders and making reservations online. But there's always going to be customers who prefer talking to a real, live person. That's where your customers testimonials come in. When someone calls to place an order, inquire about your menu, or make a reservation, you can record on-hold messages to play. There are dozens of companies that offer this service online, or you can go DIY using these tips.
6. Lights, Camera…Customer Testimonial!
Chances are, you've got a few regulars who are quite charismatic. Maybe there's a local Instagram influencer who loves coming in for happy hour each week. You could ask them to provide you with written customer testimonials, but why not go one step further? Ask if they'd be ok with you filming a few words of praise. No need to drop big bucks and hire a professional. All you need is a smartphone and some basic equipment you can order on Amazon.  
7. Wow on the Wi-Fi Welcome Screen
Today, most restaurants and bars use a wi-fi gateway to provide customers with access to high-speed Internet. Basically, when customers try to connect their device to your network, they'll be taken to a single webpage where they accept your terms and conditions. Some wi-fi access programs let you customize that access page, so you could use that to highlight customer testimonials. In fact, if you use Yelp Wi-Fi, you can even encourage customers to leave reviews and testimonials.
8. Rotate Customer Testimonials on Your Webpage
Before committing to eat at a specific restaurant, 77% of today's consumers check out that restaurant's website. Put your best (digital) foot forward and promote customer testimonials right on the homepage. Ask your web developer to rotate positive customer testimonials on the homepage of your website…so it's one of the first things potential customers see.
9. Call 'Em Out on Your Menu
Last but not least, one of the best strategies to promote customer testimonials is to integrate them into your menu. Use words of praise to highlight popular menu items. You can use your POS to identify your top sellers. Or, review sites like Yelp will show you which menu items are mentioned most frequently. Then, sort through your customer testimonials to find phrases that really pop, such as "unbelievable flavor…these are addictive, beware!"
There's nothing like a personal recommendation from a friend or family member, suggesting where to eat. The next best thing is reading customer testimonials from real people in your community. That's the logic behind promoting customer testimonials anywhere you can. Use these 9 strategies to show off the fact that people love your bar or restaurant, and can't stop talking about hit!