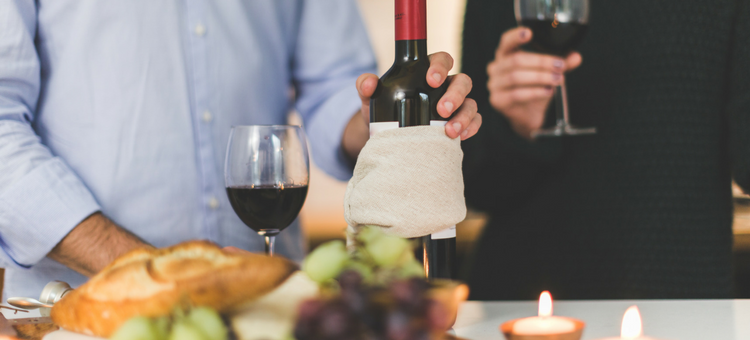 Just about everyone loves a nice glass of wine to complement their meal, right? With so many bars or restaurants now offering food and wine pairing menus, this certainly seems to be the case. But how should you actually go about creating a winning food and wine pairing experience for your customers?
With so many complex flavors it may seem complicated, but it can be quite easy when you get down to the basics. If you are unsure what to recommend to your customers, follow this guide to help you get started.
Identify the most dominant flavors or characteristics of the dish and then pair wines, accordingly:
Is the dish salty or sweet, rich or light? Is it a red meat or fish dish, etc.? Then match wines accordingly to those same flavors and textures of the food.
Stick to the region:
If you are unsure which direction to take with a food/wine pairing, stick to the place of origin. If it's an Italian dish, for example, there is a large variety of wonderful Chiantis to choose from. Are you featuring New Zealand mussels on the menu then offer your guests a selection of New Zealand wines.
Listen to your palate:
Regardless of which wines theoretically pair best with certain dishes, you should always listen to your palate. Every wine has its own distinct flavors and characteristics, which may be pleasing to one person, but not so pleasing to another. Therefore, when recommending wines for particular menu items, start by asking guests what types of wine they typically enjoy most, and then go from there.
Remember that wine should be tartier than the dish:
A wine should have higher acidity than the food you are pairing it with or it could risk being a boring combination. If the dish has mild flavors, then add some excitement to the taste buds with a more acidic wine.
Taste the dish and the wine separately, before trying them together:
A good dish will have delicious flavors that can stand on their own. The same holds true for wine. If the food or wine doesn't deliver nice flavors independently, then chances are they still won't taste good, once paired.
Consult with a sommelier:
It's OK if you aren't the foremost expert in wine. Wine is an enormous topic to navigate. When creating your pairing menu, bringing in a sommelier to assist you can be an extremely valuable tool. He or she will not only educate you about which wines go best with your food menu, but will also help you source the best wines for your bar or restaurant, based on your needs and availability.
Host special food and wine pairing events:
Hosting special food and wine pairing events is a good way to get feedback from your customers about what they liked, didn't like, or thought was missing from the menu. Special pairing events are also a great draw because people love trying new things they wouldn't normally get on your regular menu.
In general, follow these basic guidelines and you will be on your way in no time to creating the perfect food and wine pairing menu that customers will love.
Do you have any favorite pairings?
[fl_builder_insert_layout slug="whitepaper-signup-module-create-menu"]