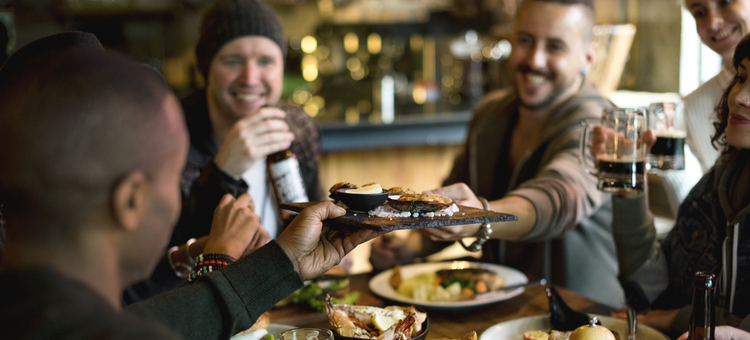 Many restaurants focus on raising their table turnover rate to get as many customers in and out as possible. At some types of restaurants, like fast food restaurants or fine dining establishments, where customers rarely order anything beyond a standard meal, this strategy can be effective.
However, as many restaurant managers know, customers who loiter, due to the relaxed atmosphere at a casual dining establishment, end up spending more per visit than customers who don't linger. So, there's seemingly a paradox: increasing seat turnover rate can boost your profits, but encouraging your customers to stay longer can also lead to hefty profits.
The secret, of course, is in your approach. The numbers show that customers who stay longer do spend more, so if you have the space to keep customers longer you should expand your "loiter" strategy. For bars and restaurants with slow daytime foot traffic and busy evenings, the afternoon is the target area where you can focus on increasing visit duration.
Digital Signage
Marketing to the customers that are already in your restaurant or bar using digital signage is proven to increase dwell time, especially if they see promotions or discounts on appetizers or desserts that interest them. Featuring prominent menu items on digital signage doubles your chances that customers will at least inquire about them.
Digital signage is visually appealing, and upselling these high-margin items is easy when you can highlight them through video spots and appetizing images. Focusing on digital signage can also help you direct the attention of the customer toward menu items that can be shared with a group. Group-centric menu items give families and friends a reason to stay longer and spend more money.
Run promotions through your digital signage that encourage customers to post photos with their food or with their server online in exchange for a discount. This facilitates more social interaction (both online and organic) with your brand, and when customers receive a discount for promoting your brand, they may spend more at your location with the impression that they're saving money per item.
[fl_builder_insert_layout slug="whitepaper-signup-module-golden-book-of-upselling"]
Entertainment
The number one way to raise both visit duration and the amount spent per visit in your restaurant is to transform it into an entertainment destination. This is why the sports bar model works so well: when a customer stays for four hours to watch the big game, they are inevitably going to order multiple rounds of drinks, appetizers, and most likely a meal.
By expanding your offerings beyond satellite or cable, you can make your restaurant a hub of activity. Incorporating Buzztime into your strategy will drastically increase average customer visit duration: between poker, arcade games, and multiple types of trivia, customers can be entertained for hours after they've finished their lunch or dinner.
Games can become the central reason why customers make the trip to your restaurant. Give the thriving Buzztime community a home and players will spend more time per visit at your location than traditional customers, boosting your revenue and opening the door for more patrons to get in on the action.
 Self-Service Dining
With self-service tablets at their table, customers are more likely to engage in spontaneously purchases, like appetizers, another round of drinks, or that delectable dessert they've been intending to try. Tying in directly with the digital signage, digital dining tablets allow customers actively participation in the dining experience without the trouble of flagging down a wait staff member.
Digital dining tablets also allow customers who aren't planning to stay at your location to check out faster. This allows table turnover rate to increase among customers who are only staying for the duration of the meal, so you can earn more profits per table while enticing other customers to loiter longer and spend more per visit.
Utilizing the combination of digital signage, Buzztime trivia, and self-service dining will help you take advantage of the correlation between visit duration and the amount of money spent per customer. Implement technology in your location to maximize profits and retain a loyal customer base.