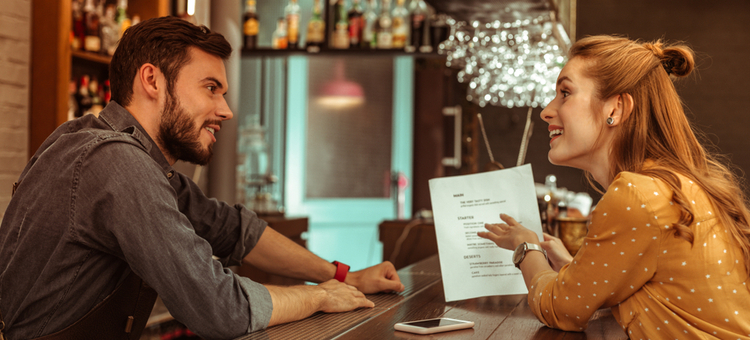 It's time to raise the bar…on bar sales. These 10 bar menu templates are the best place to start. Created by graphic designers – who did their homework – each template includes at least one element proven by research to boost bar sales. Download them below, then read on for design secrets guaranteed to increase check size!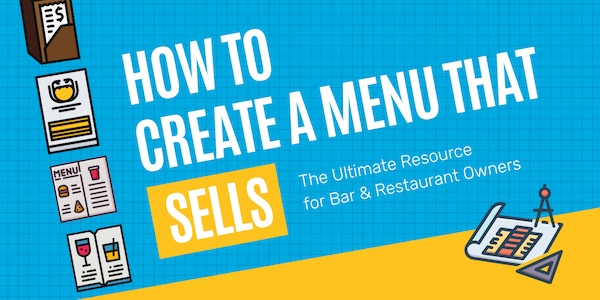 1) Draw a Blank to Avoid Choice Overload
Graphic designers call it white space. It could be blue, red, any color, or even a subtle pattern. The point is that good bar menu templates include some space devoid of text.
A little blank space isn't just design 101, it's also essential for optimizing bar sales.
Bar menu templates jam-packed with options are overwhelming to the eye. Guests begin suffering from "choice overwhelm." That's when they give up, put down your menu, and order their go-to drink instead of your $15 martini.
To help guests and boost sales, limit your menu options. A study showed that fine dining restaurants with 7-10 menu items per category benefited from higher sales. Seeking bar menu templates for a quick service or fast casual concept? The same study recommends 6 menu items per category.
2) Think Inside the Box for Bigger Sales
Another way white space works in your favor? When some of that space is filled, it commands attention.
As you browse bar menu templates, you'll see many with areas highlighting "sets" of 3 menu items. Three is the magic number, because it's the easiest way to deploy the "decoy method."
It sounds sneaky, but bar menu templates that use the decoy method (also known as "price anchoring") are just giving guests options: good, better, and best.
For example, if you feature 3 whiskeys on your menu, include one that's very expensive. Guests in the mood to celebrate will splurge and go top shelf. But most will choose the middle option: the happy medium between "meh" and "treat yo' self."
When customizing bar menu templates, add expensive items. Studies show that guests perceive quality related to the entire menu – even if they don't order the pricey option.
3) Dollars Signs Don't Add Up
Your house wine is $5.00. So, it should be $5.00 on your menu, right? Nope. Here's why.
Subconsciously, the mind reads that bargain-priced wine as $500 according to Cornell Hospitality research.
For maximum sales, the study recommends removing the zeroes – along with the dollar sign. Don't write out "five," either. When setting up your bar menu templates, just stick with: -5, 5., or just 5 without a period.
The best bar menu templates shift focus away from price, highlighting drink names and ingredients instead.
4) …But Common Cents Can Be Brilliant
Do you cater to a value-seeking crowd? Be sure the bar menu templates you select make cents.
Research reveals that putting cents next to your prices visually communicates that you're giving a great value. Studies show that .95 and .99 are the ideal amounts to convey value. If you serve guests who aspire to luxury, steer clear of adding cents on your menu.
One more tip to keep in mind when looking for bar menu templates. Studies indicate that menu items listed from least to most expensive invite price comparisons. Mix things up so that the guest gives up on comparison shopping and focuses on the drinks!
5) Picture Perfect Strategies
As far as bar menu templates go, including photos of your food can be a huge win – or an epic fail.
It all depends on 3 factors:
Concept: Open the drink menu at a big chain like Applebee's and Chili's. You'll see pics of frosty beer mugs and I-can-almost-taste-the-salt margaritas. Sports bars and casual spots could explore including pictures on their bar menu templates. More upscale venues should skip the pics, and opt for a few illustrations instead.
Photo Quality: Hire a professional photographer, or study up on food photography best practices before snapping pics. There's a thin line between enticing pics on bar menu templates and "I think that's wine, but it could be beer."
Print Quality: Photos should print at 300dpi or above. Use a commercial printer who can select the right menu paper to bring your photos to life.
Another great way to benefit from the power of photos? Think beyond bar menu templates, and look to your own TVs. Digital signage software can turn your TVs into customizable, dynamic ads so you can promote high-margin menu items through photos and even videos.
The best digital signage software is affordable and includes access to beautifully designed templates. All you need to do is drop in your images, logo, and text…and boom: you've created your own in-house TV commercial.
6) Make Guests Feel Some Type of Way: Focus on Fonts
No overview of the best bar menu templates is complete without a font discussion.
First of all, you're a bar. Your customers aren't clowns or kids, so avoid the infamously cheesy Comic Sans font – a cardinal sin in graphic design.
Beyond that, thousands of fonts are at your fingertips. But how do you choose the right one?
The fonts in your bar menu templates should reflect your brand. If you run a historic hotel bar, skip that modern Helvetica in favor of old-faithful Times New Roman.
Whatever font you use, one study suggests that the font's italic version can result in higher sales. Guests perceive a premium experience and higher quality.
7) Still Stuck on Font Choice? It's Complicated
Having trouble selling that $13 artisan cocktail? Look for bar menu templates that feature complicated fonts.
Researchers at the University of Michigan found that guests who viewed menu items in a "complicated" font believed the menu item itself was more complex.
When a patron works harder to read the menu item, they transpose those values to the actual item – thinking it took extra time to prepare. The study compared Arial (the simple font) to Mistral (the complicated one).
Wondering why fonts are getting the limelight in this list of bar menu templates and tips? It's because fonts make you feel things.
In a study by Kevin Larson at MIT, it was found that the right font improves focus and cognition when reading text. The wrong font? It makes the customer frown. Literally.
8) Seeing Red
There's no official study showing that red increases appetite. It's the urban legend of bar menu templates. But there may be some truth to going red…
Ask any nutritionist if they recommend eating off a red plate? They'll say stick with blue or white to curb cravings.
Plus, many studies beyond food prove red's power to attract and excite: Research showed that men ranked women wearing red clothing as more attractive.
As long as the color red fits into your bar's brand and concept, look for bar menu templates that feature shades of crimson.
9) Let's Get Wordy: Be Descriptive
The Big Lebowski was into that whole brevity thing. But if you want up to 27% more in menu item sales, get wordy. Researchers at the University of Illinois found that descriptive menu titles boost sales.
The more you describe the individual ingredients or prep process on your bar menu templates, the more value the customer perceives. In fact, even the names of your drinks matter. It's not a gimlet, it's a "Gin Gimlet with Key Lime Juice, Local Cucumber, and Fresh Basil."
Search for bar menu templates with room for longer menu titles plus 2-3 sentence descriptions for each drink.
10) Say No to New!
So, your bartender just whipped up an insane twist on the Manhattan. As you're looking at bar menu templates, you envision her concoction with "New!" in big, bold letters.
Keep that excitement to yourself. Only 30% of guests order items labeled new, fearing that they haven't been "tested" enough by guests.
For a more subtle way to promote new drinks, look for bar menu templates with special areas that promote specific items.
11) Bonus Tip! Cater to Dietary Preferences
Recently, the bar and restaurant biz has seen an exponential rise in customer demands for food and drinks that fit their lifestyles. From vegan to gluten-free, the Paleo diet to the Keto diet, customers are eager to find businesses that cater to their needs.
That's where your bar menu templates come in! Use symbols – such as Ve for vegan and Kf for "keto-friendly"- to highlight items that work within a specific diet. And if you're wondering why on earth you'd need to call out vegan drinks on your bar menu templates (obviously you don't serve meaty cocktails), here's a friendly reminder: Vegans do not consume any animal products or byproducts. So any cocktail featuring honey, cream or milk, or eggs (you do make your whiskey sour with an egg white, right?) wouldn't be considered vegan.
Considering guests spend just 109 seconds reading a menu, take your time reviewing bar menu templates. Once you find "the one," your bar menu can act as a second bartender: providing recommendations, upselling, and giving guests a great experience.
We've handpicked 9 winning bar menu templates that you can start using today!