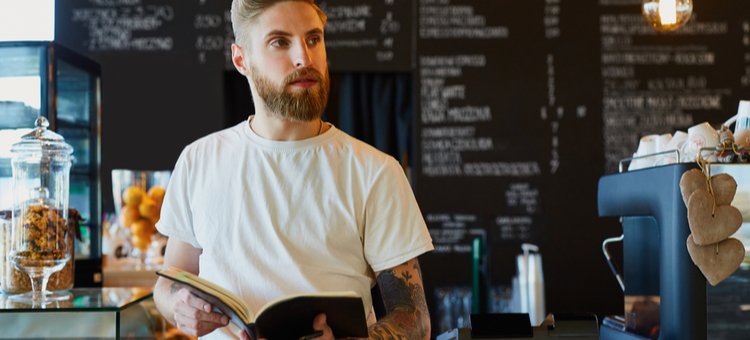 What if you could improve employee performance, reduce staff turnover, and increase sales…at the same time? You can. Just run one of these 13 creative contests for restaurant servers: from a Shark Tank style throw down to a new twist on employee of the month. Let the (friendly) competition – and the games – begin…
Contests for Restaurant Servers That Increase Sales (But Feel Like a Game)
1) The "Fortunate Four" Drawing
Drink. Appetizer. Entrée. Dessert.
Those are the 4 hallmarks of a perfect guest check (and make perfect contests for restaurant servers, too). Each time a server's table check includes all 4, they earn an entry into a weekly or nightly cash or prize drawing.
The best contests for restaurant servers also come with lessons. Help your team with tips for selling the "big 4."
For example, when a patron says they're too stuffed for dessert? Servers should offer to package up dessert…to go! And servers shouldn't automatically bring water to the table. They should take drink orders first.
2) High Margin Mania
This is an easy one. Identify 3 dishes and 3 drinks with the highest profit margins. Then, plan contests for restaurant servers that reward those who sell the most.
Use your digital POS system to keep track of the leaders. The shift manager could even give updates throughout the night to fuel friendly rivalries.
When creating contests for restaurant servers based on selling specific items, never give them just 1 item. Otherwise, servers might be tempted to get pushy with guests.
3) Bingo for Bank
Bingo isn't just for senior centers…it's also a great way to motivate your employees.
Create your own bingo board by filling in the squares with menu items you want your employees to sell. Again, these should be high margin items (or maybe a draft beer that's nearing expiration?). Whoever gets a row of sales first wins.
Give your employees an advantage by spotlighting these items on your TVs with digital signage software. It's affordable and includes customizable templates. In a few clicks, you can set up ads for your top menu items that rotate. The best digital signage even lets you program ads to run by daypart.
4) Top This! Make Upselling Fun
Contests for restaurant servers shouldn't be cutthroat. Keep it lighthearted – and funny. This restaurant server contest idea – Top This! – ensures your team can upsell on autopilot.
At a pre-shift meeting, select 5 menu items. Break staff into 2 teams. Then call up a contestant from each team. Their task? To shout out features and benefits of the menu item until one contestant is out of ideas. Here's an example for an ahi tuna appetizer…
Player A: Delicious ponzu sauce!
Player B: Enough for the whole table!
Player A: Sustainably fished tuna!
Player B: Just $9.99!
Player A: Um, um, um….it's pink!
Yeah, so player A just lost. Player B got a point for his team. See, contests for restaurant servers can be flat out fun.
Build Your Email List and Get More "Likes"
Use these contests for restaurant servers to improve your marketing efforts (which will in turn increase sales).
5) You've Got Mail
Email marketing delivers an ROI of $44 for every $1 spent, according to Campaign Monitor. To maximize the power of email marketing, you need email addresses. With contests for restaurant servers, you can build that email list…STAT.
Email collection contests for restaurant servers work best as an individual competition. The top 3 servers that collect the most email addresses receive a prize.
6) Show Love for Likes
Ugh, only 1,825 people like your Facebook page. You want to hit 2,000. No worries. Contests for restaurant servers can move the needle.
Set a team goal of reaching a Facebook "like" milestone within a set time period – like 100 likes by the end of the week, or even 200 within a month. Then reward your servers with an extra $15-$20 in their paycheck. So how can employees "win" at these Facebook contests for restaurant servers?
When handing guests the check, servers invite them to like your restaurant's Facebook page.
If a group asks for a picture, servers ask that they tag your restaurant on Facebook – and like the page.
Servers can reach out to their own personal network and ask for those likes!
Contests for Restaurant Servers That Reward and Recognize
7) Employee of the Month 2.0
Recognition contests for restaurant servers will never go out of style. But the rewards have changed. The best parking spot "reserved for employee of the month" doesn't cut it. Instead, use tech – like digital signage – to put their name in lights on your TVs. Take it a step further with a Facebook or Instagram post with their photo and words of praise. Of course, contests for restaurant servers should involve more than just recognition. Give each month's winner a $50-$100 gift card.
8) Charity of Choice
Show you've got heart with charitable contests for restaurant servers. For example, the prize for your employee of the month contest could be a $50 gift card for the staff member, and a $50 donation to their favorite charity. Go a step further and promote the charity on digital signage.
Contests for restaurant servers with a charitable spin pay off…big time. Studies show that guests are more likely to support restaurants that donate to causes they care about. Plus, charitable contests for restaurant servers can even attract new employees. A study by Cone Inc. found that 87% of millennials seek out employers that give back to the community.
9) Personal Best.
In this contest, employees are really competing against themselves. Figure out the most every employee has sold during a shift. Then, reward employees who exceed their personal bests. Post the results so team members can gain recognition. One on one meetings
10) Peer to Peer
Want to build bonds between your team? Launch contests for restaurant servers that let them nominate their peers for a reward. Set up a ballot box in the back of the house. Employees write down an example of when their team member did something awesome. Hold a monthly event and read off all the praise for employees – then select a winner from the box…live!
[fl_builder_insert_layout slug="whitepaper-signup-module-rewards-program"]
Evolve Your Business Model with Contests for Restaurant Servers
From online ordering to tablet menus, there's a digital revolution underway in the restaurant biz. It's being driven by guests: 73% of whom believe technology improves their restaurant visit. Unsure how to go digital? Turn to your team. After all, they'll be the ones using the new tech. These contests for restaurant servers get them involved in deciding which tech to try. Plus, if servers are involved in the decision process, they'll be more likely to embrace the new system.
11) Swim with the Sharks
According to Anil Rathi of the Harvard Business Journal, to encourage innovation, make it a competition. So run contests for restaurant servers inspired by the ultimate business competition: Shark Tank. Bring in a business consultant or your management team. Ask your staff to present their best solutions to your team.
Rathi recommends giving employees a clear goal. Don't just say "pitch your best tech idea." Get specific with these challenges:
We need a new POS system: pitch the one you think would work best
We are looking at digital signage: what are creative ways we could use it?
What digital beverage inventory system should we should try?
We have X amount of dollars to improve our tech: how should we spend it?
Unlike Shark Tank, these contests for restaurant servers don't involve you investing money in them – the cash goes back into your business. However, give the employee with the winning idea a monetary prize or paid night off.
12) Tablet Menu Takeover
If you're looking for a way to increase sales and raise your restaurant's fun factor, turn to tablet menus. Patrons can play games and trivia, order from a digital menu, and even securely pay – all on one tablet. To get the most out of tablet menus, they need to get into the hands of every guest. Launch contests for restaurant servers based on how many of their guests use the tablet menus.
By the way, tablet menus also include digital signage features. You can promote menu specials, events, and your employee of the month.
13) Get Smart with Social Media
Let your team channel their inner Don Draper of Mad Men. Run contests for restaurant servers that invite them to pitch their most creative social media campaigns.
A positive, upbeat workplace doesn't just happen. These 13 contests for restaurant servers – from recognition on digital signage to the "Top This" challenge – can turn up the team spirit and motivate your crew. You may be handing out prizes, but the big win is a more profitable business – and awesome work environment.