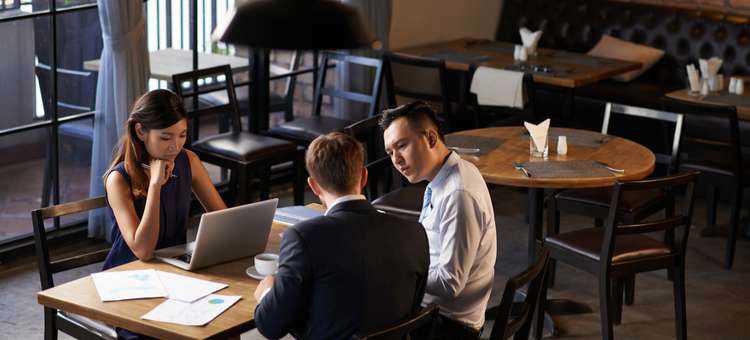 You might think that management and leadership are the same thing, but they're actually very different! You don't have to be a manager in order to be a leader, and some managers don't know how to be leaders at all. However, the very best managers also have a handle on leadership. Here's how you can use the principles of leadership to be the most successful manager you can be.
Be a good example.
"Do as I say, not as I do" isn't a great strategy when you're a manager. Instead, it's far more helpful to lead by example. If you want your employees to show up on time, you can't roll into work ten minutes late every day. If you want your employees to treat each other with respect, you have to be just as respectful. By behaving like a perfect employee yourself, you can model what you'd like to see from your team.
Let employees make decisions.
Part of being a manager is making the day-to-day decisions that help a restaurant run smoothly, so it can be tempting to simply make every decision yourself. However, great managers know that empowering employees to make their own decisions is a much better strategy.
Don't just give orders—ask questions.
Leaders don't just bark orders; instead, they take the time to find out what their employees think. When you ask your employees questions, you can find out new ways of doing things and maybe even help your employees discover new talents. A true manager leader helps employees be the best they can be.
[fl_builder_insert_layout slug="whitepaper-signup-module-rewards-program"]
Be a team player.
Just because you're the manager doesn't mean you're the only one who matters. True leaders realize that, even though they're in charge, they are only as good as their team. Don't hog all the credit—recognize the work your team does for you. Leaders motivate their team members to do their best work.
Know where you want to go.
As a manager, it's easy to get bogged down in the day-to-day hustle of running a restaurant. But great leaders—and successful managers—realize that they need to keep the big picture in mind. Where do you want your restaurant to be a year, five years, or ten years from now? A leader has a vision in mind and a plan to get there.
Don't just criticize—praise.
Part of being a leader means realizing that, while employees need to know what they're doing wrong, they also need to know what they're doing right. Great managers are sure to praise their employees and let them know when they've done good work.
By keeping these ideas in mind, you can become more than a manager—you can become a great leader, too!