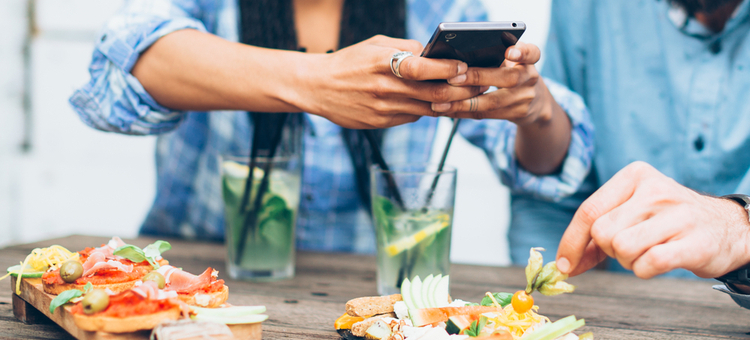 It would be an understatement to say that social media has become a fundamental part of today's world. From articles, memes, to that popcorn popping comments section, the amount of information that we generate and consume on a daily basis is tremendous.
Can brands actually stand out beneath all this digital noise?
Turns out, they can! We've put together 7 moments when some of the most brilliant brands in the world took the internet by storm – through sheer creativity and tactical nous.
1. Tasty Videos
If you use social media, you've probably come across Tasty's – Buzzfeed's food brand – short video clips whipping up mouth-watering dishes. The best part? These videos don't even take up much of your time. Their top post has almost 200 million views, 5.5 million shares and 1.4 million likes.
"When something really works in a country, we're learning how to adapt it to other countries. And when something really works on one platform, we're learning how to adapt it to other platforms," says Jonah Peretti, co-founder of Buzzfeed.
Due to the rapid growth, Tasty is starting to experiment with longer pieces of content that pull in celebrity faces and new talent, particularly on YouTube, its fastest-growing platform with 1.5 million subscribers and 175 million views in the past 3 months.
What can we learn from Tasty? You don't necessarily have to pour money into the creation of content, but spending a little extra time working out what the best way to showcase your brand is on different platforms can have an immense impact.
2. Pepsi's 'Unbelievable' ad
As part of Pepsi's #LiveForNow campaign, Pepsi Max wanted to bring the 'unbelievable' nature of the drink to life. They incorporated cutting-edge technology to create an augmented reality window that showed flying saucers, a loose tiger and many other unlikely subjects making their way down Oxford Street, London.
Although no one was fooled for long, as passers-by had discovered the camera outside the bus shelter that captured people and vehicles on the street, the bus stop window definitely gave Londoners a good experience. The video became an internet sensation and has over 7.9 million views on YouTube.
Pepsi's creative use of augmented reality was able to give commuters an unforgettable brand experience, which all brands should aim to achieve.
3. Sprinkle the salt
Who doesn't know Nusret Gökçe, or more famously known as #SaltBae? Turkish Chef and butcher, Gökçe was an internet sensation in 2017. The video of him flamboyantly sprinkling salt over a piece of steak he had just cut up went viral, causing several memes and Tweets to erupt. #Saltbae was noted as one of the best viral trends of 2017.
Boasting 1.1 million followers on Instagram, Gökçe is by no means unknown. He owns a small chain of steakhouses in Turkey called Nusr-Et Steak House. He has now earned internet fame and his restaurant chain is definitely benefitting from this – it has even led to him planning to open a restaurant in London!
We all have something to learn from Chef Nusret. Focusing on being creative and not simply spending big bucks might just earn you instantaneous social media success (and mass, too).
4. L'Eggo my Eggo
"What's an Eggo?" is probably what you're asking (unless you're an avid Stranger Things fan). An Eggo is basically a frozen waffle from Kellogg's – and they have become an icon of Stranger Things due to Eleven's obsession with them.
According to Digital Parrot, Stranger Things is said to be the most in-demand digital original Netflix film. The brand's appearance in Season 1 gained traction and to ride on the popularity and improve their social engagement, Kellogg's took to Twitter.
The tweet earned more than 8,000 retweets and 19,000 likes. They then took to other social media platforms to keep the hype going. To date, Eggo's Twitter page has over 13 thousand followers. The popularity of these frozen waffles escalated to the point where an Eggo waffle-based card game exists. By engaging in cross-promotion to launch a social media campaign, you can increase your reach massively and help gain a colossal amount of exposure for your brand.
5. Heineken takes on social issues
Designed to overcome barriers in this overly polarized world, Heineken did a social experiment with 6 people who held strong beliefs. The #WorldsApart campaign put people from opposing political and social worldviews in a room together and had them work through their differences toward a common goal – building a bar.
Once the bar was built and the beers were discovered, they had the option to sit down to share a Heineken and discuss their differences. Every pair chose to do so.
Heineken had snatched the limelight and earned plenty of media buzz. They cleverly addressed people's differences, unlike the failed Kendall Jenner Pepsi ad. By targeting an issue so prevalent in today's society, consumers were more receptive and accepting towards it. The video achieved 3 million views 8 days after its launch and over 50,000 shares in the first month! With 91% of the comments being positive, messages like 'We should really talk more' and 'listen more' among the many, the brand had achieved what it set out to do – promoting openness as a value that breaks down the barriers between us.
6. Wendy's Twitter sass
Wendy's Twitter account gained stardom in 2017 and its popularity is growing because of a challenge to a fan. You wouldn't expect an account like Wendy's to pay such Tweets any mind, but the person behind the fast food chain's account was quick to respond. Carter Wilkerson's tweet has now set a record for the most retweeted post of all time, at 3.6 million retweets (officially beating Ellen Degeneres' Oscar selfie, which has 3.4 million retweets).
However, this is not the only tweet dished out by Wendy's that put itself in the social media spotlight. Throughout the year, Wendy's has been trolling McDonald's with sassy responses.
A Wendy's spokesperson shared with Entrepreneur, "We see ourselves as a challenger with charm, so we can take advantage of opportunities to engage with our fans in a very different way from our competitors." Wendy's simple approach really goes to show how important factors such as authenticity, engagement, and consistency are to consumers, and how a brand can leverage these factors with the help of social media.
7. Coca-Cola crushes social media with "Share A Coke"
Building an audience is not an issue when you are the world's third largest global brand. However, Coca-Cola's challenge was about employing the right tactics to continue engaging their customers and find success on whichever platform they are on. First launched in Australia, Coca-Cola wanted a truly disruptive idea that would make the headlines and capture the country's attention.
The resulting "Share A Coke" campaign lived up to its ambition in strengthening the brand's bond with consumers who are young adults, inspiring shared moments of happiness in the real and digital worlds. Coca-Cola sold more than 250 million named bottles and cans in a nation of just under 23 million people. This campaign rolled out in 2011 but it is still one of the most viral social media campaigns of the century.
About Author
Oddle makes it easy for restaurants to engage, manage and grow their F&B business through an all-in-one online ordering system.
[fl_builder_insert_layout slug="whitepaper-signup-module-50-best"]