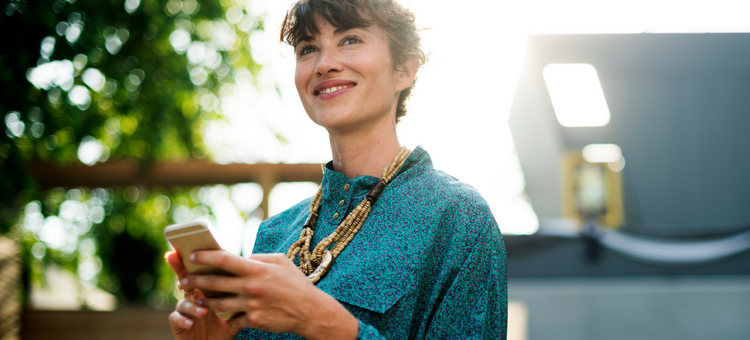 The word "apps" probably makes most people in the restaurant business think of appetizers. But the time has come to change that idea—the app you should be thinking about now isn't breaded, fried, or even edible. No, it's a mobile app.
By now, you should have a great website and a strong social media presence. But, if you're like many restaurant owners, you haven't yet made the leap to having your own app. In fact, you may not even see why it's so important to have one! However, you might want to reconsider. Your customers are always on their smartphones, and an app can be one of the best ways to connect with them.
If you still need some convincing, you may be wondering what a mobile app can do for you. A lot, as it turns out! Here are a few ways a mobile app can benefit your restaurant.
Loyalty programs.
Forget loyalty cards that your customers might leave at home or lose. When the loyalty program is right there on their phones, they're way more likely to use it. Schlotzky's new app, Lotz4Me, can track purchases and let customers earn rewards by referring friends.
Mobile ordering.
Customers are often looking for a quick and easy way to order their meals. What's quicker and easier than ordering on their own phones? Fast food chain White Castle's app lets customers do just that.
Extra convenience.
Beyond the convenience of ordering from an app, think about how your mobile app can make your busy customers' lives even easier. For example, Chick-fil-A's app allows customers to select curbside pickup. Your app can allow you to stand out in a crowded market if you get creative!
Deals and coupons.
Are you still printing paper coupons or advertising in local publications? Those coupons can be great, but you might be missing your customers. A mobile app can make sure customers know about deals at the nearest location of your restaurant, which increases the chance that they'll actually take advantage of discounts. McDonald's uses its app to let customers know about time-sensitive deals.
Mobile reservations.
Making reservations becomes incredibly easy when your customers simply have to use your app. Customers are busy, and on-the-go diners might not get a chance to actually call you to set up their reservation. But using an app? That's just convenient.
A mobile app might not be at the top of your restaurant's to do list, but you should consider one. They make dining at your restaurant even more convenient for your customers—which means more business for you!
[fl_builder_insert_layout slug="whitepaper-signup-module-top-ten-pos"]