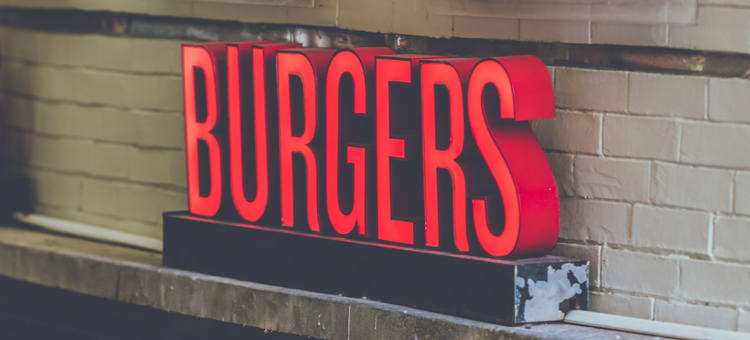 What's in a name? Everything, if you're a bar or restaurant owner. Whether you think it's time to rename your venue, or you're a startup in search of restaurant names and ideas, we've got you covered. Read on for 3 pro naming tips and 7 thought starters to help you win the name game.
3 Rules of Naming: Unique, Memorable, Descriptive
The best restaurant names and ideas are unique, easy to remember, and describe the experience or type of cuisine you offer. Do your restaurant names and ideas pass the test?
Be Unique and Memorable
As you narrow down your list of restaurant names and ideas, push yourself to be as unique as possible. Unique names are more memorable. Plus, you reduce the risk of being confused with a similarly named establishment.
Being unique won't just help you stand out, it's legally important. Businesses are fiercely protective of their brands. When it comes to restaurant names and ideas, take legal precautions and enlist a lawyer.
At the bare minimum, ask a lawyer to perform a "knockout search." The lawyer will do various searches, including in the USPTO TESS database, to see if your restaurant names and ideas are already in use.
Even if your perfect restaurant names and ideas are available, the domain names may be taken. With 86 percent of diners checking menus online before choosing a restaurant, it's important your restaurant is found online– not another business with a similar name. Visit GoDaddy.com to see if there are any domains available with your selected name. Also, check name availability on Facebook, Twitter, and Instagram.
The best advice when it comes to restaurant names and ideas is to seek professional help through a marketing, advertising, or branding company. Your name is part of your overall brand which should also include a logo, colors, fonts, and the personality of your bar or restaurant. Be efficient. Use one company to do it all. Get quotes from local companies in your area; you may be surprised at how affordable this can be.
Be Descriptive
First, decide on your cuisine and atmosphere. Only then should you start the name game. Restaurant names and ideas should reflect your concept. Are you a trendy craft brew pub or a classic sports bar? A traditional diner or a hip bistro?
Ideally, the restaurant names and ideas you come up with will inform guests of the experience to expect. That's where a descriptor comes in. For example, Joe's Craft Brew Pub and Joe's Sports Bar would suggest two different experiences (one focused on premium beer, the other on sports).
Different names attract different crowds. Joe's Craft Brew Pub might bring more millennials, the biggest consumers of craft beer. Joe's Sports Bar would attract avid sports fans which skews slightly older.
Keep your descriptor in all of your print and digital advertising. For example, no one says "Applebee's Neighborhood Bar and Grill" – they just say "Applebee's." But when seeing the full descriptor, it reminds guests they can get a quick drink or a full meal. The word "neighborhood" is friendly and inviting.
EXAMPLES OF DESCRIPTORS: Bar, Bistro, Brewhouse, Beer Garden, Beer Hall, Brew Pub, Café, Chophouse, Cocina (Spanish for Kitchen), Cucina (Italian for Kitchen), Deli, Diner, Depot, Eatery, Eats, Establishment, Family Dining, Fine Dining, Gastro Pub, House, Hut, Grill, Grille, Kitchen, Lounge, Outpost, Pub, Quick Eats, Restaurant, Ristorante (Italian for restaurant), Roadhouse, Steakhouse, Tavern, Taqueria
7 Types of Restaurant Names and Ideas: The Pros and Cons
Most bar and restaurant names and ideas fall into these categories. Choose carefully! Your goal is to keep the same name for the life of your business.
Owner Names
Owner-based restaurant names and ideas are the most common starting points for restaurateurs.
Pros
If you use your last name and it's not common, you'll likely have a uniquely named restaurant. Two last names together add formality and an upscale vibe as many professional firms (accountants, lawyers) use multiple partner names.
Using first names seems approachable, friendly, and authentic – you're on a first-name basis!
Owner-based restaurant names and ideas work best when the owner plans to be present. If you stay behind the scenes, this isn't the name for you.
Cons
Do people stumble when pronouncing your name? Imagine the urge to correct every patron who mispronounces your name.
If you use your first name, your venue may seem quaint and small (this is a pro if that's your goal)
If you want to sell or franchise your business, will it still make sense that it's named after you? What do "you" add to the concept?
Examples: Hattie's in Saratoga, NY; Smith & Wollensky Steakhouse (nationwide); Max and Erma's Gathering Place (nationwide)
Experience-Based Names
These types of restaurant names and ideas highlight an experience, entertainment, or exotic destinations.
Pros
Most people dine out for an escape, so these restaurant names and ideas directly tap into that escapist mindset.
Referencing an experience in your restaurant names and ideas will convey value to customers: great food AND entertainment.
Cons
You could seem inauthentic if the experience doesn't live up to the hype of a great escape.
Note: No matter your chosen name, it's a great idea to offer entertainment at your venue. Try offering tablet-based events and games – as studies show it may boost table check averages by up to 21%.
Examples: Funk and Waffles in Syracuse, NY; Jimmy Buffet's Margaritaville, Outback Steakhouse, Rainforest Café
Location-Based Names
These are restaurant names and ideas that include address numbers, specific locations, or buildings.
Pros
Location-based restaurant names and ideas are trending.
Using address numbers signifies that your spot is so iconic it doesn't need a name!
You make your spot even easier to find, i.e. "Nancy's on the Hill" or "The Towne Pub on Main."
Cons
What happens if you're renting a space, rent increases in five years, and you want to move? You'll need to start a new list of restaurant names and ideas or risk confusing customers.
Examples: Grill 225 in Charleston, SC; Flatiron Hall in the Flatiron District of NYC
Product-Based Names
Product-based restaurant names and ideas highlight your main menu offering.
Pros
You appear like the "expert" purveyor of a certain type of product.
Product-based restaurant names and ideas make it easier to be found when someone searches for a particular type of product.
Cons
Your main offering could go out of style. Poke bowls are trending now, what about in 3 years? Think twice before naming your spot Pokey Joe's unless you plan to serve up poke…forever.
You may find that a different menu item becomes a customer favorite. What if you're named Burger Kingdom, but customers prefer your wings?
Examples: HB Burger in NYC, Steak Shack (nationwide), 5 Guys Burgers and Fries (nationwide)
Foreign Language Names
Does your restaurant feature a specific ethnic cuisine? Consider restaurant names and ideas that include words in the foreign language associated with that cuisine. Double check to be sure your chosen name isn't offensive in other common languages.
Pros
You immediately add authenticity with a name that includes a foreign word.
Foreign words can be unique and fun to say.
Cons
Foreign words can be difficult to say! People may hesitate to recommend a restaurant with a name they can't pronounce with confidence.
If it's not clear what foreign language your restaurant name is in (many Italian and Spanish words both end in "o" and "ia"), you may confuse patrons.
Foreign words often include accent marks. The word olè! could also be read as "ole" without the accent mark.
Examples: Gratzi in Ann Arbor, MI; Ole Mexican Grill in Tucson, AZ; Voilà Bistro in Seattle, WA
Invented Word Names
These bar and restaurant names and ideas are made up words. You can use an online name generator to assist you, your own creative chops, or hire a branding firm.
Pros
No one else will have your name (pending a lawyer has done a thorough search).
If you use at least part of a known word, you'll still suggest the type of food you will offer.
Cons
Without a descriptor to accompany your invented word, you risk people not knowing that you're even a restaurant or bar!
People may not know how to pronounce your name. Again, this may lead to them not recommending it.
People might also have trouble spelling your name – this is a problem when looking you up online.
Examples: Qdoba (nationwide); Buddakan in NYC; Ogan Restaurant in Green Bay, WI
Puns or Super Creative Names
These are bar and restaurant names and ideas that feature plays on words like "Pho Shizzle" or ironic descriptors like "The Library Bar" (one of the more common college bar names).
Pros
An irreverent name will appear to cool-seekers like millennials as well as tourists who want a funny t-shirt.
Cons
Funny or "punny" restaurant names and ideas create a lighthearted, low key vibe around your establishment. Your prices and menu offerings will need to match.
Diners may not take your food seriously or may perceive you as gimmicky.
Examples: See this amusing list from Chowhound!
Whatever name you land on, what matters most is delivering a great customer experience. If you stay focused on that, your bar or restaurant will be the name to know for years to come.