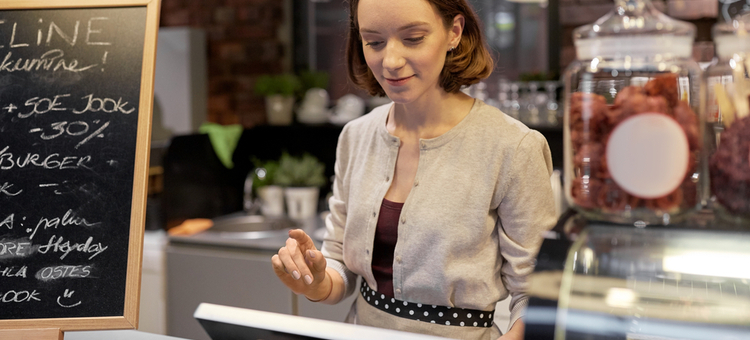 Looking to upgrade or replace your restaurant POS system? You've got options. Many options! There are dozens of companies to choose from. We break down how to select the best POS system for your restaurant.
1) Today's Restaurant POS Systems Pack Powerful Features
Just a decade ago, POS systems were basically registers that processed payments and dispensed cash.
Today? Your restaurant POS system can help manage almost every aspect of your business: from loyalty programs to marketing, inventory tracking to staff management.
Even if the POS you select doesn't include these "extras," a good system will offer POS integration. That means they interface with third-party systems or software you may already have.
[fl_builder_insert_layout slug="whitepaper-signup-module-top-ten-pos"]
Here's a rundown on features included with today's best restaurant POS systems, or available as a POS integration:
Online ordering: Integrate your business website with the POS system. Then, customers can place orders online so you can track both in-store and online orders in one system. When selecting your restaurant POS system, sometimes the 3rd party services it integrates with can inform your decision. For example, if most of your customers order online through Grubhub, you'd want to pick one of the 3 companies that Grubhub offers POS integration with.
Online reservations: Keep tabs on tables and how many servers you may need for reserved parties, all within your restaurant POS system. Many integrate with services like OpenTable, to make reservation management even simpler.
Tablet POS: Most of the leading POS companies include a mobile platform that can turn tablet devices like iPads into remote "registers" capable of taking orders and payment. Some companies run on Apple iOS, others run on Android. Many let you choose which mobile platform you prefer. One of the key benefits of tablet POS capabilities is giving guests the power to use it! For example, a self service POS system lets guests order from a digital menu and pay right on the tablet. They can check out when they want, so wait times are reduced and tables turn faster.
Financial Tools: Connecting your POS system with accounting software (like Quickbooks) allows you to monitor finances without manually inputting data. It saves time and reduces mistakes in reporting. Almost every restaurant POS system integrates with major accounting software.
Table/Floor management: Using the restaurant POS system, you can keep a tally of busy sections throughout the night. Most POS systems come with an easy-to-use interface so you can adjust your floor plan whenever necessary.
Entertainment: Turn your restaurant POS system into a virtual arcade or a live trivia device. You read that right. The same POS tablet that guests can order and pay on, can also serve up entertainment – right at the table. The secret is selecting a tablet POS system that offers POS integration with a company like Buzztime.
Inventory tracking: Some POS systems for restaurants offer real-time inventory management, tracking ingredients as dishes go out. You can set alerts to be notified when orders need to be placed. Others even allow you to make orders directly from within the restaurant POS system!
Mobile payments: Allow customers to make payments on a tablet using their mobile device, with apps like ApplePay and Samsung Pay. The key is to choose a tablet POS capable of handling those payments.
2) Cloud-Based or On-Premises Restaurant POS System
The word "cloud" has taken the world of restaurant POS systems by storm…but is it right for you? Cloud-based isn't always better.
Cloud-based simply means that information from the restaurant POS system is transferred over the Internet and into a remote server.
Other restaurant POS systems are on-premises, meaning the server is stored onsite and doesn't require an Internet connection to function.
Both options have advantages and disadvantages, let's look closer:
Real-Time Reports and Data: This is a big one. Many restaurant owners mistakenly believe only cloud-based POS systems provide remote access to reports and data. That's not true. Many reputable on-premises restaurant POS system companies – like Digital Dining – provide cloud-based software. This lets you check reports and sales from any OFF-premises device – like your phone, laptop, or tablet.
Software Upgrades: A cloud-based restaurant POS system often automatically updates to the latest system. With an on-premises POS, you'll likely make manual updates. While on-premises upgrades may cost extra, cloud POS systems often charge higher monthly fees for "subscribing" to their software. This is what is meant by the term SaaS or "software as a service." You may pay more for always having the latest edition.
Operates Offline: Here's another must-know fact when choosing a restaurant POS system. Many avoid cloud POS options because they fear disaster if an internet connection is lost. But most cloud-based POS systems DO function when the internet is down. You can operate business as usual. However, if there isn't strong internet available in your area, an on-premises system is the way to go.
Security: No matter which restaurant POS system you choose, you need proper security measures in place. For an on-premises system, that means daily server backups and protecting access to your server. For cloud-based POS? It's more secure (and automatic) than you may think. A term called "tokenization" encrypts sensitive information – like customer credit cards – before sending that data over the web. (We'll cover more POS security issues in the next section.)
3) Security Considerations of a Restaurant POS System
Any time money is involved, security is a big deal. You wouldn't leave your office safe open with your register money inside, would you? Your restaurant POS system is no different. Protect yourself – and your customers – with this security checklist.
PCI Compliance: Whichever restaurant POS system you select, it is essential that you maintain PCI compliance – your restaurant POS system provider will typically provide assistance and tools to help you stay in compliance.
Antivirus Installation: According to Small Business Trends, 43% of cyber attacks target small businesses, so investing in anti-virus software could protect you and your customer records from data breaches and malware. This is critical if you have an on-premises restaurant POS system.
Encryption Software: This is secure payment technology that protects the data transferred during a payment transaction. In 2015, it became a requirement for any cloud-based POS payment program to be EMV enabled as part of a fraud chargeback liability program to secure contactless payments. If you're opting for a cloud-based restaurant POS system, be sure it comes equipped with this feature.
Secure Lines: Offering free wi-fi for customers has almost become an industry standard for bars and restaurants. It may be tempting to save money by using the same network for your business operations. However, a separate, secure internet connection for your restaurant POS system is a must! It's required to maintain PCI compliance. It protects you and your customers' financial data from potential security threats and hackers.
Modern Hardware: Most restaurants and bars require more than one device for their restaurant POS system. While it's a good practice to have at least one register at every server station, be sure that each device is equipped with security features. Just one weak link could cause major security risks for your business.
4) Investing in a Restaurant POS System
What does a restaurant POS system cost? That depends on many factors. To avoid hidden fees, consider the following typical costs of a restaurant POS system:
Flat Rate: You will have to pay a set amount each week, month, or year for your restaurant POS system. This tends to cover the equipment and operation services.
Installation Fee: You may pay an upfront installation fee for your restaurant POS system. This is usually occurs if the installation process is intensive and requires running wires or connecting multiple devices to your restaurant POS system. Some companies waive the fee if you do it yourself. (Just make sure you know what you're doing!)
Transaction Rates: If the restaurant POS system offers payment processing, you may be charged an additional rate for transactions. It varies from a flat amount to a percentage of each payment. While rates may seem small upon first glance, keep in mind how much business your restaurant does – fees can add up fast!
Lease or Buy: Almost every restaurant POS system provides the equipment, which is covered in your regular payments. However, some companies allow you to purchase the equipment out right, therefore lowering your payments in the long run. Most restaurant POS system companies offer different pricing structures and can work to find a price point that makes you comfortable. Be upfront about your needs and budget. A good restaurant POS system company will provide options that best fit your situation.
5) The Support Included in Your Restaurant POS System
With any restaurant POS system, you should evaluate how much support you want. Some companies offer 24/7/365 support online or via phone. Others will even come to your location! Ask the company what they provide to see if it meets your needs.
Training: Even if your restaurant POS system seems straightforward, a thorough training for you and your staff will educate you on all the features that could help your business. Knowing the system well increases the chances of getting your money's worth.
Troubleshooting: A restaurant POS system going down in the middle of the dinner rush is every owner's worst nightmare. Check to see that if a technical issue occurs, you'll have the support you need.
Quick Response Time: Service times range widely for different restaurant POS system companies. Some may only operate during regular business hours (which is not ideal for a busy, late night restaurant). Others offer 24/7 service. Know your POS company's customer support policy to prepare yourself for any issues.
Extra Charges: Some companies may charge an extra fee for restaurant POS system support. Check the terms and conditions of customer support so you know what constitutes a "support charge."
With so many features and benefits available, your restaurant POS system could take your business to the next level. Do your homework. Ask questions. Then, make the decision based on your business needs!