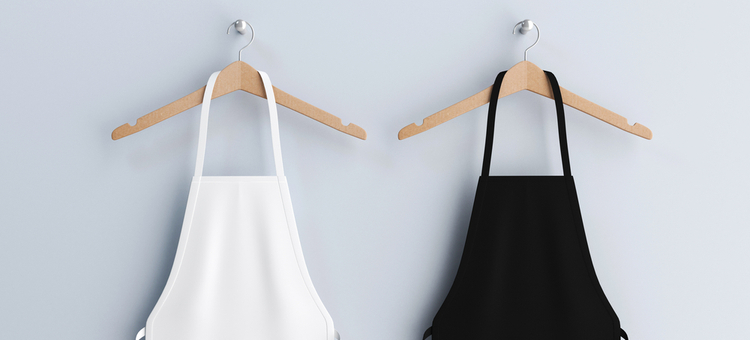 We're a casual restaurant, who needs uniforms? According to science, you do! Your servers are being judged on their appearance, which reflects your business. Uniforms can even increase staff performance, according to a Northwestern University study. That's why we're sharing top restaurant uniform ideas and how to pick the right style for your team.
5 Restaurant Uniform Benefits
Yes, restaurant uniform ideas are all about first impressions – which are made in 100 milliseconds to 7 seconds. But there's more to the story. Before we dive into the restaurant uniform ideas, check out these 5 reasons why they're a must.
1. Identifies Staff
Nobody wants to accidentally ask another restaurant patron for an extra side of ranch. How embarrassing! But it's a difficult mistake to make if your employees are wearing a standard uniform. When customers are in your restaurant, they should be able to quickly spot the difference between patrons and employees. Restaurant uniform ideas are an easy way to make your staff identifiable to your guests. Check out this article by Prudential Overall Supply on the importance of restaurant staff uniforms.
2. Instills Guest Confidence
Restaurant uniform ideas also instill confidence in your customers. Having a clean and polished uniform is a great way to communicate the quality of your service.
So, what if you ARE a casual restaurant or bar? The mere idea of a uniform may seem "stuffy." That's a myth. A casual style can still be polished. Here are a few examples:
Sports Bar: Pressed jersey-style shirts or polo shirts worn with black pants and clean sneakers.
Casual Pub: Quality navy blue t-shirts, green bistro waist aprons, khakis with a crisp cuff and stylish loafers.
Why blue? Numerous studies show that when customers see a business use blue, they believe that business is more competent and offers a higher quality product.
3. More Attentive Staff
Restaurant uniforms don't just influence guest impressions – they can alter employee behavior! In the Northwestern University study we noted earlier, participants were asked to wear a lab coat and perform tasks associated with a doctor. They were asked to do the same tasks without the lab coat. Those wearing the lab coat showed increased attention!
We're not saying your staff should wear lab coats. The lesson here is that there's meaning behind uniforms for the wearer. The study authors called it "Enclothed Cognition" – we call it smart management. When your employee puts on her uniform, it sends a strong mental signal that it's time to work. Yet another reason to spend time on your restaurant uniform ideas!
4. Emphasizes Brand
Chances are, you've spent a lot of time carefully considering your restaurant design. From the flow of your floor-plan to the ambiance of your dining area, every detail down to the napkins reflects your brand identity. Restaurant uniform ideas are another way to emphasize your brand.
By selecting restaurant uniform ideas that matches your aesthetic, your design will appear more fluid to customers. In most cases, it's a good idea to put your logo on some part of the uniform. It could be the back of a shirt, or on a bistro apron or even a jersey.
As an added bonus for these logo-based restaurant uniform ideas, you could make your servers a walking billboard outside of your business! For example, you could provide your staff with hats or fleece jackets with your logo. Whether they are just walking to work or rocking their uniform outside of your restaurant, that's a chance for more people to see your logo outside of your establishment.
5. Establishes Positive Team Mentality
Restaurant uniform ideas are a great way to establish a team mentality among your staff. It's a visual reminder that everyone is striving for the same goal. Create and uphold a clear uniform policy that emphasizes professionalism and cleanliness. Your guests will appreciate it. Plus, it sends a strong signal to your staff that customer opinions are important!
[fl_builder_insert_layout slug="whitepaper-signup-module-33-customer-loyalty"]
6 Factors to Consider in Your Restaurant Uniform Ideas
Some restaurateurs have their uniform planned from the moment their business concept is complete. For others, it can be more of a struggle. What should you focus on? How do you pick a uniform that meshes with your restaurant theme? While the design is important, here are some other factors to consider when selecting the best restaurant uniform ideas for your business.
Formality – What is the atmosphere of your restaurant? Is it a casual sports bar or a "cool" spot for college kids? When coming up with restaurant uniform ideas, you want to select something that matches the atmosphere of your business. Here's a great place to start: Ask yourself how would you expect customers to dress when visiting your establishment? Then, select something similar in terms of formality.
Cost – Another important factor for restaurant uniform ideas is the cost of your design. Some restaurants will provide some elements of the uniform for their staff – for example, maybe aprons, name tags or the first set of uniform shirts for each employee. If you expect your staff to purchase their uniform out of pocket, make sure the cost is in compliance with the U.S. Department of Labor Policies.
Brand – Ensure that the uniform is on brand with your restaurant. If you decide to have employees wear matching t-shirts, you may want to consider using your logo or an eye-catching image that appeals to customers. Many sports bars and small chains usually sell merchandise similar to the employee uniform to customers as a way to increase profit and market their business.
Function – It's important to keep in mind the activities your employees do during regular shifts. When thinking about restaurant uniform ideas, imagine the functionality of the design. Will your servers have a pocket or somewhere to store pens, order pads and check covers? Will your staff be comfortable moving around in the uniform?
Cleanliness – Spills are bound to happen, but you don't want a server welcoming a table with a large stain on their shirt. Select fabrics that can be easily washed and difficult to stain or wrinkle. Keep in mind that uniforms should be compliant with FDA Food Code, which also includes hygiene practices that should be upheld with your restaurant uniform policy.
Variety – How uniform do you want your uniforms to be? More upscale establishments may want to stick with standard restaurant uniform ideas. However, casual dining locations can have more fun, selecting different designs that are still similar and cohesive. This can include different colored shirts that bear your logo. You could roll out new designs throughout the year. A sports bar could rotate between baseball, basketball, and football jerseys.
4 Popular Restaurant Uniform Ideas
Now that you know what to consider when selecting restaurant uniform ideas, all that's left is the design. This is the part where you can be as creative as you'd like, keeping in mind the scope of your brand and restaurant atmosphere.
Lucky for you, there are already some very popular restaurant uniform ideas that you can choose from. Select a classic and add your own twist for a unique restaurant design!
Some restaurant uniform ideas include:
Basic Black – A fashion industry standard, this is also a popular option for restaurants. Customers usually like to dress in color, so there's little concern of confusing staff with patrons. Black also goes with any color scheme, so there's no worry of the uniform clashing with your restaurant design. Bonus! Black hides stains well. That's crucial in an environment prone to spills and splatters.
Themed – Some restaurants capitalize on their brand by having their employees dress to match a specific theme. For example, if your design has rustic elements, some cohesive restaurant uniform ideas could include flannel shirts or denim. You can even go all out and have your staff dress in costume, like referees for sports bars.
Chef Coats – Take the chef coat out of the kitchen. An industry standard for kitchen staff, chef coats on servers are an option that emphasizes your restaurant's focus on food quality. This idea also closes the gap between back and front of house, turning everyone into a food expert in the eyes of your customers.
Logo – This may be one of the simplest restaurant uniform ideas, but it is the most effective for branding. Using your logo on t-shirts or collared shirts identifies your staff to patrons while advertising your business.
Uniforms are a huge factor in how your restaurant is perceived, so don't overlook their importance. Take the time to form a clear dress policy for your team. Then, enjoy coming up with restaurant uniform ideas that will rock your business!