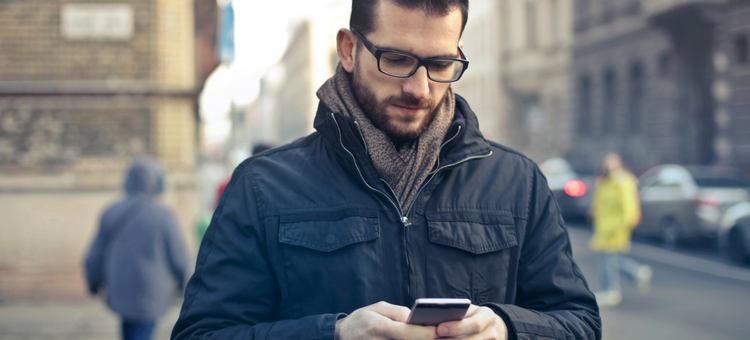 Food ordering apps are becoming more and more commonplace in restaurants nowadays. In fact, almost every major chain restaurant has one, from Domino's, to Wagamama, to McDonald's. Technology is the language of the world, and with 81% of adults in the UK owning a smartphone, it's easy to see why so many restaurants are taking advantage.
Read on to discover the top 6 reasons why more and more restaurants are choosing food ordering apps, and why you should too!
1. People like food ordering apps!
According to a recent study by the Interactive Advertising Bureau, around 69% of consumers order food online using a mobile device. One in every two people has also downloaded a restaurant-branded app. These statistics speak volumes!
Most people's everyday lives involve the use of apps in some way or another, be it on their smartphone or tablet. For this reason, it only makes sense to offer consumers an app for your restaurant. Apps are often favored over websites because of their ease of use – once you've downloaded the app to your phone, it's always there on the screen, and you only need to tap on it to open up the menu, ordering page and special offers. It saves the hassle of opening up the internet browser, having to search for the website and wait for it to load.
Not to mention, apps can also be used offline to a certain extent, so that customers can still see your menu when they don't have any cellular service. And let's face it, apps are often more aesthetically pleasing and easier to use than mobile websites.
2. They keep customers coming back for more
Long gone are the days of loyalty cards and sending special offers on leaflets through the post. These days, food ordering apps are what it's all about. Offer customers a quick, easy-to-use and convenient way to order food from their device, and they're likely to come back again and again.
Not to mention, you can also use a food ordering app to implement a points-based system, to reward consumers for their loyalty. Create something unique to your restaurant and with a catchy title, and it'll make you memorable. So many companies have already done this, such as Subway and Costa. If you don't fancy that, you can still offer mobile app customers unique special offers such as money-off vouchers or two for one deals. This ultimately makes people more likely to keep coming back to your restaurant.
3. They're super easy to make and implement
Most people don't realize just how easy it is to create an app these days. Put it this way: you don't have to know any computer programming languages anymore! There are so many websites and services which offer DIY app builders in the form of drag-and-drop editors. This means that anyone can create an app for their restaurant quickly and easily, without the hassle of learning how to code.
[fl_builder_insert_layout slug="whitepaper-signup-module-top-ten-pos"]
The apps themselves aren't basic or cardboard cut-outs, either. They're completely tailorable to your personal needs, so you can create and use whatever features you want.
4. Customers expect technology at restaurants
A recent survey by the National Restaurant Association has found that consumers not only love technology, but they have come to expect it as standard at restaurants and eateries. It's not just a novelty anymore – 35% of people say that the availability of technology makes them choose one restaurant over another.
What does this mean? Well, it means that if you don't jump on the bandwagon and start offering customers the latest technology, they may choose to go elsewhere. For example, giant pub chain Wetherspoon released their Order and Pay app in March this year, allowing customers to order and pay for food and drink entirely using their smartphone, without the need to wait in a queue. It's already extremely popular with consumers, and traditional pubs are already wary of losing business because of it. Don't get left behind!
5. Having an app makes you memorable
Although lots of chain restaurants are joining the mobile app craze, many small and independent restaurants still avoid introducing technology to their business. At most, you might find that your local eateries are partnered with companies such as Just Eat or Deliveroo, so that consumers can order a takeaway via those apps instead of having to call you up. However, using a middleman company won't make you stand out in the customer's mind.
If you offer your own, unique app, with a unique logo, color scheme and layout, it'll help cement your brand identity. In short, your restaurant will be remembered- and since they'll already have your app downloaded, they're more likely to use it again. It's a win-win scenario!
6. It saves valuable time for your staff and your customers
The whole point of technology is to make things simpler, quicker and easier. Food ordering apps are no exception to this. If your members of staff aren't tied up taking takeaway orders over the phone, dine-in customers will get served more efficiently. It also reduces the chance for human error – if a customer places their own order via an app, they can't be misheard or misunderstood.
Your app could also feature a function allowing customers to order food and drinks in the restaurant to be delivered to the table. This way, your servers don't have to spend time taking orders.
Instead, they're free to focus on running food and drink and making sure that customers are happy (which is, after all, the most important thing!). Not to mention, if your restaurant isn't table service, your customers would also appreciate not having to queue up at the counter to order!
Author Bio
Izaak Crook is a Digital Marketing Executive for AppInstitute, a SaaS App Builder platform that allows anyone to create their own iOS and Android app without writing a single line of code.