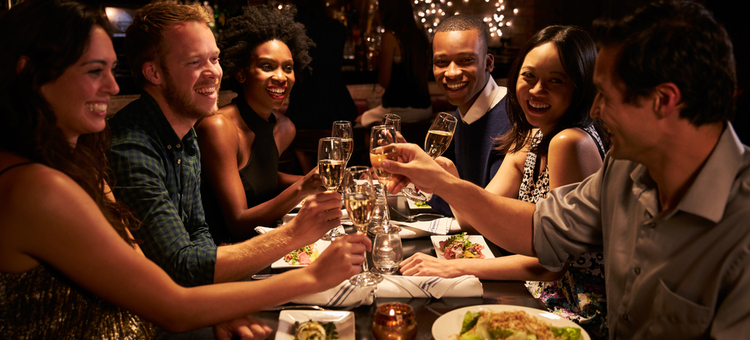 BUILD YOUR 2017 PROMOTIONAL PLAN IN 5 STEPS
Customers are out there. Go get 'em with a promotional plan for 2017.
If 2016 had you rushing to Facebook to share spur-of-the-moment specials and last minute events, take a deep breath. It's a new year. It's time for a new approach to promotional planning. The keyword is "plan." We've built a promotional plan template to help you overcome that frantic feeling, and enter 2017 with a year's worth of promotional tactics. Let's get started.
STEP 1: DEFINE YOUR SNOWFLAKE
Every independent bar or restaurant is unique – just like a snowflake. Yes, your bar or restaurant is a special snowflake. Identify 5 things that make you unique and set you apart from the competition. The more formal term for this is "Unique Selling Position" or USP.  Stuck on what makes you special? Use these thought starters, and answers, for a fictitious local pub: AnyPub in Anytown, USA.
Do you have an iconic menu item? What dish would you make for Guy Fieri if he visited? Big Ole Burrito
Do you have a claim to fame? More TVs in town than any other pub
What are you "the home of"? The 25 cent weekday wing night
Do you attract a certain crowd? What is your "vibe"? Casual, cool after-work hotspot
Does your place offer a certain cuisine? Eclectic American and Cool Craft Brews
Surprise! By doing this exercise, you now have the core of your promotional messaging. You're AnyPub, offering "Eclectic American and Cool Craft Brews. You're "Home of the Big Ole Burrito and 25 Cent Weekday Wing Night" with "More TVs in Town" and the Best Place to "Chill After Work or Catch the Game." Carry this messaging through all you do in 2017.
STEP 2: IDENTIFY YOUR TARGET AUDIENCES
You've defined what makes you special, now outline what type of person cares most about your offerings. Don't say everybody, because a good promotional plan is a targeted promotional plan. You cannot be all things to all people. So match up your USP to a target audience. Here are a few examples:
Big Ole Burrito > Younger men
More TVs in town than any other pub > Sports fans
The 25 cent weekday wing night > Millennials on a budget
Casual, cool after-work hotspot > Professionals who work nearby
Eclectic American and Cool Craft Brews > Young professionals
STEP 3: TRACK DOWN YOUR TARGET
This sounds a little stalker-ish, but just go with it. What does your target audience do in a day? Are they on social media? Compulsively checking ESPN.com? Driving to work or walking? The goal is to identify the media your target audience uses and places they frequent, so your on-point promotional messages can casually show up there, too. "Fancy meeting you on Facebook with an offer for a free appetizer with any dinner purchase."
Younger men > Facebook and Instagram
Sports fans > sports section of your local digital newspaper, billboards/signage/program books at local sporting events
Millennials on a budget > local college newspaper, Facebook and Instagram
Professionals who work nearby > billboards near office buildings, drop off menus/coupons to local businesses
Young Professionals > Facebook and Instagram
[fl_builder_insert_layout slug="whitepaper-signup-module-5-step-marketing-budget-planner"]
STEP 4: BUILD YOUR BUDGET
You're more than half way to a 2017 promotional plan, congrats! You know what makes you unique, who your target audiences are, and where they are. Now, let's talk dollars. How much can you spend? Look at Step 2, which target audience spends the most – or could spend the most in 2017? Which audiences are most frequent visitors? Rank your target audiences, and allocate your budget based on your biggest spending audience. Using our AnyTown Pub example, sports fans who come in to watch their favorite teams and nearby professionals who could unwind after work have the biggest potential for repeat business – and spend more than millennials on a budget (no offense, millennials).
STEP 5: CREATE YOUR CALENDAR
This is the fun part – and a great way to get your entire staff on board with a promotional plan. Gather your crew, put large sheets of paper on the wall for each month – then brainstorm what opportunities exist within each month. Pick your top 1-2 ideas and move to the next month. More than 1-2 promotions, and you – and your customers – will be overwhelmed.
Let's look at March, for example. There's St. Patrick's Day and college basketball craziness (NOTE: never use NCAA or NFL championship terms in your marketing as they own the trademarks to popular terms). Can you come up with a special promotion, limited time menu, live music or event, or something else to capitalize on St. Patrick's Day and the college basketball tournament? Don't forget to include Buzztime's special events like Buzztime's Smartest Bar in October and the Ultimate Showdown in November!
BONUS STEP! ADVANCED PLACEMENT
You made it…you now have a promotional plan for 2017. To put it into play, hire a designer or marketer who can do the dirty work for you. Give them your promotional plan, and ask that they create signage and social media graphics for each month's promotion. Tell them to create graphics and book media buys now, for the entire year. For example, Facebook ads and posts can be scheduled in advance. Local newspapers, TV, and radio can also reserve ad space for you – often at a lesser rate before competition for airtime heats up. Then, your promotional campaigns run on auto-pilot. Of course, if something comes up – you can go in and change it.
All of us here at Buzztime wish you a profitable, prosperous 2017 – and we'll be launching promotions of our own designed to drive traffic into your business. Cheers to a successful year!