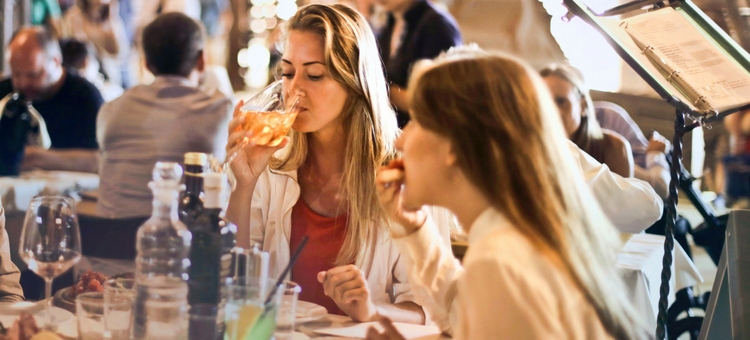 You can't buy love. But restaurant loyalty programs are the next best thing. With every purchase or visit, these programs will show your customers some love – and bring them back for more.
Today's loyalty tools are affordable, refreshingly simple to set up, and fun for guests to use. Oh, and you can expect participants in restaurant loyalty programs to spend up to 46% more. Sound good? Let's get loyal…
What to Consider When Shopping Restaurant Loyalty Programs
Go Paperless
The paper punch card is history. And plastic loyalty cards are on their last leg. Now is the time to go digital. That's why these 10 restaurant loyalty programs include "paperless" options. The programs run on mobile apps, SMS (text message), emails, and simple identifiers like the guest's phone number.
POS Integration
To maximize the benefits of these restaurant loyalty programs, look for those that integrate with your POS system. That way, your staff can enter in guest data quickly – right at the POS.
Restaurant loyalty programs that sync with POS systems make analytics and tracking easier, too. You can measure the program's performance against sales data in a few clicks.
Pay Attention to Prizing and Points
Restaurant loyalty programs are only as good as the rewards! Some restaurant loyalty programs pre-set rewards; others give you control.
The best restaurant loyalty programs will let you select how customers earn points. Quick tip: If you cater to millennials, they prefer to rack up loyalty points based on how much they spend (as opposed to how frequently they visit.)
Stop! You Might Already Have Access to Restaurant Loyalty Programs
Hold up. If you've recently upgraded to a digital POS system, you might already be connected to restaurant loyalty programs. Call your account manager to find out. For example, Toast POS includes an integrated loyalty app feature – so does Upserve.
The Top 10 Best Restaurant Loyalty Programs
1) Preferred Patron
| | |
| --- | --- |
| Why it Rocks: | 360 Degree Branding offers complete customization of your program |
| Top Features: | Real-time reporting, omni-channel communications |
| Pricing: | Starts at $69/Month |
| ROI Claims: | Boost customer retention by up to 20% |
Founded in 2014, Preferred Patron is one of the original digital restaurant loyalty programs. The company has evolved its technology to include everything from a mobile app (both Apple and Android) to on-demand reporting.
Calling all control freaks! Preferred Patron is ideal if you're looking for restaurant loyalty programs that give you control over almost everything. You decide how rewards are earned: by visit, spend, and even social media likes.
Unlike many restaurant loyalty programs, Preferred Patron helps you set up a custom mobile app around your brand. Patrons won't know you're using a 3rd party vendor!
Preferred Patron also prioritizes communication with your guests. You can "trigger" emails and SMS alerts to go out when customers reach reward milestones.
2) ReUp
| | |
| --- | --- |
| Why it Rocks: | If you (or your guests) aren't ready to go completely digital, ReUp offers loyalty cards and key tags |
| Top Features: | 24/7 support, custom app (at $189/Month level) |
| Pricing: | Starts at $49/Month |
| ROI Claims: | Use the ReUp calculator to figure out your annual ROI. Example: a restaurant serving 200 customers daily (who spend an average of $15) can expect an annual ROI of $21,900. |
New to restaurant loyalty programs? ReUp has your back. You'll get your own loyalty coach at the $99/Month level.
Want to start small? The $49/Month package still includes 24/7 support as you build out your loyalty program. At this base level, guests simply give your staff their phone number to earn points. Or, go all out with your own branded mobile loyalty app.
All ReUp restaurant loyalty programs include plastic loyalty cards and key tags for guests who prefer to track and earn rewards the old-fashioned way…
3) AppInstitute
| | |
| --- | --- |
| Why it Rocks: | The affordable, easy way to build out your own mobile app – and rewards program |
| Top Features: | Online ordering, mobile coupons, chat box, points or stamp card option |
| Pricing: | $84/Month |
| ROI Claims: | 30,000 businesses have used AppInstitute |
As far as restaurant loyalty programs go, it doesn't get more custom than this! For $84/month, your restaurant can have its very own branded mobile app – complete with a built-in loyalty program.
Can't decide between a stamp-based or points-based program? Let guests decide. AppInstitute can set up a digital stamp card within your app. With each purchase, the guest scores a stamp. Or, let guests earn points by checking in on your restaurant's app or scan a QR code at your business.
On top of restaurant loyalty programs, AppInstitute's mobile apps can be configured to include menus, online ordering, push notifications and offers, and even an in-app messaging platform.
4) Upserve
| | |
| --- | --- |
| Why it Rocks: | Simplicity! The guest's credit card functions as a loyalty card |
| Top Features: | Easy text-to-join sign up, customizable offers |
| Pricing: | Starts at $99/Month (which includes a digital POS system, inventory management, and more – on top of access to Upserve's restaurant loyalty programs.) |
| ROI Claims: | PRESS Bistro utilized Upserve and increased revenue by 30% |
Upserve is more than one of the top restaurant loyalty programs. It's a powerful, all-in-one suite of digital restaurant management tools. From inventory management to mobile apps, analytics to POS and payment processing, Upserve does it all.
Upserve's loyalty platform stands out by being one of the easiest restaurant loyalty programs for customers to use. When a server or bartender takes orders, they simply mention Upserve loyalty. If guests are interested, they text one word to a unique phone number, then they're prompted to join in by registering their credit card number. That's it! Then they can start receiving cash back and other loyalty perks.
5) Belly
| | |
| --- | --- |
| Why it Rocks: | Supercharge your marketing efforts as you boost loyalty |
| Top Features: | Auto-Engage email campaigns, Belly mobile app, Facebook Like integration |
| Pricing: | Starts at $159/Month |
| ROI Claims: | Increase customer visits by up to 54% |
Some restaurant loyalty programs – like Belly – double as marketing machines. The company promises to help restaurants "be discovered by new and existing customers."
It starts with the Belly iPad at your restaurant. Customers use it to join your loyalty program in one quick click. Then, the customer checks in to earn points at each visit.
Belly takes restaurant loyalty programs to new heights with its Auto-Engage email campaigns. When a customer hasn't visited in a while, Belly sends an email with an enticing offer. On average, Auto-Engage emails result in bringing back 10% of lapsed customers.
6) Loyalzoo
| | |
| --- | --- |
| Why it Rocks: | Got 3 minutes? Loyalzoo claims you can set up your loyalty program in that time |
| Top Features: | Facebook "Check-in" integration, Handsfree Marketing |
| Pricing: | Starts at $27/Month |
| ROI Claims: | Boost customer retention by up to 20% |
Feeling impulsive? Set up your LoyalZoo program in minutes. Or, read on to see why this is one of the most popular restaurant loyalty programs.
Customer sign up is a breeze. Guests simply provide an email address or phone number. Or, they can check in at your restaurant on Facebook using the free Loyalzoo app (which gives you some nice free marketing).
Loyalzoo includes Handsfree Marketing, a nifty tool that automatically segments guests into 3 categories: new, VIP, and slipping away. Then, LoyalZoo sends guests targeted offers via email or text message based on which segment they're in. The goal is to move all guests into the "VIP" category.
With restaurant loyalty programs starting at just $27/Month, LoyalZoo is great for businesses watching their bottom line.
7) LevelUp
| | |
| --- | --- |
| Why it Rocks: | It doubles as a payment/ordering tool |
| Top Features: | Robust analytics, Beacon Messaging |
| Pricing: | Not available, contact for details |
| ROI Claims: | An average increase of $900 in revenue per location |
Looking for restaurant loyalty programs with all the bells and whistles? Check out LevelUp. This mobile app-based loyalty tool lets customers browse your menu and even order – all from their smartphone.
You have 2 options for using LevelUp: run your program on the generic app, or set up a custom app (known as a "white label" app). The white label option will cost more, but it may be worth it if you're seeking out restaurant loyalty programs that are 100% branded around your business.
One of the standout features of LevelUp is Beacon Messaging. When guests are near your restaurant, LevelUp can send targeted notifications and offers to bring them your way.
LevelUp was recently acquired by GrubHub. If online ordering is a priority, put this one on your list of restaurant loyalty programs to consider.
8) FiveStars
| | |
| --- | --- |
| Why it Rocks: | It also promotes your restaurant to new customers |
| Top Features: | AutoPilot reward program and customer list buildout |
| Pricing: | $279/Month (according to 3rd party review sites, call for a custom quote) |
| ROI Claims: | 10x more effective than traditional marketing, promotions can spike customer visits by 70% |
At just under $300/month, FiveStars is one of the pricier restaurant loyalty programs on this list. However, it's used by over 12,000 locations nationwide – so the program does deliver results.
Unlike a few other restaurant loyalty programs listed, FiveStars does not let you create your own mobile app. Instead, customers download the FiveStars app to start earning rewards at local businesses. This can work to your advantage as it puts your restaurant on the radar of new customers.
Once enrolled in the FiveStars rewards program – either by providing a phone number on a tablet at your restaurant or downloading the app – guests start receiving AutoPilot rewards. These rewards are delivered via app notification, text message, or email.
9) TapMango
| | |
| --- | --- |
| Why it Rocks: | The affordable, easy way to build out your own mobile app – and rewards program |
| Top Features: | 30-minute set up, loyalty keytags, marketing portal |
| Pricing: | Starts at $189/Month (based on 3rd party reviews, contact TapMango for a quote) |
| ROI Claims: | None available |
TapMango is another one of the restaurant loyalty programs that lets guests use a plastic key tag to earn rewards. But most guests will download your app. To log their visit or purchase with you, guests scan their phone or key tag on a kiosk-mounted iPad (provided by TapMango). After checking in, guests can view their reward status and redeem any offers – right on the iPad.
Like many of the featured restaurant loyalty programs, TapMango gives you ultimate control over the look and feel of your keytag, app, and iPad portal. It features your brand – not TapMango's.
TapMango also includes email marketing and robust analytics to track customer behaviors.
10) SailPlay
| | |
| --- | --- |
| Why it Rocks: | It turns loyalty into a game for guests |
| Top Features: | Rewards for extra activities: leaving feedback, inviting friends, etc |
| Pricing: | Not available (call 1-800-277-2342 for a quote) |
| ROI Claims: | Increase revenue by up to 50% |
SailPlay believes that restaurant loyalty programs should be fun. So, their product turns earning points into a game. Guests go on a "quest" to unlock points and earn badges, as they complete activities like signing up for your emails and making purchases.
When it comes to restaurant loyalty programs, these 10 options are just the start. Do your research. Sign up for free demos and trials. Soon, you'll find "the one" that works best for your restaurant – and your guests.
[fl_builder_insert_layout slug="whitepaper-signup-module-33-customer-loyalty"]