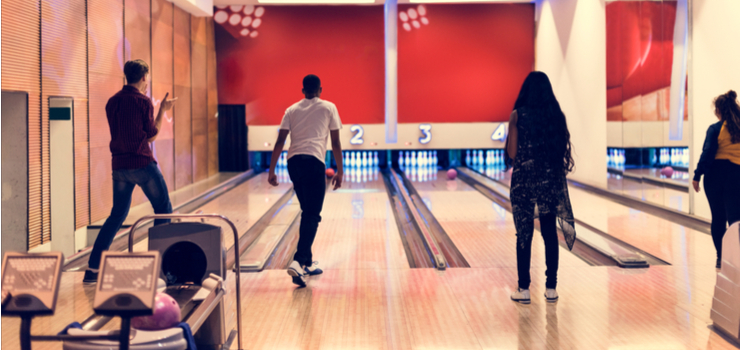 This isn't your grandfather's game anymore. Innovative bowling alley technology is transforming the player experience, pin by pin. From interactive light shows to futuristic bumpers, the latest tech makes every player feel like a star bowler. Ready to up your game with the 8 best types of bowling alley technology? Let's roll.
1. Get Lit! Animate Your Lanes with Interactive Visual Effects
Bring bowlers into the future with the next generation in lighting. Companies like Unreal Bowling and CenterPunch provide animation and responsive lighting that changes based on gameplay.
For example, a spotlight follows balls down the lane, then highlights remaining pins. When someone rolls a gutter ball, strike, or spare? This bowling alley technology puts on a special lightshow. You can also select colorful themes to set a festive mood for birthday parties, holidays, and other events.
2. Sounds Like Fun: Bowling Alley Technology to Enhance Your Acoustics
Chances are, your facility has ample space for corporate events, private parties, and even concerts. But subpar acoustics and loud noises may be scaring off this extra business.
That's why companies like Primacoustic have developed bowling alley technology to quiet your space – and turn up the volume on event revenue. Primacoustic offers solutions that muffle jarring sounds, while enhancing the noises bowlers really want to hear (like your awesome music and their own conversations).
Worried this "solution" involves ugly noise-cancelling panels? Nope. These guys specialize in acoustic products that blend seamlessly with your design. It's bowling alley technology that looks good and works hard.
3. Bumpers Gone Wild with Bowling Alley Technology
Bumper bowling. It's for beginners and kids, right? Not so fast. Bowling alley technology from Hyperbowling is changing the game. Now, the goal is to hit certain areas on the bumpers to score points. Hyperbowling's system integrates lights, sensors, and software to add high-tech lane elements. So yes, beginners and kids will love it. But don't be surprised to see your pros testing their aim in this exciting game.
4. Entertain a New Kind of Game: Trivia and Digital Arcades
Think outside your lane to bring in customers. According to the U.S. Market Research Report for Bowling Centers, more bowling alleys are offering a variety of recreational activities to attract players.
One of the best ways to add even more entertainment value is to offer handheld bowling tablets. This bowling alley technology gives you three ways to boost your fun factor.
First, tablets connect guests to a nationwide trivia network. Players can compete in real time against others across the alley – or across the country – in trivia challenges that run 7 days a week, 15 hours a day.
Second, this bowling alley technology also gives bowlers 24/7 digital arcade games. Why waste space with bulky old school arcade games? Now, the arcade action is in the palm of their hands.
Third, you can run live trivia events with this tablet-based bowling alley technology. Players use the tablets to answer, and you're provided with all the questions. So, no need to hire an outside trivia host.
Ultimately, trivia and arcade games keep bowlers in the mood for friendly competition and camaraderie. Between rounds or during a break, entertainment-based bowling alley technology ensures players stay in "game mode." They're less likely to leave – and more likely to stay and roll again!
[fl_builder_insert_layout slug="whitepaper-signup-module-get-more-customers"]
5. Digital Signage and Menu Bowling Alley Technology
Got good eats and exciting events on the menu? Great! Now promote them in an eye-catching way with digital signage.
The same bowling alley tablets also include access to digital signage software. It turns your existing TVs and screens into brilliant, customizable ads. A study by Nielsen found that sales of items promoted on digital signage increased by 33%, so highlight your menu specials. Or, show your bowlers some love on the big screen by highlighting high scores or wishing them happy birthday.
In addition to digital signage, tablet-based bowling alley technology can even power digital menus. Imagine players browsing your menu, sending orders to the kitchen, and even paying…all from one handheld bowling tablet.
6. Score Big with Your Bowlers
Bowling is all about keeping score. Now, bowling alley technology gives players more ways to win with twists on traditional scoring. For example, Brunswick Bowling just rolled out Sync, their latest bowling alley technology for scoring that includes options for different bowling games.
Another way to add fun to scoring? Try PinPix. Instead of a player's name on the screen, PinPix lets bowlers take a selfie and add goofy accessories like wigs and glasses to their picture. To keep the fun going, players can alter their own selfie (or another player's pic) throughout the game.
7. Be a Control Freak (It's a Good Thing)
There's a lot going on with bowling alley TVs. Some are used to track scores. Others are showing the latest sporting events. If you use digital signage, you've got that going on, too. It can quickly become a juggling act for managers.
Enter Cinemar. This bowling alley technology helps streamline the management of your gazillion TVs (ok, maybe it's 50 TVs). Cinemar condenses your controllers and remote controls into a single platform. Managers can switch displays and change programs in a single click. With bowling alley technology like Cinemar, TVs can even be controlled from a smartphone.
8. Online Lane Reservations
Online reservations aren't just for diners. Bowlers want to ensure they've got the best lanes in the house! Make it easy for them to book lanes in advance with online reservation bowling alley technology.
Companies like Alley Trak provide simple tools to add to your website. Then, bowlers can select the date, time, and exact lane from their laptop, smartphone, or tablet. The other advantage of this bowling alley technology? You'll know in advance how busy you'll be on specific days and times – and can plan staffing accordingly.
Whoever said bowling is a "retro" sport, hasn't visited a bowling alley lately. Today's most successful ventures are embracing innovation, and adding bowling alley technology to impress guests and boost revenue. From digital signage to exciting bumper bowling, give the latest tech a try – then roll on into a prosperous future.