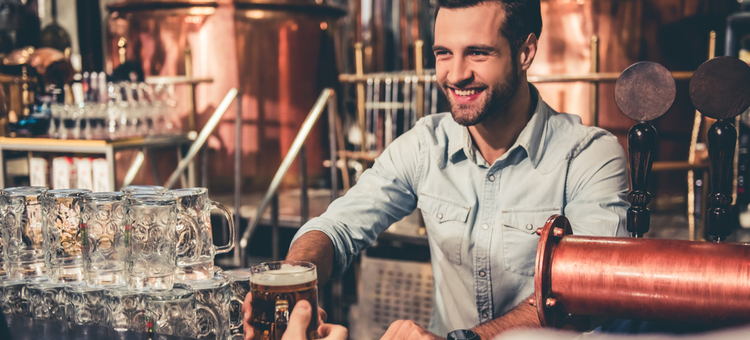 Everyone has to start somewhere – even Papa John began his career with little experience. Just because you're a rookie bar manager doesn't mean you have to be a bad one. And in fact, you can't afford to be, or you may never become a seasoned manager. When you're first running your own restaurant or pub, follow these bar management tips to ensure your (and your bar's) success.
Remain Mature and Professional
While this seems obvious the day you sign up, many first-time managers get too emotional or stressed on the job, and it shows. Don't give in to the festive atmosphere you've helped create – you must always have the financial wellbeing of your establishment in mind when you make decisions. As much as you should try to be friendly with the staff, remember that making close friends makes it all the more difficult when you have to let someone go.
Know The Competition
No matter how niche you think your bar is, there will always be steady competition. Learn as much as you can about other bars and their marketing strategies in your area and get a leg up on them whenever possible. The best bar management tips reinforce the ever-changing economy – you could be doing great today, but if you don't adjust your prices, target audiences, and menu items to purposefully rise above the competition, you won't be doing great for long.
Educate Your Staff
No matter how many numbers you crunch, your business can't be booming if your staff isn't on their A-game. Be sure to allot enough resources to guarantee they are in the items you stock, the proper ways to mix and serve all items, and general standards in the service industry. If your staff remains professional and helpful at all times to your customers, the customers will have a better experience and you won't have to do any damage control down the line. Take the time to hire the right people – don't give a job to your friend's nephew just because he needs one.
Learn Legal Logistics
The key to success, at the end of the day, is eliminating the possibility of failure. Restaurants and bars are saddled with plenty of stringent laws, regulations, and codes to abide by, and you better ensure that you and your staff follow them to a tee. You don't need specialized bar management tips to know not to break the law, but be sure to never let anything slip into a grey area. Card everyone. Never serve alcohol to anyone who may not need it. Err on the side of extreme caution to avoid any legal nightmares.
Follow these tips and you can transform from a rookie bar manager to a pro in no time.
[fl_builder_insert_layout slug="whitepaper-signup-module-ultimate-checklist-bar-sales"]