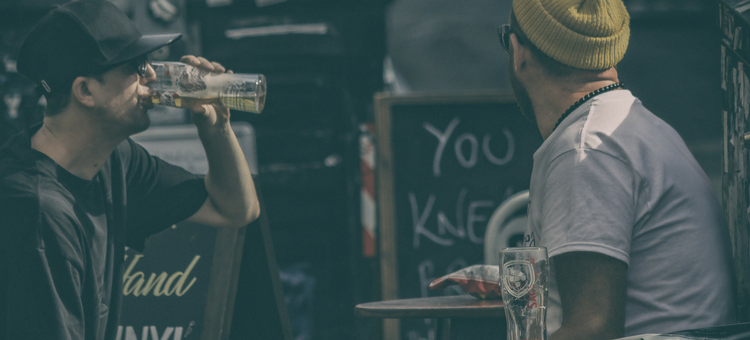 Short on time but aiming to run a more profitable bar or restaurant? In only 10 minutes a day, you can improve your profit potential. Put these 10 research-based strategies into play – starting today.
The Power of 10: A More Profitable Bar or Restaurant in 10 Minutes
Print out this list. Keep it in your back pocket. Screenshot it with your smartphone. Then, whenever you have a few minutes to spare, pull out these profitable bar or restaurant tips.
Tune Your Playlist
Explore the Great Outdoors
Nurture Relationships with Millennials
Mark Up Your Menu
Input Numbers into a P&L sheet
Navigate the Facebook Newsfeed
Upsell a Customer
Tackle a Negative Review
Enroll in GrubHub and OpenTable
Say Yes to Sampling
1) Tune Your Playlist
Profit potential: 40% increase in drink and dessert sales.
Hoping these profitable bar or restaurant tactics will be easy? You'll like the sound of these 2 tips:
Rule #1: Play Fast Tempo Music to Turn Tables Quicker
Turning tables faster is essential to maximizing sales. Every profitable bar or restaurant knows this. To prevent patrons from becoming "campers," turn on fast-tempo tunes. Research reveals that customers will eat faster; yet, they don't feel rushed.
Rule #2: Slow Down the Tempo, Speed Up Drink and Dessert Sales
During slow dayparts, play relaxing music. You'll encourage patrons to stick around and spend more – up to 40% more on drinks and desserts.
Take 10 minutes to do a little "playlist engineering," a secret weapon for running a profitable bar or restaurant.
To see the studies behind these playlist strategies – and to score 6 more tactics – check out this restaurant music guide.
2) Explore the Great Outdoors
Profit potential: 30% more revenue.
Walk out the door for this next 10-minute power move. A more profitable bar or restaurant could be waiting outside. Research revealed a 30% increase in revenue for restaurants with outdoor seating. Get inspired by these ideas:
Beer Gardens: Take a cue from Germany, and set up picnic tables or rustic bench seating. Grass underneath is a nice touch.
Café Tables and Chairs: If you're downtown, use the sidewalk space.
Patio or Deck: Explore the costs of adding a patio or deck with roll up vinyl "windows" so the space can be used for 3 seasons.
Use your 10 minutes to get prices for outdoor furniture or construction estimates. Plus, this profitable bar or restaurant tip doubles as a marketing strategy. Outdoor seating is like a "living billboard." It can entice those driving or walking by to stop and come in.
3) Nurture Relationships with Millennials
Profit Potential: 23.8% of the average millennial's spending money
The next 10-minute tactics for running a profitable bar or restaurant is all about embracing millennials. You know, the generation born between 1980 and 2000. Millennials are famous for their love of selfies, avocado toast, and switching jobs.
But they're also a profitable bar or restaurant manager's best friend. Why? Millennials allocate nearly a quarter of their spending money to bars and restaurants. They spend more than any other generation – and eat out 5x a week on average. These 10-minute strategies can earn their affection:
Younger millennials are big fans of Snapchat, a photo-sharing social media app. Add Snapchat marketing to your profitable bar or restaurant to-do list. Use this simple Snapchat guide for restaurants to get started.
Whether they're college students or young professionals, millennials keep late hours. Cater to their night owl ways: Create a late night happy hour menu.
Profitable bar or restaurant managers are bringing in touchscreen tablet menus. In minutes, you can learn about these tablets with a free demo. LINK TO SCHEDULE A CALL PAGE?
Tablet menus let guests build out their "dream meal" around their unique tastes. The personalization factor is important to millennials. A 2017 Accenture Loyalty Study found that 54% of those 24-35 are more loyal to businesses that empower them to "create something unique to me."
4) Mark Up Your Menu
Profit Potential: Increase sales of specific items by 27%
Channel your high school English teacher. Grab a red pen and ruthlessly edit your menu. We're not talking typos (you already ran a spell check, right?). Instead, use these tips to turn your menu into a profitable bar or restaurant selling machine:
Get Descriptive: A study by Cornell University found that when a menu item has a descriptive name, sales of that item increase by 27%. For example, a profitable bar or restaurant doesn't just put a "burger" on the menu. It's a "Signature Chargrilled Red Angus Burger."
Remove Zeroes (and Dollar Signs): Another Cornell University study showed that customers spend more when dollar signs and zeroes are removed from menu items.
5) Input Numbers Into a P&L Sheet
Profit Potential: You'll know if you're actually profitable!
[fl_builder_insert_layout slug="p-and-l-statement-signup-module"]
It may seem obvious, but you can't run a profitable bar or restaurant without knowing…if you're turning a profit. Maybe you're overly confident because sales are way up. But what if labor and inventory costs are creeping up as well? There goes your profit margin. This P&L worksheet will reveal if you're generating a profit – or a loss. Just enter a few basic numbers, and you'll know where you stand.
6) Navigate the Facebook Newsfeed
Profit potential: 6x greater chance of being seen on Facebook.
In early 2018, Facebook changed their newsfeed algorithm yet again. The social media giant was very clear about the changes: business content will be seen less by users. However, you can still run a profitable bar or restaurant campaign on Facebook.
One way to up your chances of appearing in the Facebook newsfeed is to record a live video. Facebook claims live videos get 6x the engagement as regular videos.
It's simple and free to "go live." Open the Facebook app on your smartphone. Hit the red video camera icon that says "live" and start recording…
Your bartender prepping a signature cocktail,
A behind the scenes tour of your kitchen,
Or, a live feed of a special event.
7) Upsell a Customer
Profit potential: Hear "yes" to your upsell 93% of the time.
"Would you like a Special Hickory Smoked Manhattan, because everyone is ordering it like crazy today?"
A Harvard Psychologist found that when the word "because" is used in upselling, 93% say yes – even with a crazy reason. Give guests a good reason, and 94% will say yes. Without "because"? Just 60% say yes.
Train your team in the art of upselling (all backed by science). Take 10 minutes to put together a one sheet of profitable bar or restaurant upselling strategies. Use this free Golden Book of Upselling secrets to get started.
8) Tackle a Negative Review
Profit potential: Make negative online reviews disappear.
No, it's not magic. It's a trick up the sleeve of every profitable bar or restaurant manager. To make a negative review vanish, respond to it!
A study by RightNow and Harris Interactive revealed that if you respond online to a customer's negative feedback, 33% will take the time to leave a new, positive review. But wait, it gets better: 34% of customers may remove their initial negative review.
Take 10 minutes to review the correct way to respond to negative reviews using the 7A formula. It's a profitable bar or restaurant owner's secret weapon…
9) Enroll in GrubHub
Profit potential: 50% increase in online orders.
What happens when a customer is craving your food – but wants to stay in their pajamas? Be their hero. (And be a more profitable bar or restaurant.) Offer online ordering and delivery.
According to research by the NPD Group, an astounding 50% of restaurant meals are eaten at home. To get in on the stay-in-and-grub trend, you don't need to hire a delivery driver. Just sign up for GrubHub.com. The company claims that after a year, restaurants see a 50% lift in online orders.
Other online order and delivery services include UberEATS and DoorDash. Find 10 minutes today to get a quote from each company active in your area.
If you have an extra 10 minutes…Enroll in OpenTable
Part of being a profitable bar or restaurant is watching the trends, and online reservations are seriously trending with customers.
In 2017, Toast POS asked 2,000 diners which technological feature was most important to their dining experience. Online reservations came out on top – with only 5% of respondents stating it "was not important." OpenTable.com is the name to know when it comes to accepting online reservations.
10) Say Yes to Sampling
Profit potential: Increase sales of an item by 2,000%
You read that right. 2,000%. Granted this free sample study was performed at a supermarket. But it can be profitable bar or restaurant strategy, too. Sampling activates the "reciprocity principle." When someone does a nice thing for us (a small pour of a new craft beer), we want to return the favor (buy the whole pint).
Another profitable bar or restaurant sampling tactic could be bringing out a tray of pre-portioned appetizers to guests waiting for a table. Head back to the kitchen now: pour your soup of the day into shot glasses. Then serve to guests. Chances are you'll see soup sales increase tonight. That's 10 minutes well spent…
Turning your business into a profitable bar or restaurant won't happen overnight. But it could happen faster than you think. Just take 10 minutes a day to put one of these 10 profit-building tips into play. Time is ticking. You're on the clock. Go forth and seize those profits!