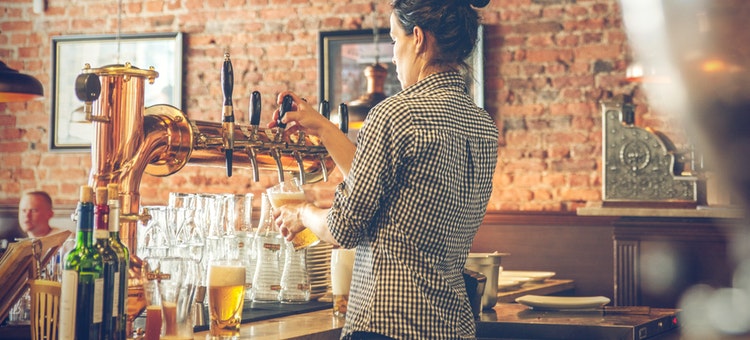 A restaurant can become popular among customers when it offers a wide range of delicious food, fun, and entertainment. However, restaurants can further boost their popularity and profits by serving alcohol. Selling alcoholic beverages draws more customers, but, unfortunately, selling alcohol comes with various risks that may make your business vulnerable to liability claims.
What if an intoxicated patron causes harm to themselves or another customer? What will you do if someone gets injured? Intoxicated customers can become rowdy and cause bodily injury or property damage. If you operate in one of the 38 states that have Dram Shop laws, your business could be held responsible for actions that take place even after a patron leaves your establishment.
Knowing the risks involved in serving alcoholic beverages is essential to protect yourself from losing substantial amounts of money. So, how can you mitigate your business against a wide range of claims?
Here are some things to consider.
Employ a designated security staff.
Selling alcoholic beverages calls for an extra workforce to keep your customers and your property safe, reducing your risks of having to face liquor liability claims. Trained staff will make sure that unruly and intoxicated customers do not cause harm to people and property and make sure incidents are kept under control.
Train your staff properly.
A key part of every risk management plan is to inform everyone working at your bar or restaurant of what needs to be done in case of an accident involving alcohol. Here are some best practices to establish:
Train bartenders to properly measure alcohol so they don't over-serve patrons.

Teach servers and bartenders to recognize the signs of intoxication. If they know a patron is drunk, they can encourage them to drink more water.
Provide a menu of different food options available. Eating food while drinking can help slow down alcohol absorption.
Refuse service when necessary.
Be prepared to refuse service to intoxicated customers. If you keep serving alcoholic beverages to an intoxicated patron, you are putting your business at risk of liquor liability claims. If you knowingly serve alcohol to a drunk customer who causes property damage or bodily injury you could be stuck paying the bill. While serving more drinks increases your revenue, it's not worth it if it results in liability claims.
Check the ID of each customer.
Underage drinking should not be tolerated in your business. If your business is caught serving to a minor, it will cost you your liquor license and will damage your business' reputation. Make sure your bartenders are trained on how to spot a fake ID.
Be responsible. If a patron drinks too much take call a taxi for them to make sure they get home safe. It's a huge liability for a bar or restaurant to let intoxicated customers get behind the wheel. Calling a cab may cost you a few dollars but that nothing compared to the amount of money you'll lose on legal fees and damages due to a claim. To make this easier for your business, you can forge partnerships with taxi companies that can also offer discounts for your customers.
Carry Liquor Liability insurance. When you're starting the business, you probably purchased General Liability and Commercial Property insurance. But if your establishment serves alcohol, you need a policy specifically to protect your business against claims related to liquor liability, as those other policies will not cover alcohol-related incidents. You may think that you're prepared enough to minimize any issues but the truth is, accidents and untoward incidents can happen when you least expect it. That's why it is essential to purchasing Liquor Liability insurance. This type of policy will protect your business against huge financial losses due to claims. This insurance can help cover the legal fees and other expenses in case of a lawsuit.
This insurance is also a legal requirement in many states for establishments that serve alcoholic beverages. Your bank or financial institution may also require you to carry this type of policy. It doesn't stop at bars and restaurants. You need to carry liquor liability coverage if you serve alcohol at a business event or have a facility that can be used for various events involving alcoholic.
These are some of the things that you can do to minimize liquor liability claims. Protect your business against losing substantial amounts of money by establishing rules, regulations, and best practices among your employees and enforce them with your customers. As for the insurance, consider hiring an insurance broker who has the knowledge and experience in dealing with the risks involved in running an establishment that serves alcohol. 
By Emily Lazration, CoverWallet
Emily is the Content Marketing Specialist at CoverWallet, a tech company that makes it easy for businesses to understand, buy and manage commercial insurance online. She has written for several outlets including Inc., Ooma, and Fundera covering small business news and advice.