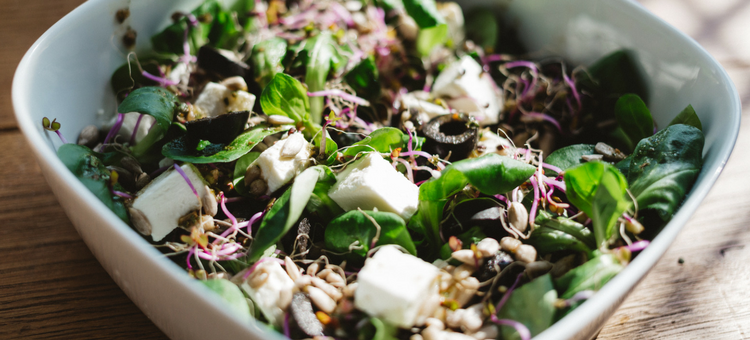 Salads are indisputable winners with today's health-conscious consumers, having restaurants around the country continually inventing creative spins on their salads to appeal to their customers and boost profits. Salads are an effective way for restaurants to grow their bottom-line because they require little or no cooking and preparation, and they generally use inexpensive ingredients that can be purchased in bulk.
Research conducted by the Foodservice Research Institute revealed that nine out of 10 foodservice operations (91 percent) accommodate diners' needs with the freshness and crispiness of salads.
A report from the Hudson Institute analyzed sales at 21 restaurant chains, finding that restaurants which offered lower-calorie menu options experienced a 9 percent increase in food and beverage sales, while restaurants that didn't saw sales drop by 16 percent.
Technomic's Soup & Salad Consumer: Left Side of the Menu Report reveals further interesting findings regarding restaurant consumers' salad preferences. According to the research, 76 percent of consumers order salads at least sometimes while dining out, and 43 percent said that they visit certain restaurants specifically for their salad offerings.
When it comes to creating a best-selling salad, using the freshest ingredients possible ingredients is always the key, said Bob Barry, chief operating officer of the popular casual dining spot The Greene Turtle, in an FSR magazine article, When It Comes to Salads Almost Anything Goes. He said that bold flavors are also an important component.
The Greene Turtle's popular salads include its Apple Walnut Salad, with mixed greens, apple wedges, walnuts, crumbled blue cheese, dried cranberries and a sweet Vidalia onion dressing; Jamaican Chicken Salad; BLT Wedge Salad; Southwest Chicken Salad; and its Steak Fajita Salad.
As far as which salad trends are on the rise in 2014, here are the biggest ones to look out for, according to Restaurant.com.
Eggs: This versatile and protein-rich food adds dimension and heartiness to salads, such as in the popular Cobb Salad which features fresh salad greens, tomato, bacon, chicken breast, hard-boiled egg, avocado, chives, and Roquefort cheese.
Vitamin A super foods: In particular, power-packed veggie-based phytonutrients (found in squash, arugula, heirloom tomatoes, kale, sweet potatoes and broccoli); disease-fighting antioxidants (coming from pomegranates, beets and cauliflower); and healthy Omega-3s (from salmon, shrimp, quinoa and nuts).
Farm to table: The move toward locally sourced fruits and vegetables will continue to grow in popularity, driven by diners' growing eco-awareness and their desire for the wholesome simplicity minimally-processed foods.
"But consumers still expect variety and something different on the menu," stated Darren Tristano, EVP of Technomic, in a FastCasual.com article, Consumer trend report explores popularity of soup and salad. He said, "Catering to consumers' need for variety when dining out — while also striking a balance between craveable, healthy, and innovative yet familiar offerings that justify price points — will be important in driving soup and salad purchases."
No matter which salads you serve up, they are the perfect way to put a creative spin on your menu and offer your customers the freshness, flavor and nutrition they are looking for.
[fl_builder_insert_layout slug="whitepaper-signup-module-37-trending-happy-hour-menu-ideas"]