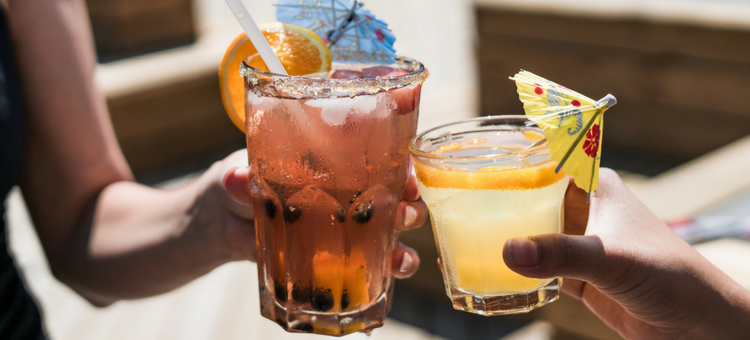 On the coattails of spring, it's not too late to switch up the drink menu and give your restaurant or bar some seasonal flavor. Bar trends for spring revolve around lighter beers and skipping the punch and oaky richness for something smooth and refreshing. Going with light beers also makes economic sense: lighter beers have less alcohol content, so customers will need to purchase more for the same effect of richer drinks. Ring in spring effectively with these beers and chasers to offer variety for your patrons.
Oculto – A recent addition to the Budweiser line, this beer is finely brewed with a helping dose of blue agave to help fabricate a distinct taste of tequila (though none can be found). It's light and goes down without any fuss, and the lower alcohol content is another positive for spring drinks. It has a distinct pop that reminds one of Mexican soda without being overwhelming. Stock this beer in your bar for a great mix-up to your regular offering. The sweetness will stand out and serve at least as a conversation piece even if it's not a particular customer's preferred brew.
Red Bull Yellow – Not an alcoholic beverage, clearly, but the tang and zest brought with the mango flavoring of this newly minted variation of Red Bull works flawlessly as a chaser for countless tropical-themed drinks that sell easily in the spring months. A plethora of cocktails can be made cheaply with Red Bull Yellow, saving you money on more "refined" cocktail mix that goes unnoticed by most bar-goers. Just be sure to keep the mixing to a minimum – Red Bull Yellow has a hearty helping of caffeine, so don't splash an overwhelming amount into any cocktail.
Lucky Girl India Pale Ale – This malty beer comes with a quite distinct marketing strategy – the flirtatious, eponymous "Lucky Girl" on the logo feeds the notion that any male patron could get lucky tonight. The ale itself is refreshing, on the sweet side, and has a punchy aftertaste that will leave drinkers wanting more. It also plays well into the "happy-go-lucky" atmosphere of dating at the end of spring and beginning of summer.
Pitagora Red Wine – This truly delectable concoction was named after Pythagoras, the classical mathematician, but its perks and draws are much more accessible than the mathematical concept. With a myriad of flavors – including plum, blackberry, and even a dash of currant – this red wine is memorable, authentic, and a perfect match for the season. Stocking wines that have seasonal flair is just as vital as stocking seasonal beers – true wine connoisseurs and just as picky as craft beer enthusiasts.
Angry Orchard Hop'n Mad Apple – Angry Orchard is as dependable a cider as any, and is adored in specialty bars and general sports pubs all across America. This recent release is brewed with an ample amount of American apples for a fruity flavor, ensuring the dry-hopped cider is tangy and sweet. The aftertaste that lingers is floral and evocative of spring, making this cider an obvious choice for the season.
Owl's Brew – This choice is actually an artisanal tea, but the manufacturers market it as the clear choice for a cocktail mixer (and understandably so). To continue the niche of spring drinks, pick up the Coco-lada flavor. The black tea is brewed with rich tropical fruits and scintillating chai spices to up the sweet factor on any tired cocktail. Mix Owl's Brew with mezcal or spiced rum for the best effect. Staying in season keeps your drink menu relevant with current bar trends.
Bailey's Salted Caramel – The last mixer to make the list is the latest edition to the Bailey's line of Irish Cream drinks. Indelibly sweet, this cream soda mixes with strong, oaky ales in a natural way, complimenting what's already there. Whiskey and vodka mixes are also excellent choices, as the strength and vitality of Bailey's helps wash down stronger cocktails.
While there are some clear bar trends with spring drinks – focus on sweetness and lightness of ales, and include fruity cocktails to suit the season – another aspect of spring is creativity and a sense of freedom. These drinks are a great start, but feel free to make educated experiments with your drink offerings. The key is variety, so mix it up to please customers and keep building interest in your bar throughout the year.
[fl_builder_insert_layout slug="whitepaper-signup-module-37-trending-happy-hour-menu-ideas"]