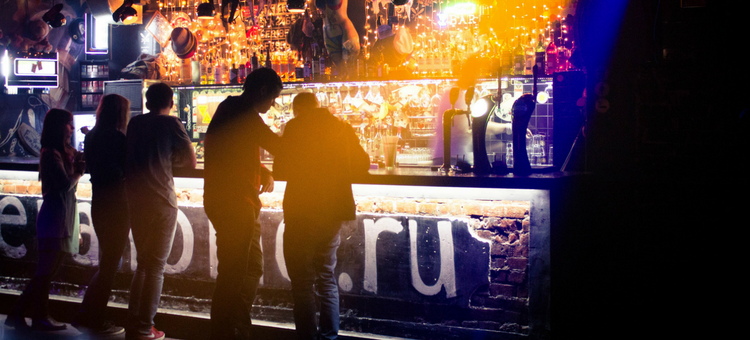 Is your bar struggling to succeed? Are customers failing to come back and you don't know why? Are other bars in your area doing well while you're floundering? If you answered yes to any of those questions, you're probably wondering what you're doing wrong. You have great food and drinks, so what gives?
Maybe your problem is your atmosphere! Atmosphere can be difficult to define, but it's that overall feeling and vibe your bar has. If you don't have a great atmosphere, you might be sabotaging your bar.  So what can you do to create an awesome atmosphere at your bar? It's easy: focus on how your customers feel.
Think about it: what do your customers see when they walk in your door?
How does your bar make them feel? What does your bar have to offer them? If all you have is blank walls, no music, and nothing to do, you don't have an atmosphere. In other words, simply serving drinks isn't enough to make your bar succeed!
Focus on the appearance of your bar.
How do you want customers to feel when they're hanging out? Make sure your wall color reflects that. For example, warm colors make your customers feel cozy and comfortable (and they increase appetite!). Cool colors, on the other hand, are calming.
The same goes for lighting. You don't want to use bright lights that make your customers feel like they're at work—that doesn't exactly make for a great atmosphere! Instead, use dim lighting to create an intimate, relaxed atmosphere. Using dark colors with bright pops of light can add energy and excitement.
But atmosphere isn't just about appearances!
You should also think about what your customers will do in your bar. What sorts of activities do you have to offer them? Do you show sports, do you have live events, or do you offer games like pool or darts? Buzztime BEOND is one easy way to improve your atmosphere. Tara Kovatch, manager of The Shannon, sees partnering with Buzztime as a great way to produce an awesome social environment. Buzztime's trivia, card and sports games encourage her players to engage with one another and her staff, creating an atmosphere that's lively and fun.
No matter what you do at your bar, make sure you keep your customers' interests in mind. What can you do to create an awesome experience for them? If you focus on the customers' experience, you'll be sure to improve your atmosphere!
[fl_builder_insert_layout slug="whitepaper-signup-module-live-streaming"]