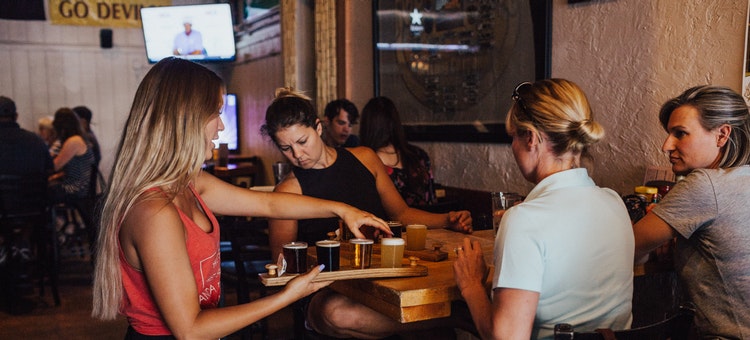 This month, bar and restaurant news has us saying, "What the tech?" From strong opinions about robot chefs to the rise of mobile payments, tech is the word in bar and restaurant news right now.
But it wasn't all tech talk in September, we also take a deep dive into a day in the life of industry servers and heat things up with harissa. As always, we've got the latest, greatest bar and restaurant news ready for you…
1. Robot Chefs: Not the Droids We're Looking For?
Robot servers? Already happening. Robot bartenders? Sure, why not. But robot chefs? That may be taking things too far. At least, according to Patrick Doyle, the former CEO of Dominos.
In a recent interview with "Squawk on the Street," Doyle shared his thoughts on technology in bar and restaurant news. It's an area he has plenty of experience in. After all, during his tenure as CEO, Dominos implemented several tech initiatives to automate and streamline operations.
His influence is what helped the franchise become one of the front-runners for tech integration in bar and restaurant news. Doyle thinks there's still room for technology growth in food service, but he draws a hard line at robots actually preparing what people want to eat.
"People want food to be handmade," Doyle stated emphatically.
He did concede that there's an opportunity to incorporate technology into how restaurants take orders, deliver, and market their food. But with some restaurants already employing robots as line cooks, it could be interesting to see if customers will agree with Doyle's stance on techy bar and restaurant news.
2. Tech, Please: Where Restaurants Stand on Technology Adoption
"Technology" has been a major buzzword in bar and restaurant news over the last decade. And one thing has been made abundantly clear by owners, operators, and customers: Restaurants are lagging behind.
But as more tech options become available and tech-savvy staff employees start joining the workforce, are restaurants catching up?
To find out, Restaurant Business surveyed restaurants for their take on where tech stands in the industry. And while the numbers seem to be slowly shifting upward (54% of participants believe they are on track with tech adoption), there's a ways to go according to this piece of bar and restaurant news.
Still on the fence about adding tech to your restaurant? Here are some areas where it could help:
Customer Ordering: Technology can make ordering more convenient for customers wherever they are…whether it's at the table, at the counter, or at home.
Entertainment: Keep wait times feeling short by providing entertainment with tableside tablets that offer games like trivia.
Operations: Inventory a mess? Schedule always crazy? Investing in technology solutions can streamline operations, increase productivity, and even save on costs.
3. Cloud Kitchens Forecast Major Shake Up in Bar and Restaurant News
Cloud kitchens may sound all light and fluffy. But according to a recent Forbes article, they could mean a storm is brewing in bar and restaurant news.
Third-party delivery apps have been on the bar and restaurant news scene for a few years now. Customers love the convenience. And restaurant owners enjoy the ability to provide a delivery service for their guests.
Now, these delivery services are noticing an opportunity to cut out the middle man (traditional restaurants) by providing their own food offerings. We told you, this is serious stuff.
Industry leaders like UberEats and U.K. tech startup Deliveroo are investing in virtual kitchens, a.k.a "dark kitchens" or "cloud kitchens." They are planning to provide food to customers at a fraction of the cost compared to regular restaurant meals, while operating with a much higher profit margin.
These cloud kitchens aim to "make home kitchens redundant" and provide customers with more meal options at cheaper prices. And according to the bar and restaurant news article, they're about to make an already highly competitive industry…even more cutthroat. 
[fl_builder_insert_layout slug="whitepaper-signup-module-top-ten-pos"]
4. What's in Your (Virtual) Wallet?
According to the latest bar and restaurant news from paymentjournal.com, mobile payment options are becoming the next big thing.
With mobile payments, guests can pay for their bill directly from their phone, without extra verification steps or authentication, and with these benefits:
Convenience: Guests pay their bills directly at the table without the added steps of waiting for the bill, running the card, and having to sign a receipt.
Security: Using a mobile app to make a payment means the guest's credit card never leaves their wallet, so there's less chance of a sketchy waiter stealing their card info.
User Experience: Overall, mobile options make paying fast, easy, and convenient, resulting in a better overall user experience for guests.
Big-brand restaurants are already taking the plunge with mobile payment options. With its popularity, it won't be long before we hear about smaller businesses going mobile in bar and restaurant news.
5. A Glimpse of Service Industry Life
If we learned anything from reality TV shows like Bar Rescue and Hell's Kitchen, it's this: The general public is fascinated by what happens in restaurants. But we also know that life in the service industry can be very different from the bar and restaurant news shown on TV.
This month, TIME shed light on the struggles for individuals in the industry by sharing the story of Christine Munce, a server at Philadelphia diner. The article examines the challenges that servers face: mainly low wages in a booming economy.
As we continue seeing both sides of the minimum wage argument play out in bar and restaurant news, this article gives a glimpse of the human impact in the restaurant industry.
6. Harissa Brings the Heat
Global flavors are trending in bar and restaurant news, and that means it's time to re-evaluate your menu items. And according to National Restaurant News, harissa could be what you need to take things up a notch.
The North African blend of spices is often used in sauces and glazes but recently has been popping up in dressings and condiments. Check out the article to learn more about how harissa is spicing up culinary bar and restaurant news and get ideas to start incorporating the blend into your dishes.
This month was a whirlwind for bar and restaurant news. But we can't wait to see what next month brings. Stay tuned!