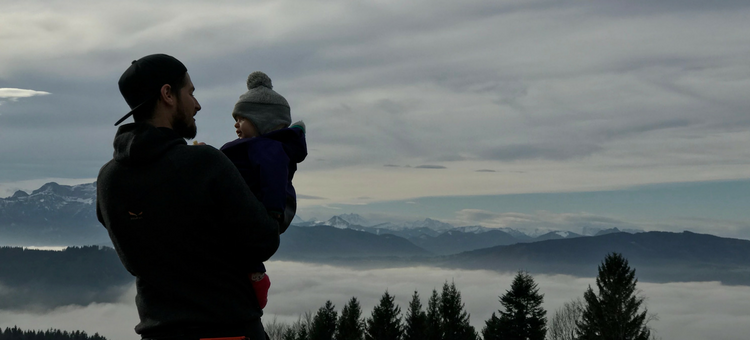 This Father's Day, Dad will live like a king. Americans plan to spend these impressive father figures: The average person will drop $171 for a record-setting $20.1 billion total. To bring Dad and his fam to your bar or restaurant, launch Father's Day promotions that treat him like royalty.
Every Daypart for Dad! Father's Day Promotions from Dawn Till Dusk
1) Bluesy Brunch
Start the day with brunch as one of your Father's Day promotions. Create a cool atmosphere with a local blues guitar player or jazz trio. Swap out ladylike mimosas for one of these 26 beer cocktails. Consider an all-you-can-eat buffet for a set price.
2) Afternoon Grill Fest (grilling demo)
Dad will get fired up over these Father's Day promotions. Team up with a local BBQ pro who can lead a grilling demo outdoors. Then bring everyone back inside to enjoy a special menu full of grilled items from meat to veggies. Try a grilled twist on a classic Caesar salad: charred romaine is seriously delicious.
3) Evening Concert
Dad can end his day on a high note, literally. Bring in a local rock band for evening entertainment complete with fatherly drink specials. As one of your Father's Day promotions, run a contest a few days before so that Dad can win a gift card to pay the babysitter…
Father's Day Promotions Built on Fun
4) Outdoor Games
Have a patio? Extra space in the parking lot? Run a family-friendly outdoor games tournament in the afternoon. From cornhole to KanJam, families can compete against each other in these Father's Day promotions and games.
5) Live Trivia Tournament
Bring the action back indoors with a live trivia tournament. Live trivia makes for great Father's Day promotions – and beyond. With the right live trivia company, you get everything needed to host trivia any day…anytime.
6) Pop Up Shop
Whoever said Dad hates to shop? Team up with a local sports memorabilia or sporting goods shop to set up a pop-up store in your bar or restaurant. Pop can get his shop on – or just browse the items. Ask the business to offer Father's Day promotions like a $5 coupon.
Extras, Freebies, and Gifts for Dad
7) Mystery Gift
Give every father a sealed envelope. Place different offers inside each one: from a free appetizer to 50% off an entrée. In a few, put bigger items like a $25 voucher. Instruct Dad to bring his envelope back in the next two weeks to reveal his special offer. Hello, repeat business!
8) Papa's Brand New Bag
Greet every father with a smile – and a swag bag. Include house-made bacon brittle, offers from nearby businesses, and a branded item like a pint glass or even golf tees sporting your logo. These freebie Father's Day promotions are a great way to surprise and delight Dad…and keep him coming back.
9) A Gift That Keeps Giving…
Help Dad's fan club out by promoting great gift ideas. The National Retail Federation found that the most popular 2018 Father's Day gifts are "special outings" and experiences.
Invite guests to pre-purchase a subscription for Dad to a recurring event at your venue – like a monthly beer-tasting club – as one of your Father's Day promotions.
Manly Menu Options
10) All Bacon Everything
America is obsessed with bacon. So, build a bacon-themed menu for your Father's Day promotions. From gourmet BLTs made with bacon sourced from a local farm, to bacon-infused vodka martinis.
11) Show You've Got Game with Your Father's Day Promotions
Serve unique meat like buffalo burgers or venison chili. Alligator is even popping up on restaurant menus (apparently, it really does taste like chicken). Just ask your distributor: exotic meat and wild game can be surprisingly affordable.
12) Desserts for Dad: Take a Cue from…Santa?
Maybe we serve Santa milk and cookies for a reason? A study on dessert preferences by gender found that men are 10% more likely to order cookies than women, and 20% more likely to seek out a milkshake instead of ice cream.
King for a Week
13) Tap Tuesday, Whiskey Wednesday…
Why launch Father's Day promotions for just one day? Show him he's the man with a week of offers and events. On Tuesday, invite a local brewery in to do a guided tasting. On Wednesday, serve up flights of whiskey. Ask your distributor if any alcohol brands have free promotional items you can put into Dad's swag bag.
14) Saturday Afternoon with the Kids
Make Father's Day promotions a family affair. Host a kid-friendly event for Dads and their kids like a guided craft event or a chance to pot a mini herb garden.
15) Date Night with Dad in Mind
On Friday and Saturday before Father's Day, invite Dad to celebrate his special day in advance with a romantic dinner for two.
Social Media Father's Day Promotions
16) Dad Deserves It
Ask your social media followers to nominate a father for a "Top Pop" award. Honor the winners with a gift card as one of your Father's Day promotions. You could also shine the spotlight on these awesome dads using digital signage on TVs in your restaurant or bar.
17) Father Knows Best: Playlist Picks
Dad always lets his kids play their music (enough Lil Uzi Vert already). Now, it's his turn. Run a social media post asking fathers to submit playlist picks for your Father's Day background music. It's a non-salesy way to highlight your other Father's Day promotions.
Father's Day Promotions…To Go!
18) Pack a Picnic
Not every family will want to dine in for a Father's Day meal. You can still be part of their celebrations by offering a picnic basket loaded with a family-style meal…to go. Think backyard classics gone gourmet, like an heirloom potato salad.
Contests That Cater to His Competitive Streak
19) Dad Joke Off
"I gave all my dead batteries away. They were free of charge."
Yup, that's a dad joke. So bad they're good, dad jokes are the social media trend that just won't quit. Host a live Dad joke off open mic event. Reward the 3 best (or worst?) dad jokes with a sweet prize.
20) Eating Contests
Build your Father's Day promotions around a contest. It could be a hot pepper or chicken wing eating contest. Whatever it is, he'll get his fill of fun – and a chance to brag if he wins.
21) Long Shot Contests
Go big with your Father's Day promotions. Think you can't afford a $50,000 prize if a guest makes a putt into a small practice green from across the restaurant? Think again. That's where prize indemnity insurance comes in. If someone makes the putt, the insurer covers the full payout.
Yes, the insurance comes at a cost – usually a small percentage of the prize. But if your big-prize Father's Day promotions bring in hundreds of guests and media attention, it could be worth it.
Show Dad Some Love
22) Digital Cards
They say boys don't cry, but Dad might shed a tear if he sees a personal Father's Day message from his kids or significant other on your TVs. When taking reservations, invite patrons to submit a message. Then, use digital signage software to rotate in the messages.
23) Handmade Cards
Give children blank cards and crayons so they can make Dad their own card at the table.
Want to be tops with all the pops out there? Launch Father's Day promotions that guarantee a great time: from an "all bacon everything" menu to entertaining events. Cheers to you, Dad!
[fl_builder_insert_layout slug="whitepaper-signup-module-ultimate-checklist-bar-sales"]