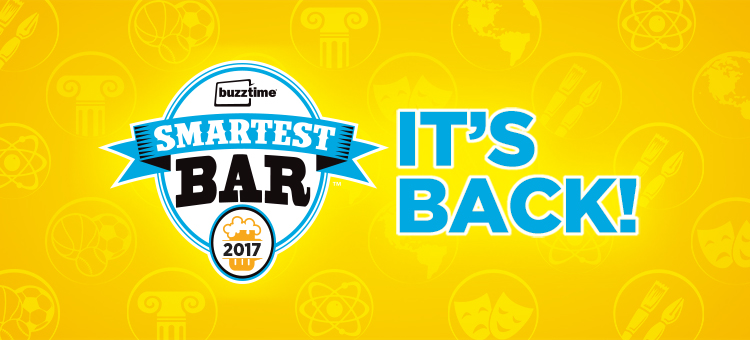 On November 1st, Buzztime's Smartest Bar competition kicks off again at your venue. Every Wednesday night for 6 weeks, players will compete on your behalf. The goal? To make it to the championship round on December 20th for a chance to bring home the Smartest Bar trophy (plus a party for your bar!). Here are 4 ways to rally players now…
1) Spread the Word on Social Media
Soon we'll be sending you a social media asset kit loaded with images and post texts so you can start talking up Smartest Bar. On Facebook, you can easily pre-schedule reminders for Smartest Bar to run throughout October. Don't forget Instagram, Twitter, and SnapChat, too!
2) Plan a Special Menu
Remember, players will be competing on behalf of your bar, so show them some love with a special Smartest Bar menu just for Wednesday evenings. Don't limit your menu just to those competing in Smartest Bar, other patrons might show up just to cheer on the players. When planning your menu, think of shareable appetizers like loaded nachos, chicken wing specials, and of course…pitcher specials!
3) Start Recruiting
Start talking to your regular Buzztime players about Smartest Bar. Compliment their skills and suggest that they represent your bar in the competition. They'll feel honored and you'll boost loyalty with those players. You could even launch a few "training sessions" for those new to SIX Trivia (that's the game that will be played during Smartest Bar). SIX Trivia is nationally scheduled every Wednesday and Thursday evening at 5:30 PT / 6:30 MT / 7:30 CT / 8:30 ET.
4) Keep the Momentum Going!
Constantly remind Buzztime players of the buzz-worthy prizes up for grabs: medals, Buzztime merch, and parties for the top 3 winning bars. While the Smartest Bar competition is held over 6 weeks, only the top 5 weekly scores are counted to see which 10 bars advance to the championship on December 20th. If your players have an "off" week, keep them motivated to return the following week.
We can't wait to find out which bar will be crowned America's Smartest Bar. Best of luck and here's hoping it's YOUR bar!