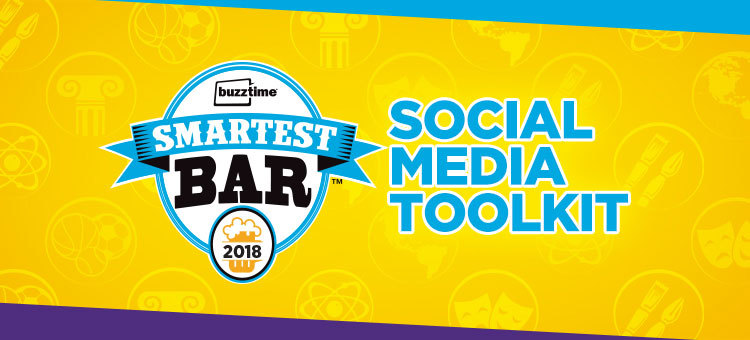 Smartest Bar, the ultimate trivia battle of the bars, returns to your venue for 2018! This famous nationwide trivia competition runs Wednesdays at 5:30 PT / 8:30 ET, August 1st through September 5th. On September 12th, the top 10 bars advance to a championship round to fight for the title of "Smartest Bar."
We're on top of Smartest Bar promotions: letting players know your bar needs their trivia skills! Our marketing team is sending emails, running ads on TVs and Buzztime tablets, and talking up Smartest Bar on social media.
Now it's your turn to join us in recruiting players to battle on your bar's behalf. Use these 8 tips to generate a buzz for your bar, home of Smartest Bar 2018.
Bonus Secret! Players Can Join in the Competition at Any Time
Do everything you can to bring in a big team of players for the first round of Smartest Bar on August 1st. But players can compete in at ANY round throughout the competition. Plus, only your bar's top 5 individual player scores count each week. The more players who join in, the better your chances of moving up the leaderboard!
Secret #1 – Host a Recruiting Event: Complete with Practice Rounds
Smartest Bar is built around SIX Trivia, which runs daily at 5:30 PT / 8:30 ET on Wednesdays and Thursdays. Invite players in for a special recruiting event where they can practice their skills:
Longtime Buzztime players can show newbies their best SIX Trivia secrets.
Offer appetizer and drink specials meant for big groups. Think pitchers of beer or sangria and large cutting boards loaded with different flatbread pizzas. Chicken wing deals will always win over guests…
Keep their eyes on the prize! Host a "pep rally" when you speak about what's at stake: a trophy, medals for players, Buzztime swag, and even a victory party.
Secret #2 – Up Your Tag Game and Get Social with Us
Smartest Bar is the "it" trivia event! Show your social media followers you're aligned with this national, high-stakes trivia competition by tagging Buzztime.
Facebook: @Buzztime
Twitter: @Buzztime
Instagram: @PlayBuzztime
Share our Smartest Bar social media posts! Visit Buzztime on Facebook, Twitter, and Instagram to find a graphic to share.
Don't forget hashtags! Use #SmartestBar and #Buzztime.
Tell guests to post their own photos and videos using #SmartestBar #Buzztime and #YourBarName.
Secret #3 – Pre-Schedule Facebook Posts
Take a few minutes now to pre-post these graphics on Facebook. Schedule them for every Tuesday evening (Smartest Bar is tomorrow!) and Wednesday morning (Smartest Bar is tonight!).
Remember to include a clear "Call to Action." Tell guests to come in and play Smartest Bar or cheer on the competitors.
You can easily change your scheduled posts. For example, if your bar moves up the leaderboard – post the leaderboard link and congratulate your players.
Secret #4 – Create a Facebook Event for Smartest Bar
Use Facebook Events to set up a weekly Smartest Bar event. Encourage players to RSVP. Once they've RSVPed, Facebook does the following awesome things…for free:
Sends automatic reminders to those who have selected "I'm interested" or "I'm going"
Shows your event to FRIENDS of those who have RSVPed – a great way to get more page likes
Allows you to post messages, photos, and vidoes directly to all RSVPs
Secret #5– Go LIVE on Instagram and Facebook
Show off the fact your location is participating in a national event. Use the "Go Live" feature on Facebook and Instagram to live stream video and show those players at home what they're missing. Live videos have a 6x greater engagement rate according to Mark Zuckerberg himself.
Need tips on going live? Use this guide to live streaming.
Secret #6 – Give the Smartest Bar Players the Spotlight
Give props to the smartest players! You can use Buzztime digital signage to congratulate your bar's team or individual players.
Take photos of players battling in Smartest Bar and share 'em on social media (just ask their permission first.
Secret #7 – Squad Goals: Reward Your Players
Get in the spirit of Smartest Bar. Create a special Wednesday evening menu and consider giving players a special discount or a $5 gift card. After all, they're on a mission to bring glory to your bar! Get creative with drink names: you could name drinks after geniuses like an Einstein Elderflower Gin and Tonic.
Secret #8 – If You're in the Top Ten…
If you're one of the top ten bars headed to the September 12th championship round? Make the most of it. It's a great public relations opportunity. Create a press release and send it to local media. Then make serious noise on social media – this is a big deal! Invite all your guests in to cheer on the players as they compete for victory.
Only the smartest players will survive Smartest Bar. Your role is to be their "coach." Keep your team motivated, excited, and engaged – and they'll keep coming back after Smartest Bar wraps up. Good luck…and game on!