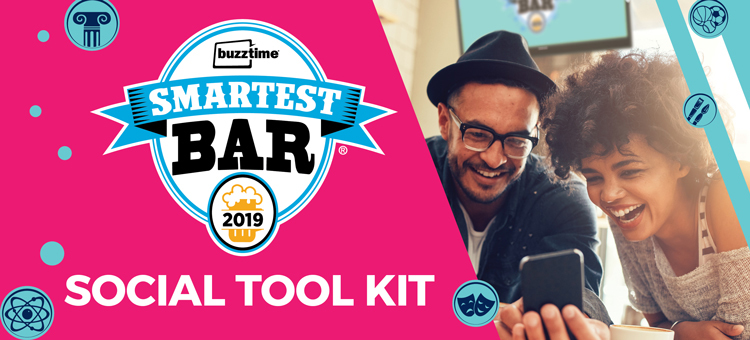 This is it. This is the one trivia players wait for all year. This is Smartest Bar, the 6-week nationwide trivia competition…and it's coming to YOUR bar August 21st through September 25th!
We're sharing the 7 best strategies for drawing a crowd every Wednesday during the competition. But first, let's review the Smartest Bar basics along with 3 new game-changing twists for 2019…
Smartest Bar 101
Every Wednesday evening at 5:30PM PT / 6:30PM MT / 7:30PM CT / 8:30PM ET, Buzztime players can compete on your bar's behalf.
Players will compete in a 1-hour game of SIX trivia, with a new themed category each week.
The top 5 scores during the final week from registered players (over 21) at your location will count towards your bar's score during the championship round on September 25th.
After the final championship round, the top 3 bars will win a trophy and bragging rights!
New for 2019! Individual Cash Prizes, App Gameplay, Open Championship Round
$9,000 in Cash Prizes for Players
Every Wednesday, the 10 top-scoring trivia players will win cash prizes that get bigger each week…a total of 60 players will win their share of $9,000.
App the Ready!
Encourage players to download the (free) Buzztime Entertainment app so they can compete and check scores on their smartphone.
Every Bar Can Compete in the Championship Round
In previous years, only the top 10 bars could battle it out in the final round. Now, it's open to every location!
Do everything you can to bring in a big team of players for the first round of Smartest Bar on August 21st. But players can compete in at ANY round throughout the competition…and the individual prize amounts get bigger each week.
Remember, only the top 5 individual player scores count during the September 25th championship round. The more players who join in, the better your chances of winning the coveted title of the Nation's Smartest Bar.
Secret Strategy #1: Line Up Social Media Posts Now
Get ahead of the game…literally. Take some time now to preschedule your own social media posts for the entire 6 weeks of Smartest Bar competition. Some social media platforms – like Facebook and Twitter – let you preschedule posts for any future date and time. However, if you want to set up posts now for Instagram as well, use one of these 6 social scheduling tools like Hootsuite and Later.
We recommend posting about Smartest Bar the day before every competition (Tuesdays), and the morning of (Wednesdays).
To boost your social media engagement, ask questions like:
If you're one of the 10 highest scorers in tonight's #Buzztime #SmartestBar competition, you could win cash! If you had an extra $1,000 right now, how would you spend it?
To win in tomorrow's #SmartestBar, you gotta have your facts straight! What's your favorite random fact? Tell us in the comments.
Secret Strategy #2: Get Social with Buzztime
We're already spreading the word on social media for Smartest Bar, hyping up the event to our 80,000+ followers on Instagram, Facebook, and Twitter. Get social with us and align your bar with the year's biggest trivia event.
Simply tag Buzztime on the following 3 platforms:
Facebook: @Buzztime
Twitter: @Buzztime
Instagram: @PlayBuzztime
You're also welcome to share any posts and graphics we post on our pages at Facebook, Twitter, and Instagram.
Up your hashtag game, too! Use #SmartestBar and #Buzztime – and tell your players to use these hashtags to share pics as they compete.
Secret Strategy #3: Create Specials Based on the Weekly Theme
We like to get thematic when it comes to Smartest Bar! There's a different featured category each week that ties into current events. For example, the NFL season begins on September 5th, so the September 4th theme is "Football and More Football."
Let players know about the weekly theme – so they can study up. Plus, it's an awesome opportunity to create thematic cocktails and appetizers along with creative deals. For the September 25th category – The World – you could create a "wines of the world" drinks list. Or, ask your bartender to select 4-5 internationally inspired cocktails.
Aug. 21 | The Arts – Today's Music
Aug. 28 | The Sciences – Science Events of 2019
Sep. 4 | The Games – Football, and More Football
Sep. 11 | The Past – Big Moments in US History
Sep. 18 | The Shows – Today's Top TV Shows
Sep. 25 | Championship Round! The World – Hot Tourist Spots
Secret Strategy #4: Set Up a Facebook Event
Once you've come up with some fun specials and menu items, spread the word with Facebook events.
Create a Facebook event for each of the 6 nights of the Smartest Bar competition. Encourage all of your players to RSVP and share the event with their network. Once your players begin to RSVP, Facebook will do the following…for free:
Send out automatic event reminders to anyone who has RSVPed as "I'm interested" or "I'm going" to your Smartest Bar event
Display your event to friends of those who have RSVPed
Let you post messages, reminders, photos, special offers on the event page…anyone who has RSVPed will get these alerts!
Speaking of secret strategies, these are the 20 best Facebook marketing tactics many people don't know about.
Secret Strategy #5: Send Email Reminders
Our marketing crew will be sending weekly emails to many of the 10 million registered Buzztime players…driving them into your venue to compete in Smartest Bar. You could also launch your own email campaign: teasing the week's category, promoting your specials, and reminding people they could win cash prizes!
Just like social media, you can preschedule your emails to go out at a set time. Learn how to create an effective email campaign in 10 steps.
Secret Strategy #6: Spotlight Your Players
Think about it, players are coming in each week to compete on behalf of YOUR bar (and to win cash for themselves). Treat them like VIPs to foster loyalty. That way, when Smartest Bar ends, they'll keep on coming back for more.
Give props to the smartest players! You can use Buzztime digital signage to congratulate your bar's team or individual players on your own TVs.
Capture photos of players battling in Smartest Bar and share them on social media (just ask their permission first of course). If everyone is game, you could even do a live broadcast on Facebook or Instagram.
Secret Strategy #7) Make Some Noise!
Did one of your players place in the weekly top 10? Did you place in the final top 10 bars at the end of Smartest Bar? Talk about it! This is an awesome public relations (PR) opportunity. In fact, bars have even earned national press coverage in the past. The first step is to create a press release and send it to local media. Then, talk up your winner or your top placement in Smartest Bar on social media.
From all of us at Buzztime, we're wishing you success in Smartest Bar – and beyond!