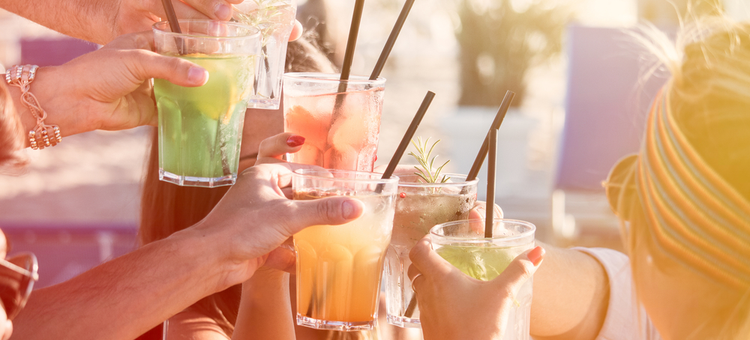 It's that time of year again. Everyone is flocking to wherever the summer cocktails are flowing (and the AC is on full blast). It's your chance to create a summer buzz for your bar by including a few "it" cocktails on your drink list. For inspiration, turn to this list of 15 trendy summer cocktail recipes.
The 2019 Summer Scene Stealers: Aperol Spritz and CBD Cocktail
Love it or hate it, the Aperol Spritz continues to dominate cocktail trends lists.
Made by combining sparkly prosecco wine with the traditional aperitif, Aperol, and adding an orange slice and a little soda water, the red-hued Aperol Spritz is simple to make…and hard for any millennial with an Instagram account to resist.
One 2019 trend in summer cocktails is so big, it cannot be ignored.
Yes, it's the CBD oil-infused cocktail. According to the 2019 National Restaurant Association's What's Hot Chef Survey, CBD oil-infused drinks were the #1 overall trend in foodservice. There's only one problem. They're not quite legal everywhere. It all depends on the state and even the city in which your bar or restaurant operates. In some places, like Colorado, you're good to go. Try adding a CBD-infused drink to your summer cocktails list in NYC, and you could get slapped with a $600 fine. Yikes. When in doubt, check with the laws in your state and city.
Talk Tiki to Me
These surfer-inspired sippers are making waves in 2019, and deserve a spot on your lineup of summer cocktails. Vinepair went so far as to proclaim tiki drinks as this year's hottest cocktail. Go the extra mile and serve these tropical drinks in fun, funky tiki glasses. Offer a premium version made with super top shelf booze that's served with a Hawaiian lei – and you'll rule summer on Instagram.
Basil Lime Daiquiri: Frozen summer cocktails are made for bar patios. But unlike the daiquiri-as-usual, this recipe pairs fresh lime juice and basil leaves for a savory flavor and cool green hue. For extra trend points, consider "micro sourcing" basil from your own mini potted herb garden.
Passion Fruit Hurricane: Passion fruit puts a twist on the most traditional of summer cocktails: the trusty hurricane. Top with a cut of starfruit to take the trendiness up a notch. Exotic fruit is one of the Top 5 produce trends according to the National Restaurant Association's 2019 What's Hot Chef Survey.
Flaming Volcano Cocktail: Add a little fire to heat up your summer cocktails. This mix of vodka, blue curacao, lemon-lime soda, and 151-proof rum creates a cocktail – and a show. Yes, your bartenders will be playing with fire to craft this one. Use caution and make sure the flames are out before serving guests.
Summer Cocktails Starring "It" Ingredients
From LaCroix sparkling water to turmeric, splash these buzzworthy ingredients into your summer cocktails.
Any of These 4 Mushroom Cocktail Recipes: According to the 2019 Kimpton Hotel Culinary + Cocktail Trend List, fungus is most definitely among us. Over 70% of bartenders surveyed are adding mushrooms to the mix: from a few shavings of truffle, to pickled creminis.
Lunar Eclipse: Turmeric is a bright orange, mild spice that's showing up in cool summer cocktails across America. It's also generating a buzz in the natural wellness world for its alleged anti-inflammatory properties. This can be one of your healthy(ish) summer cocktails. Serve when the moon is full for best results (we made that up).
Any of These 9 LaCroix Cocktails: When research giant Mintel put together their list of 2018 summer food and drink trends? Yes, flavored sparkling water topped the list. And the seltzer madness continues for summer 2019. Add a few of these 9 popular premade canned and bottled "spiked seltzers" to your summer cocktails list. But go the extra mile, and whip up your own in-house varieties as well. Everyone from dieters to millennials will love you for putting these low-calorie summer cocktails on your drink list.
[fl_builder_insert_layout slug="bar-menu-templates-signup-module"]
Sustainability Now
It's the green movement in a glass – and it tastes really, really good.
100% Local Mint Julep: Look to local distilleries for your summer cocktails, like the classic mint julep. Going local will reduce your carbon footprint, since that booze isn't being shipped across the country. As for the mint? It's hands down the easiest herb to grow yourself. If you've got shade, you can grow mint for 100% local summer cocktails.
Garden Kitchen Sink Gimlet: Using seasonal ingredients is a great way to keep your summer cocktails fresh while also supporting sustainable farming practices. This deep purple beverage mixes mint, cucumbers, and blackberries for a beautifully refreshing concoction.
The Barcelona: Make your own mixers in house using local produce, like this insanely delicious drink. It calls for strawberry-infused gin, which can be made with bruised strawberries that would normally go to waste. After all, "zero waste" cooking and prep was #3 in overall trends according to NRA's 2019 What's Hot Chef Survey. So you're cutting down on costs and food waste, while serving patrons yummy summer cocktails. That's a win.
Vegetarian Drinks (It's Not What You Think)
Unless you're throwing bacon into a Bloody Mary, cocktails are already vegetarian, right? Well, these summer cocktails are giving up fruit – and swapping in vegetables instead.
The Last Pickle: Health nuts are going wild for fermented drinks like kombucha because they're good for the digestive system (aka "the gut" in health trend speak). Pickled ingredients can add a uniquely sweet-sour flavor to your summer cocktails. This briny beverage involves quick-pickling watermelon rinds to concoct a totally twisted martini.
Carrot-Ginger Cocktail: This juiced carrot-ginger cocktail combined with coconut rum is complex, polished, and practically glows orange. There's even a mocktail version made with lemonade and coconut milk. By the way, "mocktails" or cocktails made without alcohol are also in high demand right now.
Aloe Vera Margarita: Aloe vera is the latest craze to hit summer cocktails in 2019. Not just for sunburns, this green plant allegedly boosts the immune system while also doubling as a digestive aid. Mix aloe vera juice with honey and tequila for a "healthy" margarita that's equal parts tangy and sweet.
Totally Smokin'
What do campfires, fireworks, and barbecues all have in common? That signature smoky smell of summer. Whether it's adding a hint of smoke to a traditional drink, or whipping up an out-there creation, try smoking out your summer cocktails with these recipes.
Wayne's Rock Solid Smoked Mint Julep: No fancy hats and leisure suits welcome when these rugged summer cocktails are served. The recipe calls for smoking water, then freezing it into ice cubes. Weird, but oh so good.
Smoked Margarita Sour: This 'rita combines two summer trends: smoky flavors and vegetarian summer cocktails. Cherry-wood smoked tequila mixed with aquafaba (chickpea water) creates a frothy and delicious cocktail, sans egg whites.
Smoked Bloody Mary: While the Bloody Mary is a brunch staple, this version adds barbecue sauce and smoked ice cubes (again) for a flavor profile that would blend in at any summer cookout.
Guests are thirsty for new flavors, so give them a refreshing sip of something new this season. Start with these summer cocktails, then challenge your bartenders to get creative. Who knows, maybe your bar will create the "it" cocktail of summer 2019?