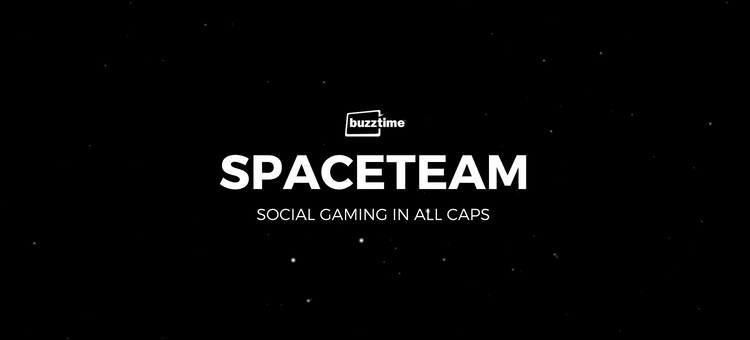 Stop into one of over 2,700 Buzztime locations, and you'll hear more than a buzz. You'll hear the sounds of a roaring good time. Laughter. Friendly shouting. More laughter.
Why? Because everyone is playing Spaceteam, the group party game played in ALL CAPS!
When we launched Spaceteam at the end of March, we knew the game's unique, multi-player format would cultivate the atmosphere bar and restaurant owners want for their millennial audience: lively, kinetic, and hyper-social.
What we didn't know was how fast Spaceteam would take off. Players rushed to play the new game everyone was (literally) shouting about. In its first 6 weeks, Spaceteam was tried over a million times – making it one of our most successful on-tablet promotions.
Spaceteam's success affirms the power of social entertainment to bring valuable experiences to both players and venues. But we're not getting comfortable. Instead, we're already in action, capitalizing on the opportunity to bring even more unique gaming experiences to tables.
3 Secrets Behind the Social Success of Spaceteam
1) A Critically Acclaimed Game with Indie Street Cred
Buzztime collaborated with a leading independent game developer, Sleeping Beast Games, to bring Spaceteam to Buzztime Tablets. Spaceteam already had a cult following and dozens of accolades and awards through its mobile app, but Buzztime amplified the game's audience when Spaceteam was tried over a million times. This solved a critical discovery issue for the developer, and delivered a high-quality, critically acclaimed game for the Buzztime network. After the successful launch of Spaceteam on the tablets, we believe Buzztime is well-positioned to approach similar indie game developers for additional win-win collaborations through social gaming.
2) A Millennial Magnet
While Spaceteam is approachable and inviting to groups of all ages, the game has found a sweet spot with millennials: over 75% of game plays came from those under 35. The unique, multi-player social gameplay naturally brings friends together in a fresh, unexpected way: through collaborative shouting. The laughter and absurdity naturally attract more players, creating a "gotta try this game" effect: exactly the environment our venues want in order to draw crowds.
Beyond millennials, Spaceteam has also taken off with baby boomers excited to try a trending game, plus groups of kids out to dinner with parents. A mom at Buffalo Wild Wings shared on Instagram: "Love it when a game brings [my kids] together! If you hear them, you'd think they were in the NASA control room." For our venues, the wide appeal of Spaceteam is ideal for connecting with nearly every audience.
3) Social Engagement Beyond the Game
Buzztime is keeping the gaming community engaged through initiatives such as the chance to vote on a limited time "game skin" or theme. With only a week to choose, over 31,000 votes were cast by the community. The winning theme was available to play for a limited time, giving fans another reason to come back to venues. Buzztime also hosted its first ever live stream on Twitch, where the game developer showed off the game, talked about the partnership and interacted with fans, giving them exclusive behind-the-scenes access.
Today, Spaceteam is still in orbit at every venue and gaming session numbers continue to climb. Energized by the game's social success, we're already at work planning our next game launch…stay tuned.