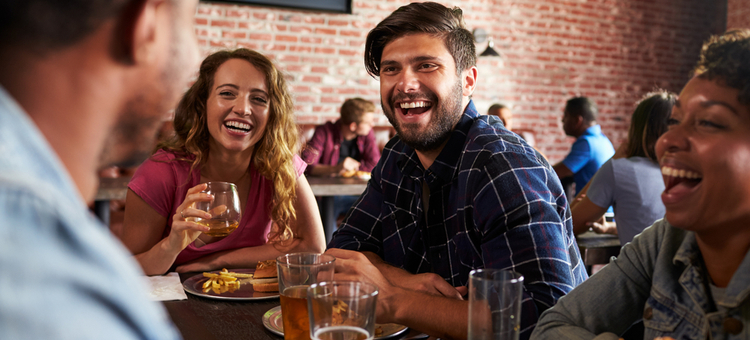 If you've gotten as far as reading this article you're no doubt aware of how critical the web is to all business. Of particular importance to the bar and restaurant industry is the quality of your website.
Just how important? Consider that at least one marketing survey found 89 percent of customers had performed online research before dining at a restaurant. Most importantly, almost two-thirds of that group said they visit a restaurant's website before making their final decision. In other words, it will pay to spend time on your website.
Here are some examples of sports bars who are doing all the right things when it comes to their website.
Duffy's has more than 20 chains in the Sunshine State and prides itself on providing an impressive sports viewing experience. (The Miami location has a poolside bar. Seriously.)
Why we like the site: Duffy's is a pleasing visual experience, with its front page scrolling between various food and drink promotions. It's drop-down menus are simple and provide easy access to the menu, directions and listings of that day's sports calendar. The bottom of their page has one-button access to the chain's social media platforms. They even feature fan Instagram photos and encourage customers to share their experience with the hashtag #DuffysMVP.
Boasting of a "ground-breaking, integrated entertainment concept, High Velocity contains numerous large video screens allowing patrons to watch every manner of Indiana sports.
Why we like the site: High Velocity's site is beautiful. Each page features crystal clear images of the location and its various amenities. The site also makes reserving tables online appear to be a simple process, with a "Book a Table" button located relatively unobtrusively at the bottom of every page. Menus for food and drink are easy to find and the bar's social media buttons are available through one-click buttons.
Located near the Giants' AT&T Park, Pete's Tavern is one of the city's better-known places to grab a beer and watch a game.
Why we like the site: Pete's is effectively simple. The front page is clean and uncluttered, with buttons for the menu, directions and recent news. Without leaving the front page readers have access to a scroll of its Twitter feed and hours of operation. Pete's photo gallery contains high-quality images that give a good sense for what a customer should expect upon arrival.
Buffalo Wild Wings
Starting in the 1980s as a few locations in central Ohio, Buffalo Wild Wings has grown into a wing and sports viewing juggernaut with almost 1,000 locations throughout North America.
Why we like the site: While larger restaurant chains have an upper hand when it comes to budget, they also face logistical issues when trying to connect hundreds of locations through a single portal. Somehow Buffalo Wild Wings manages to make the whole thing look easy. The front page of the chain is remarkably designed and contains all the information related to menu, drinks and current promotions. But where Buffalo Wild Wings excels is directing you to your nearest location, suggesting a possibility based on your IP address as well as providing a search bar. Once at the hub of your closest restaurant, you find hours of operation, local pricing and directions.
[fl_builder_insert_layout slug="whitepaper-signup-module-live-streaming"]