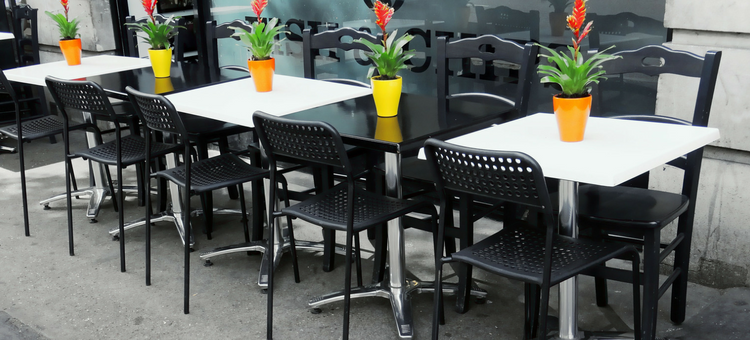 With the weather warming up, it's the perfect time to get the most out of your restaurant's patio for dining and entertaining. If your patio needs some love, here are fun ways to add excitement and appeal to your outdoor patio space.
Get creative with shading:
When the summer sun gets hot, your guests will want to turn to your cool and comfortably shaded patio for some relief and relaxation. There are plenty of creative ways to add shades to your patio space from table umbrellas to canopies and awnings. Need inspiration? Houzz offers a number of outside patio shading design ideas for your perusal.
Give your guests a taste of something new they can only get on the patio:
Turn your patio into a unique attraction by offering your guests something new that they can't get inside your restaurant. Lighten up your menu with a special patio menu, such as summer salads and sandwiches, small plates and refreshing cocktails featured only on your patio menu.
Turn your patio into a pet-friendly retreat:
Guests love to bring their pets along with them and the patio is the perfect place to open up your restaurant to their four-legged friends. Of course, you'll first need to understand your local ordinances pertaining to pets and secure any necessary permits. For more information about the rules surrounding pets and restaurants, here is a good Pet-Friendly Restaurants Guide to check out.
Liven up your outdoor scene with regularly scheduled entertainment:
From music to games, the patio is a great space for entertaining your guests. Make special entertainment and events a regular part of your patio repertoire to keep your guests coming back for more fun throughout the spring and summer months.
Create waterscapes:
The addition of waterscapes, such as a living pond or man-made waterfall, can give your patio area exciting drama as well as a relaxing vibe. When it comes to the beauty of adding water backdrops and design additions to your patio, the options are endless. Just browse through these amazing waterscapes and you'll see why.
Keep the patio open after hours:
Make your outdoor patio a scene for guests into the night by offering a late night patio menu past your normal restaurant hours. Turn this into a seasonal marketing promotion that your customers will look forward to every year.
Maximize your design to accommodate more seats:
The more seating you can offer on your patio, the more guests you will be able to accommodate. That means bigger profits for your restaurant. Experiment with different table arrangements to get the most out of your outdoor dining space while of course making sure that your guests can be seated comfortably.
Extend the seasonal use of your patio:
Even as the weather gets cooler after summer is over, you can still make your patio an enjoyable space with the addition of heat lamps or an al fresco fireplace. If your patio business is adding important revenue to your restaurant business, these types of additions may be well worth the investment.
Are you proud of your restaurant's patio? Have an outdoor design idea? Share it with u using the comment box below!
[fl_builder_insert_layout slug="whitepaper-signup-module-37-trending-happy-hour-menu-ideas"]