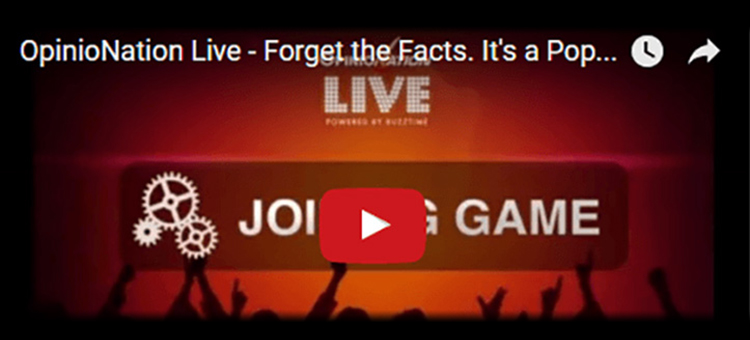 How to Start a Buzztime OpinioNation Live Game
Click on the Video Link above for a quick walktrough. Below are the steps:
Beginning with the Buzztime Tablet start by touching the "Touch Here" Icon.
Tap the Log in/Join button that appears on the lower middle-right section of the screen and follow the already a member path to login to your account.
Next, press the Host button on the lower middle of your screen.
Choose which channel you want to cancel and replace with OpinioNation. Channel 1 is Trivia, Channel 2 is Sports/Cards.
Select OpinioNation and Press the Launch Game on the lower right section. Confirm your selection by tapping the "Yes" Button.
Now that you are in the host control center. You want to familiarize yourself with the screen.
As teams and players enter the game, names will be subject to host approval. Once all teams are in, the host can tap next to start the game.
The host will then walk the players through the how to play screens.
Once gameplay starts, the host will be able to monitor when all teams have answered.
When all teams have answered a question, the host will tap the "Next" button to populate the answers in order of most post popular to least popular.
Scores will be tallied and a winner is determined at the end of the game.
Press the Next button on the final leaderboard to terminate the game and return to the regularly scheduled Buzztime games.