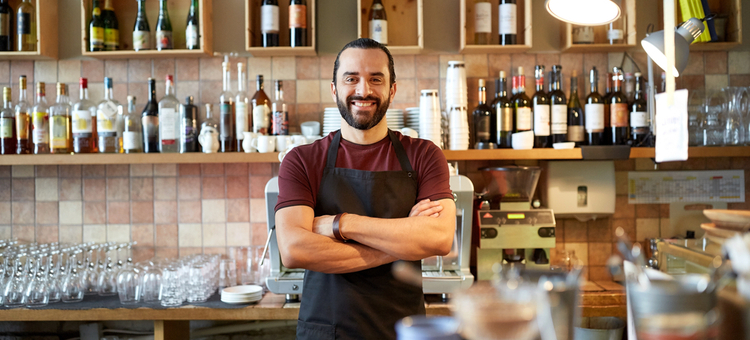 Many people dream of starting a bar, but only a select few make it a reality. If you're ready to boss up and make your move, start with these 11 essential tips – for every stage of starting a bar.
Stage One: Clarify Your Vision
 1. Play Bar Detective
Your first mission in starting a bar? Do a little detective work at other bars. See what's working – and what's not. Definitely scout out other bars in your area. You want to differentiate your bar from nearby competitors. Maybe even start a Pinterest board with ideas and themes you can use when starting a bar of your own.
 2. Create a Concept
Consider your concept the foundation of starting a bar: Every decision you make should be firmly rooted in it. Will you be a casual, cozy bar or a sophisticated, upscale spot? Your concept needs to be reflected in everything you do, including:
The Name: The name of your bar should tell a story and mean something to the customer. Starting a bar means finding the perfect name. Need some inspiration? Use this bar name generator with over 200,000 possible names.
The Menu: Your menu must match your concept! Will you specialize in craft beer and mixologist-approved cocktails? Or are you aiming to be the "it" wine bar in town? Decide if you want to serve food or not.
The Decor: Once you've buttoned up your concept, you can hire an interior decorator to build out the right atmosphere. For guidance, check out these tips for starting a bar with atmosphere that appeals to all 5 senses.
3. Location, Location, Location!
The location of your bar will play a major role in the business you get. In most cases, you should aim for a spot with high visibility: to both passing pedestrians and vehicles. Starting a bar in a less-than-desirable location is always harder.
Investigate if there are other businesses or residential areas nearby. Visit potential bar locations on weekends, weekdays, afternoons, evenings…you get it. Basically, you want to see what the foot and vehicle traffic is like at all times.
Stage Two: Do Your Research
 4.Know the Bar Industry…
Starting a bar may be your goal, but it takes hard work to get there. Before you begin, explore the ins and outs of the industry to understand what you're getting into:
Keep up with industry news: If you're starting a bar, it's like going back to school! You want to devour as much industry information as possible. Knowing where the market is will help you plan for any obstacles or opportunities that could come up. For example, tip laws and minimum wage rules are changing fast…do your homework to see how these regulations impact starting a bar.
Follow industry experts: Jon Taffer is pretty well-known for his bar savvy, but there are plenty of other bar and restaurant experts you can also follow for sound advice as well. From chefs to marketers to other bar owners, following people with experience and will give you major insight into best practices for starting a bar.
Gain some experience: Starting a bar without ever working in one? Back up. You might want to get behind the bar first to see what it's really like.
5. …And Know Your Market
Once you've got a handle on the bar industry as a whole, it's time to focus on your local market. When starting a bar, ensure you'll appeal to people who can visit your establishment frequently – in other words, those in the neighborhood.
For example, if you live in a college town, a sports bar showing the weekly game could score big. However, if you find a great location but nearby residents are older, starting a bar with a nightclub vibe is a recipe for disaster.
You may also find an opportunity to fill a hole in your local market. Say you live in an area crawling with young professionals and a sports bar on every corner. Starting the only wine and cheese bar in a ten-block radius could make you the go-to place for date night.
[fl_builder_insert_layout slug="whitepaper-signup-module-50-best"]
Stage Three: Figure Out Your Financials  
6. Be Realistic
Possibly the least exciting aspect of starting a bar is figuring out how much it will cost. And according to several sources, it's never cheap: The total median cost for opening a bar or restaurant is over a quarter of a million dollars.
Some common costs of starting a bar include:
Overhead Costs: These are the bills you need to pay to keep the place open and running – the rent or mortgage (including any deposits you need to pay upfront) and your utilities.
Licenses: In addition to your business and liquor licenses, figure out if there are any other local permits you may need to obtain when starting a bar.
Equipment: This includes everything from refrigerators to ovens to bar guns and even your POS system (more on that later).
Repairs: Be prepared to cover costs for unexpected issues that could pop up as you're starting a bar.
After figuring out your financials, write a formal business plan for starting a bar. (Not only will this plan become your roadmap, the lending sources in the next step often require it.) For example, how will you cover the costs you just outlined? What systems are in place to ensure you'll be profitable? That's where these 7 tips for more bar sales come into play…
7. Seek Out Funding
Unless you're able to foot the entire bill yourself (in which case, lucky you), seek out options to help cover costs for starting a bar:
Loans: There are several programs available to help new business owners get their project off the ground when starting a bar. Some common loans for bar owners include the SBA 7(a) Loan Program, Micro Loans, and Credit Builder Loans.
Investors: If you don't have deep pockets, could you appeal to someone who does? Finding someone that shares your dream vision for starting a bar may be easier than you think. Tap into social media like LinkedIn or make a list of past business relationships. If you go into a partnership, use a lawyer to draw up a contract to protect both parties.
Crowdfunding: If you have a strong network of friends, then crowdfunding could be a viable option when starting a bar. In most cases, local people in your neighborhood would love a cool place to hang out. If you can sell them on your concept, you have a better chance of getting the money you need from the masses.
Stage Four: Build Your Team
8. Hire Smart
Due to a notoriously high turnover rate, almost 60% of restaurant operators name staffing as the top challenge for their success.
The best way to find staff when starting a bar is knowing where to look for people that already have an interest in the industry. Between local vocational schools, culinary programs, and even career fairs or trade shows, the right talent is out there – and it can be more affordable than you think.
9. Set Standards Early
You've heard the saying, "One bad apple can ruin the bunch." That's also true when it comes to starting a bar. As you hire your staff, pay attention to the attitudes of your team members as they go through training.
Keep note of the ones who don't just rise to the challenge, but also exceed expectations. Reward those that go above and beyond as an example of what you want to see from your team when the doors open.
Likewise, hold team members who aren't pulling their weight accountable for their actions. If you catch someone grumbling or slacking off, address them privately and try to motivate them to become more of a team player.
Stage Five: Deploy the Right Technology
10. Streamline Operations From the Start
You have enough on your plate when starting a bar. To help streamline operations, invest in software programs that will make your life easier. Start by choosing a digital POS system using these 10 unbiased POS reviews.
Modern POS systems don't just process payments. They can help track your monthly spending, manage inventory and staff, stay in compliance with labor and liquor laws, and more.
Take some time to find out what you need from your POS systems (integration with other programs, easy access to customer support, etc.) and a price range that works for you. Then shop around for the systems that best fit your needs.
11. Go Digital with Your Marketing
Word of mouth is a great way to attract business when starting a bar. And the right technology, you can spread that word like wildfire. Some marketing tech you should look into includes:
Social media: If you're hesitant about jumping on the social media train, don't be. Users are beginning to turn to their followers for restaurant recommendations and may choose a place to eat based on a picture they've seen on their feed. The quicker you get posting, the more people will learn about your bar.
Digital signage: When starting a bar, you've probably planned to buy TVs. With the right digital signage software, you can promote menu items and events – right on your own TVs! According to a Nielsen Study, digital signage increases sales in bars and restaurants by over 30%.
Loyalty program: Providing a rewards program is more than a way to thank your customers, it helps drive repeat business. But the old school punch card is quickly becoming obsolete. Now, customers prefer to access their loyalty programs on a smartphone app. Some loyalty programs can even integrate with systems you have in place to better track your foot traffic and sales.
If starting a bar is your goal, you're in for a wild ride! With the right roadmap in place, you can get on track for success faster than you thought possible.