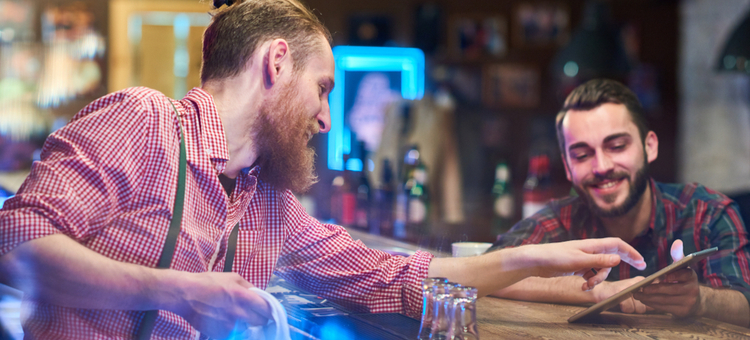 Tabletop tablets for bars can do it all: entertain customers, promote your specials, process payments, and more. But how do you go about adding them to your bar?
We broke down the steps for bringing the best tabletop tablets for bars to your venue. First, discover what today's bar tablets can bring to the table…
5 Things That Tabletop Tablets for Bars Can Do
1. Live Trivia Night
Trivia night is trending in the bar and restaurant industry. It's a great way to draw a midweek crowd. But don't limit yourself to pen and paper…bar tablets are the future of live trivia! Guests submit answers on tablets so scoring is automated. It's such a simple process, one of your staff members can host live trivia.
2. On-Demand Trivia
The same tabletop tablets for bars can provide on-demand access to trivia games whenever you're open. In fact, the same tablets used for live trivia also let guests compete in trivia against players across the bar…and across the nation. There are even monthly competitions for cash prizes.
3. Digital Arcade
Retro arcade games are making a comeback in the bar scene, but that doesn't mean you need clunky machines taking up space in your venue. With a digital arcade available on tabletop tablets for bars, you put the power of play in the hands of every guest.
And since bar tablets are portable, guests can bring the fun and games with them as they move about your venue…to the waiting area, the bar, the booth, even outdoor seating areas.
4. Tabletop Menu, Order, and Pay
Put your menu front and center with tabletop tablets for bars. With digital menus, you can include mouthwatering photos and decadent descriptions of menu items and cocktails that will have your guests springing for a second (or third) round. Some tabletop tablets for bars even let customers place orders and pay for their bill – right on the tablet.
5. Digital Signage
Table tents have been the standard bar promotional tool for decades. Unfortunately, you only have so much space to fit your messaging, the content is static, and you're taking up valuable table space. Instead, put the screens on your tabletop tablets for bars to use with digital signage.
Between the moving images and beautiful screen quality, you're more likely to catch your customers' eyes with your messaging. And it's effective – according to a Nielsen study, using digital signage increases sales of promoted items by 33%.
[fl_builder_insert_layout slug="whitepaper-signup-module-37-trending-happy-hour-menu-ideas"]
5 Steps to Adding Tabletop Tablets for Bars to Your Venue
Step 1: Assess Where Bar Tablets Would Work Best in Your Business Model
Brainstorm with your team.
Who knows your business better than your staff? Sit with your team and come up with areas that could use tabletop tablets for bars. And don't just stop at the bar – check out the waiting area, booths, and patio areas, too.
Survey your customers.
If you're looking to enhance your customer experience with tabletop tablets for bars, then go right to the source for ideas. Put up a Facebook poll or use an online survey site like Survey Monkey so your guests can share what tech they'd like to see at your bar.
Walk through the bar experience.
To see where tabletop tablets for bars should go in your space, try looking at it through the eyes of your customers. Go through each step of the customer experience to find where technology could enhance it.
For example, tabletop tablets for bars can help reduce perceived wait times. According to research, bar and restaurant customers wait for an average of 23 minutes during each visit – whether it's waiting for a check, an open table, or their drink orders. Games and trivia on tabletop tablets for bars can entertain your customers – turning wait time into play time.
Step 2: Do Your Research
Track the latest bar technology trends.
According to the latest State of the Restaurant Industry Report, consumers rated service-enhancing technology, like tabletop tablets for bars and wearable tech for servers, as the top tech trend they'd like to see during their dining experience.
Ask your POS provider about new tech options.
Your current resources are your best friend when it comes to finding the right tabletop tablets for bars. Reach out to your POS provider to see if your bar qualifies for any upgrades or if there is any new tech that you can add to enhance your customer experience.
Step 3: Determine Your Budget
Analyze your cash flow.
Before making a big investment in tabletop tablets for bars, it's important to make sure you have the money first. Check out your cash flow reports from the last six months to see what you are making and evaluate how much you have to spend on bar technology.
Find areas to reallocate resources.
If you don't have cash on hand for the investment, try finding areas where you can cut back or transfer funds for your new technology. Is there any old tech or service that you're no longer using? Consider trading that out for your new tabletop tablets for bars.
Come up with a realistic price range.
Now that you know how much you're making, decide what you can realistically spend on tabletop tablets for bars without breaking the bank.
According to a Hospitality Tech Study, restaurant and bar technology budgets averaged about 2.5% of revenue. Using that as a reference, come up with a price range that you're comfortable with when shopping around for tabletop tablets for bars.
Step 4: Plan it Out!
Training
The first step in introducing tabletop tablets for bars into your space, is to set up a trial run with your team. Make sure they know how to use the tablets, so they can help guests access trivia, games, or your menu.
Your servers, hostesses, and bartenders will be the ones showing your guests how to work the tabletop tablets for bars, so it's important that they know how to work the technology themselves.
Set up special training session with your team and tablet provider to go through a general introduction, tutorial, and FAQ's to prepare your staff for introducing the tech to your guests.
Promotion
Now it's time to make the big announcement to your customers. Using your regular marketing channels, like social media and email, let your customers know that you have fun, new tech for them to try out. Announce when they can expect to see the tabletop tablets for bars at your venue and put up a few teaser videos and photos leading up to the big reveal.
Go-Live Date
On the day you're ready to go live, set your tabletop tablets for bars up for success:
Charge tablets overnight so they have a full battery the next day.
Wipe down tablets with a microfiber cloth to clear the screen of dust and fingerprints.
Put the tablets on the bar top and tables where guests can easily access them.
Make sure tablets are turned on so guests can see their screens.
Remind your team to offer tablets to each guest after they are seated.
Step 5: Evaluate the Performance of Bar Tablets
Define your success.
Once the tabletop tablets for bars are in your venue, you need to know if they are performing up to par. Decide how you are going to determine their success and track the results to confirm if you're making your desired ROI.
Some ways to measure success with tabletop tablets for bars include benefits like:
More repeat business
Customers staying longer
Increases in your average check amount
Look at the unexpected benefits.
While you may have a specific goal you'd like to achieve with tabletop tablets for bars, the end result may surprise you – in a good way! Tabletop tablets have a crazy amount of benefits, most of which you may not have intended in terms of marketing, sales, or customer experience. So be sure to look at the whole picture when evaluating their success.
Finding space in your venue for tabletop tablets for bars is easier than you think if you know where to look. And with the right steps, your new bar tech will be up and running in no time!