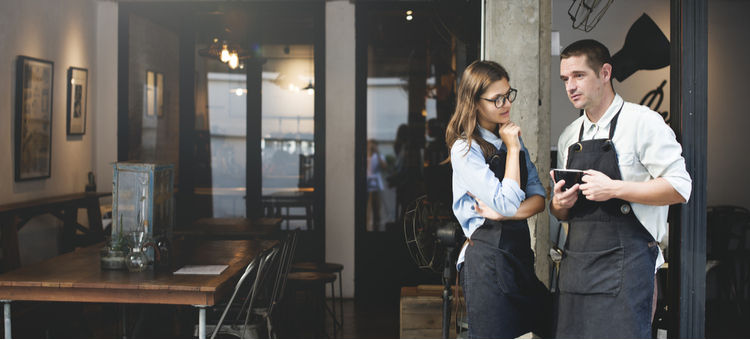 As a bar or restaurant owner, ever feel like you're stuck in a cycle of packed-house weekends…followed by "meh" weeknights?
For our next Straight Up Advice article, we asked owners, managers, and marketers for their best bar and restaurant event ideas to tackle slow nights.
From Trivia Tuesdays to Bloody Mary Mondays, learn how businesses like yours are transforming weak nights into peak nights – including a top 10 event ideas list from a Midwest bar that always stays busy (and we mean always).
"Ask your customers what they want! We've had success with everything from trivia to karaoke…bike night to car shows…live DJs to cornhole tournaments."
-Rebekah Sweeney, owner of Diggs Pub & Restaurant in Taneytown, Maryland
Rebekah's advice about bar and restaurant event ideas is spot on: create them for the type of customer you want to attract! You could guess, but why not run a simple survey?
Customers are more likely to attend your events if they feel part of the planning. Here are a few ways to gather bar and restaurant event ideas from your guests:
Survey Says: Set up a short survey on SurveyMonkey.com (the basic plan is 100% free) and include a link to the survey in your next email campaign. Post the link on social media, too.
Head to the Polls: Once you've narrowed down your bar and restaurant event ideas, set up a Facebook Poll and ask followers to vote. They can also write in their own ideas, too.
Chalk it Up: Hang up a large chalkboard, or use chalkboard paint to create a space for customers to write their best bar and restaurant event ideas. In fact, you could use the chalkboard to always ask a "question of the week."
Ye Good Ole Suggestion Box: Go old school and set out a suggestions box at the bar or near the hostess stand. To encourage guests to participate, put a sign out that says you'll randomly select 3 customers to receive a gift card. P.S. This is also a great way to collect emails in addition to bar and restaurant event ideas.
"Our midweek trivia nights pack the house. So does live music, karaoke and many other of our bar and restaurant event ideas. With Buzztime Trivia, our average sales went from $1,000 to $3,000. That's just for one night, and we run trivia weekly."
–Dave Goodell, owner of Fia Rua Irish Pub in Richmond Hill, Georgia
Of course, we agree with Dave's advice! Right now, over 2,600 bars and restaurants rely on Buzztime trivia to bring in Friday-size crowds…even on a Tuesday. In fact, most trivia players prefer to compete on midweek evenings. On the weekends, it's too crowded and loud for participants to strategize with their trivia team!
Dave went on to explain how his biggest day of the year is always St. Patty's Day:
"That's for obvious reasons, as we are an Irish pub and grill! We do as much in sales on that one day as we do in 2 entire regular business weeks!"
Dave is onto something: holidays can inspire some of the very best bar and restaurant event ideas. And no, it doesn't always have to be a big holiday like St. Patrick's Day. Check out these bar and restauration promotions and events based on 31 unique, weird, and wild holidays.
[fl_builder_insert_layout slug="whitepaper-signup-module-50-best"]
"Bingo is making a stir in the bar industry as throwback entertainment…but that's just one way to increase midweek sales. Other bar and restaurant event ideas include: the bounceback, trivia, poker, bar crawls, and celebrity bartender events."
–Mitchal Majors, Owner, Sculpture Hospitality of Missouri
Mitchal has built a well-deserved reputation in the Midwest and Southwest for knowing the best-kept restaurant and bar management secrets. So, it's no surprise he had great bar and restaurant event ideas. Here are Mitchal's 4 strategies for boosting midweek sales by tapping into events and entertainment:
1. Just Add Entertainment
"Entertaining bar and restaurant event ideas are excellent for creating repeat business. As I mentioned, bingo has a retro-cool appeal to today's bar goers. In addition, both trivia and poker offer opportunities to draw otherwise untapped crowds. Not only do these 3 events keep guests engaged for a pre-set amount of time, their followers are loyal and consistent."
Mitchal just cautions restaurants and bars to double-check that poker and bingo are allowed per state, county, and local laws.
2. Mix Things Up with a Celebrity Bartender Event
"Another one of the best bar and restaurant event ideas is a celebrity bartender event. I like to say…keep your friends close and your competition closer! A fun way to collaborate with neighboring bars is to invite one of their popular bartenders for a guest appearance behind your rail. You can draw new visitors this way. When thinking of which bartenders to approach, consider those with ample Snapchat and Instagram activity."
3. Don't Overlook the Bounceback
"When you make your bar and restaurant event ideas a reality, you end up with many new faces in your business. Why not capture their attention while they're on site? Bouncebacks incentivize them to return through vouchers, rewards, or a simple offer on guest receipts.
4. Never Assume. Always Ask!
"You need to know your patrons. Don't assume they'll fall in love with your bar and restaurant event ideas just because it's a trending event. Ask them what events they want you to host!"
Mitchal puts together some awesome videos on Instagram that reveal some of his bar management strategies.
Marcia's 10 Best Bar and Restaurant Event Ideas
-Marcia Pearson Schumacher, owner of Big V's Bar & Grill in Dalton, Nebraska
We love talking with Marcia, who runs a successful bar in the 300-person town of Dalton, Nebraska. And yes, there are multiple bars in this town. So, if Marcia can pack the house any night with her creative bar and restaurant event ideas (which she does), you have no excuses!
Before we dive into Marcia's event ideas, she shares some sage advice:
"We don't do a lot of discounted promotions. You don't want to 'give the bar away' in discounts. Your wages are still full price! Instead, these 10 bar and restaurant event ideas provide value in the form of entertainment, fun, and socializing."
1. Tournaments…All the Tournaments
Marcia is big on running tournaments at her bar. Tournaments ignite a little friendly competition and get everyone socializing. She often runs tournaments around their pinball machine, pitch (the card game), and volleyball on their sand court.
2. The "Putt" Crawl
Ready for one of the most creative bar and restaurant event ideas? Try Marcia's "putt" crawl, a riff on the traditional pub crawl. Here's how it works.
"We usually have 6 or 7 local bars and restaurants participate. Each venue creates their own putt putt hole, indoors or outdoors. Then teams rotate through each venue to take their best shot. At Big V's we even built a sand trap and water feature. It's a great time, and we bring out hundreds of participants."
3. Get Quirky…Cards Against Humanity Night
Or, for a PG version – get the Apples to Apples game. Then, check out 18 more bar and restaurant games.
4. Take and Bake (or Dine In) Pizza Nights
Another genius bar and restaurant event idea? Big V's runs special pizza nights where folks can gather and chow down on house-made pizzas – or take an uncooked pie home to bake themselves.
5. Bloody Mary Mornings
Ok, we realize the focus of this article is bar and restaurant event ideas for slow midweek nights…but we had to include this one for weekend mornings! Marcia opens Big V's on one Sunday per month to serve her famous from-scratch Bloody Marys. Yes, it's not unusual to see an entire grilled cheese on top of one of these gourmet drinks.
"We serve over 100 Bloody Marys in 3 hours, plus other drinks. It's usually standing room only. People beg us to do it more often."
6. Guest Bartenders
Bringing in a guest bartender is a pretty popular bar and restaurant event idea, but Marcia gives it a twist:
"We hype it up the week before, but don't tell people who the guest bartender is. They have to come see for themselves."
7. Be Charitable
"Recently, a team of bank employees came in and worked as guest bartenders. They donated all their tips to a local family who was dealing with a devastating health issue."
Think of ways your bar and restaurant event ideas can make a difference in your community. A study by Edelman found that today, 64% of customers choose businesses that support causes they care about.
8. Around the World Wednesdays
Food is the main focus of Marcia's bar and restaurant event idea for Wednesday night. During the winter on Wednesdays, she creates an out-of-the-ordinary special based on a particular cuisine, from Mexican to Italian.
9. Hippy Night
With the 50th anniversary of Woodstock coming up, a costume contest for who can dress as the best hippy is a no-brainer.
10. (Weird) Wing Night
Marcia claims that every other place in town runs wing night, so Big V's only does wing night occasionally. Wing night at Big V's always features strange flavors. In general, Marcia isn't afraid to get weird…which might be the secret to her success?
"Don't be afraid to try unusual bar and restaurant event ideas! Having one event flop shouldn't derail you. You won't have a home run every time…but the unusual events will set you apart, so give them a try."